DIY Lush Sleepy Body Lotion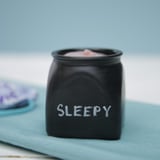 Ingredients
3 tablespoons almond oil
1 tablespoon jojoba oil
2 teaspoons cocoa butter
2 teaspoons beeswax pellets
20 drops lavender essential oil
15 drops ylang-ylang essential oil
1/4 cup vegetable glycerin
1/4 cup distilled water
25 drops natural purple food coloring
Directions
Before beginning, wash all containers and equipment thoroughly and sanitize in boiling water.
Place a heatproof glass bowl over a pot of simmering water and add almond oil, jojoba oil, cocoa butter, and beeswax. Heat until melted and pour into a small glass container. Stir in lavender and ylang-ylang oils.
Add glycerin and mix with an immersion blender until smooth and creamy. Add food coloring to water and, with blender running, slowly add to oil mixture in a thin stream. Continue blending until lotion is completely emulsified.
Transfer to a covered glass jar and store in refrigerator.
Information
Yield

1 4 oz. jar

Total Time

29 minutes, 59 seconds