It's Easy to Eat Clean With This Fast Weeknight Dinner
It's Easy to Eat Clean With This Fast Weeknight Dinner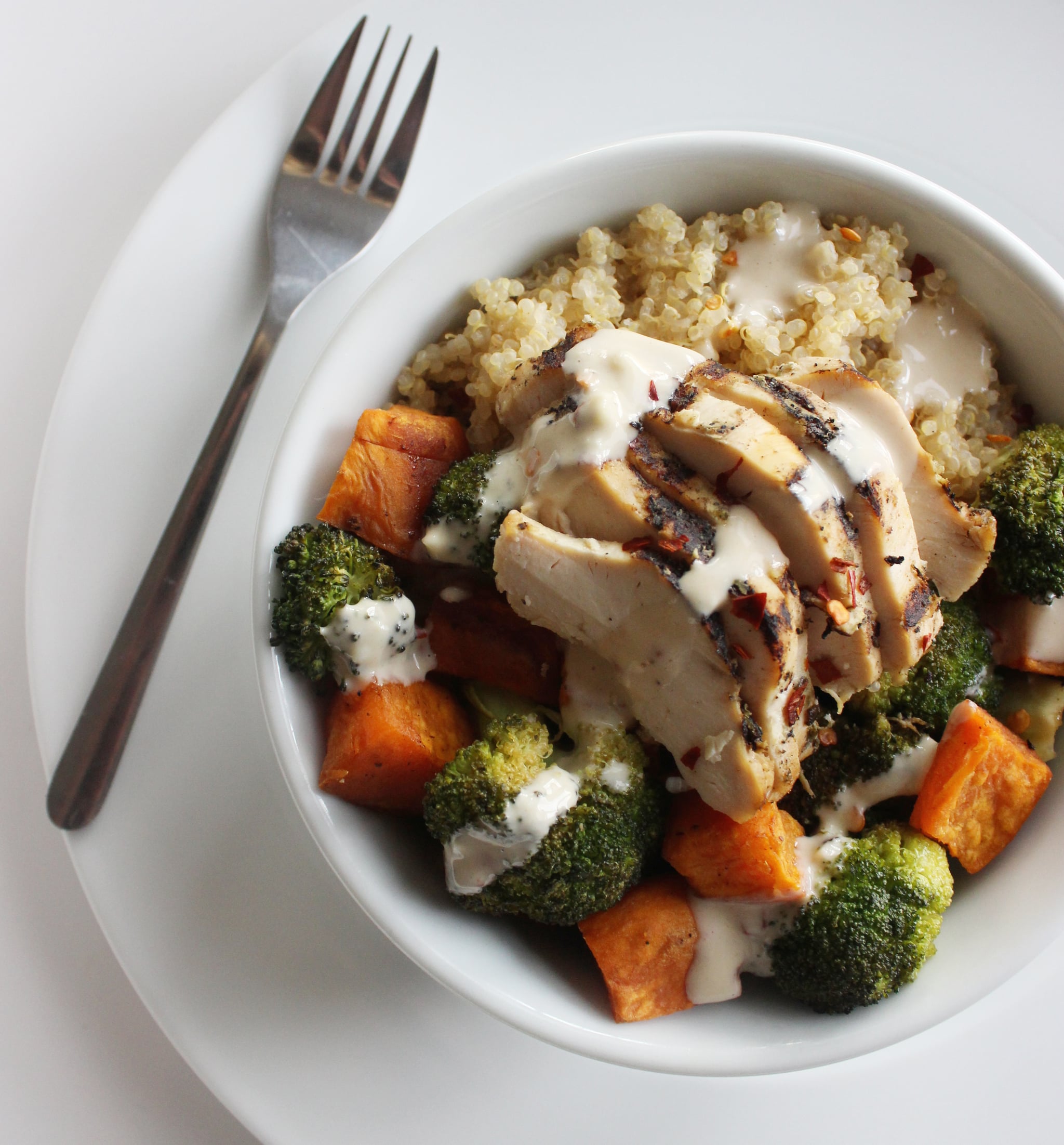 After an evening strength-training session, you need a nutrient-dense meal that will satisfy your hunger, help your muscles repair, and not leave you feeling stuffed. If you've been on the hunt for that perfect post-workout meal, it's time to try this chicken and veggie quinoa bowl. Offering 40 percent of your recommended fibre and over 20 grams of protein, this dish has become my go-to recipe for nights when I'm cooking for just one.
Serve your veggies freshly roasted for the best flavour and texture possible, and keep the precooked chicken and quinoa ready to go in your fridge. These staples are always ready to go in my kitchen when hunger strikes and I'm in need of a quick and clean meal that satisfies.
If you're cooking this recipe as part of the Get Fit 2015 meal plan, serve with 170 grams nonfat Greek yoghurt and one cup chopped fruit salad for dessert.
Chicken and Vegetable Quinoa Bowl With Tangy Tahini Dressing
From Lizzie Fuhr, POPSUGAR Fitness
Notes
Feel free to double or triple this recipe for lunch or dinner the following day. The leftovers are just as delicious and easily portable.
Ingredients
For the bowl:
1/2 large sweet potato, peeled and diced
1 head broccoli, cut into florets
1 tablespoon extra-virgin olive oil, divided
Salt and pepper
56 grams precooked grilled chicken breast, sliced thin
46 grams cup quinoa, cooked
For the dressing:
2 tablespoons lemon juice
1/2 tablespoon tahini
1/2 garlic clove, minced
1 teaspoon red pepper flakes (or more for garnish)
Directions
Preheat your oven to gas mark 6. Place your cubed sweet potatoes on a baking sheet, and toss with 1/2 tablespoon of extra-virgin olive oil plus salt and pepper. Roast for 20 minutes.
After 20 minutes, add your broccoli florets to the same baking sheet, and toss them in the additional 1/2 tablespoon of extra-virgin olive oil. Season again with salt and pepper, and roast for an additional 20 minutes.
While your vegetables are cooking, whisk together all your dressing ingredients. Set aside.
In a serving bowl, add the precooked quinoa and roasted vegetables, then top with your precooked chicken. Drizzle with your tangy tahini dressing, sprinkle the extra red pepper flakes (if you wish), and enjoy.

Source: Calorie Count

Information
Category

Main Dishes

Yield

1 serving

Total Time

39 minutes, 59 seconds
Nutrition
Calories per serving

409