Female Bodybuilder Weight-Loss Story
How Trista Lost Over 60 Pounds and Became a Bodybuilder in the Process
Before Trista Elaschuk became a successful bodybuilding competitor, she endured years of diets that just didn't work. "I struggled with weight my entire life and went on my first diet at the age of 16," she told us. "This started the cycle of yo-yo dieting that would continue into my 20s." It wasn't until she was introduced to weight-lifting that she really saw results and changed her lifestyle for good. Read on for Trista's story, from how she lost the weight to what it really takes to be a professional female bodybuilder.
Trista: Before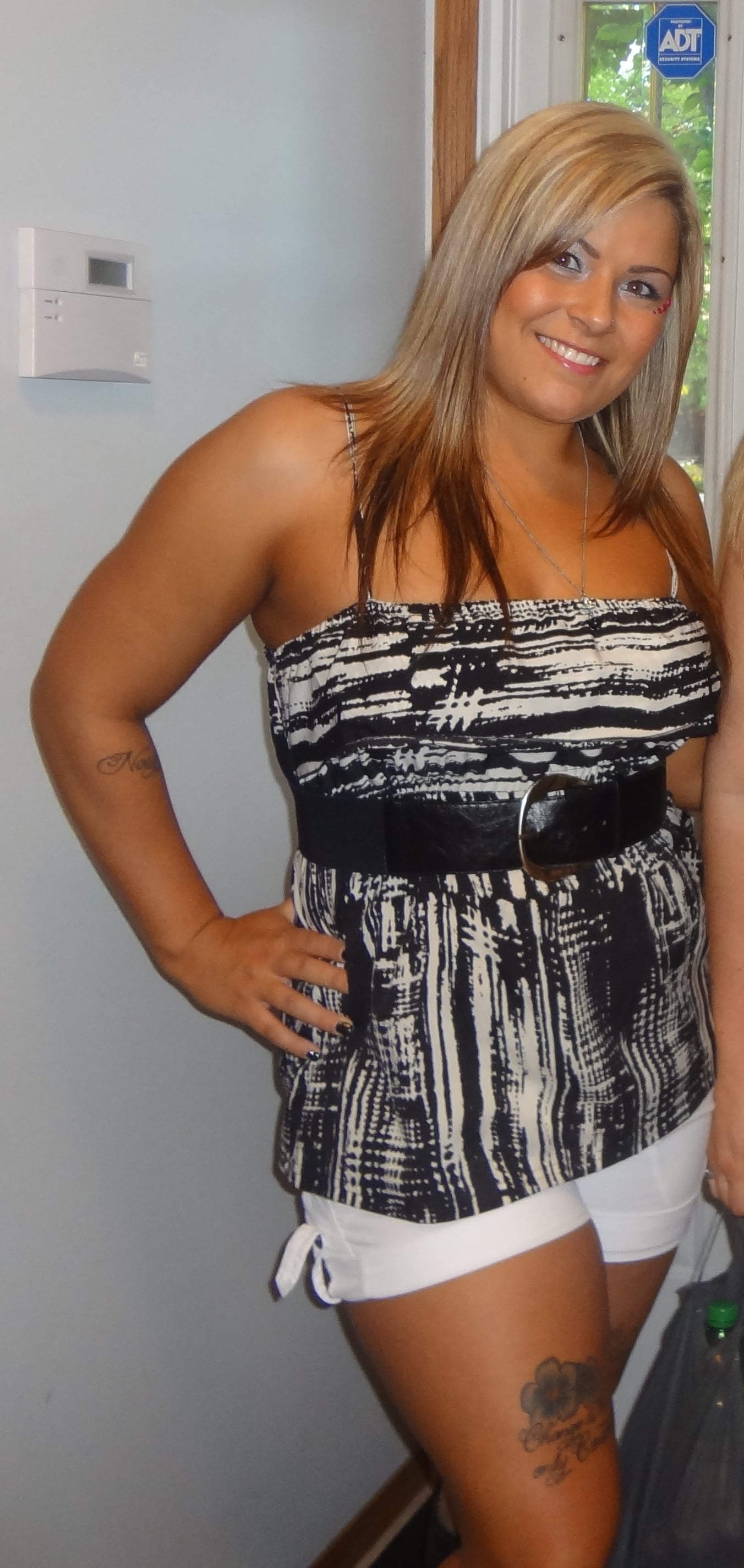 POPSUGAR Fitness: What made you decide to start?
Trista Elaschuk: In 2006, shortly after I graduated from high school, I topped the scale at 195 pounds. I knew I had to made a change. I joined Weight Watchers and was able to take off 50 pounds. The problem was I wasn't committed to making a full lifestyle change. After six months, I stopped attending meetings and slowly fell back into old habits. Those old habits caused me to put the weight back on and before I knew it I was back up to 185 pounds.
At the age of 24 I realised I needed to make a change. I was unhappy and most importantly I was unhealthy. I didn't enjoy life to the fullest and I knew my weight was holding me back from reaching my full potential. I decided to join Weight Watchers again and commit to transforming my life. After losing 20 pounds I felt I needed to step it up a notch and join the gym. I started running on my treadmill but was extremely intimidated by the weight room. After about a month attending the gym regularly, I met my boyfriend, Kale, and he introduced me to bodybuilding. I was hooked.
Shortly thereafter we attended our first bodybuilding competition on a double date. I was so inspired and motivated by these women on stage and knew I had to be one of them. I decided to hire a coach and bust my butt in the gym! After a 23-week prep, I stepped on stage and placed 3/15 in the Southern Alberta Bodybuilding Championship. I was elated. This was what I was meant to do and I couldn't wait to step on stage again!
Trista: Before
PS: What's your favourite way to work out?
TE: I love strength training. Lifting heavy weights is so empowering and I love feeling the muscles contract and work. It doesn't get much better than that. Women should not be intimidated to lift heavy, it is such an empowering feeling and the results are extremely rewarding!
PS: What's your weekly exercise schedule?
TE: I wake up every morning at 4:30 a.m. and do 60 minutes of cardio on the stepper in my basement.
Monday — circuit training
Tuesday — leg training
Wednesday — back training
Thursday — shoulders
Friday — chest
Saturday — legs and arms
PS: How do you keep workouts exciting?
TE: I change up my workout routine every month. I go into the gym with a piece of paper for every day and stick to the schedule, even if I don't like training that specific muscle group, I always stick to the plan and never waver.
Trista: After
PS: How much weight have you lost?
TE: I have lost 65 pounds.
PS: What was the first big difference, other than the number on the scale, that really made you feel proud and excited?
TE: Shopping!! I love shopping now, I am confident and can pick out any of the clothes on the rack. It is such a rewarding feeling knowing you don't have to hide behind big, oversize clothes anymore!
PS: How do you track your weight loss?
TE: I have weekly check-ins with my coach. She helps keep me accountable in the off season and while during prep. She takes my measurements and makes adjustments to my diet accordingly.
PS: What's a typical day of meals and snacks?
TE: Meal 1: 200 grams egg whites, 70 grams oats, 1/2 banana, 1 teaspoon vanilla, stevia to taste, cinnamon, cook on the stove top like oatmeal. When cooked add 1 tablespoon peanut butter, topped with Walden Farms chocolate syrup
Meal 2: 280 grams plain fat-free Greek yoghurt sweetened with stevia, 185 grams blueberries and 25 grams all bran, with 1 tablespoon hemp hearts
Meal 3: 115 grams chicken breast with 125 grams green beans and 1 tablespoon olive oil
Meal 4: 115 grams chicken breast with 100 grams cooked yams and 1 tablespoon olive oil
Meal 5: 120 grams chicken breast with 170 grams cooked peppers and 1 tablespoon olive oil
Meal 6: 195 grams fat-free plain Greek yoghurt mixed with 1/2 scoop chocolate casein protein powder
Trista: After
PS: What's the range of calories you eat per day?
TE: The meal plan I provided is a typical day in the off season. The calories range from 2,100-2,500
PS: What are the healthy staples that are always in your fridge?
TE: Plain fat-free Greek yoghurt, egg whites, chicken breast, cucumbers, peppers, Walden Farms sugar-free, calorie-free syrups (they make everything taste better).
PS: How do you strategise for meals out?
TE: I always have a look at the menu online before heading to the restaurant. I decide what I'm going to order before we get there, so I'm not tempted by the other options on the menu.
PS: What advice do you have for anyone starting out on a weight-loss journey?
TE: Trust the process and don't expect it to happen overnight. The weight didn't come on in one day and it won't come off in one day. It takes time but it's worth it! One of my favourite quotes that helps push me through tough days is "Do something today that will get you closer to where you want to be tomorrow."