Fitness and Diet Regimen of Actress Toni Collette
Get the Bod: Toni Collette
At this year's Golden Globes, Toni Collette received a statue to match her dress for her work in the Showtime series United States of Tara. Although some people questioned her victory, I was stoked. I've loved Toni since seeing her way back when in Muriel's Wedding, a role that she gained 40 pounds for.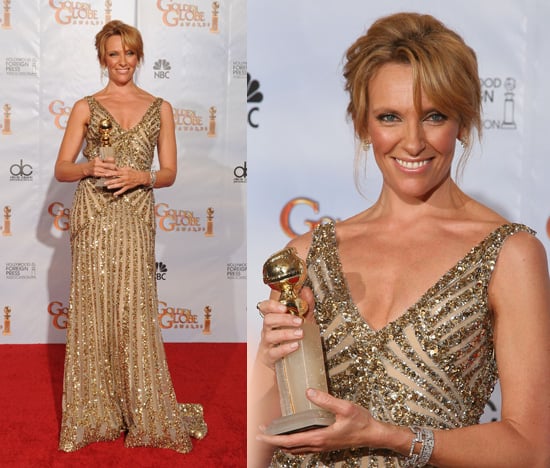 I'm not going to lie — when I first saw Toni at the Golden Globes, I was a bit concerned. Her collar bones looked really prominent, and I was worried that she might be too skinny. Not so! After looking at old pics of Toni, it seems that regardless of her weight, Toni's trapezius muscles have always looked tight. If you check out the rest of Toni's body, she's looking fit and healthy. I wonder if she knows that the simple action of relaxing her shoulders will help this — something I Iearned in Pilates.

To hear about Toni's diet and fitness regimen, read more.
Since my first experiences watching Toni were in Muriel's Wedding, I didn't realise then that she's one fit mama who normally keeps a pretty svelte frame. The star has always been big into exercising.
"It doesn't feel like punishment, but feels like it's good for me, and I actually enjoy it. So I've kind of made it more of a part of my everyday life and I eat really well. I work out, do cardio, like 45 minutes a day, and I have a trainer."
It's a good thing Toni loves exercising since Muriel's Wedding wasn't the only character she put on weight for. For her role opposite Cameron Diaz in the film In Her Shoes, Toni put on 24 pounds, which she then had to lose during filming. Given her love of Pilates, it wasn't too hard, and Toni admits that it's always been easy for her to lose weight. (Lucky gal!) Besides Pilates, she also loves Gyrotonic because it "holds me together and keeps me stronger."
When it comes to diet, the star keeps pretty silent except to say that she eats healthy. For times when she has needed to lose weight, Toni relies on a diet of no wheat, dairy, or white sugar and having protein shakes for dinner. Though not confirmed, it's rumoured that the star follows a macrobiotic diet, which means she's sticking to all-natural whole foods. Talk about great discipline!