Flywheel Fly Anywhere Bike Review
I Tried Flywheel's At-Home Bike and It Made Me Want to Buy One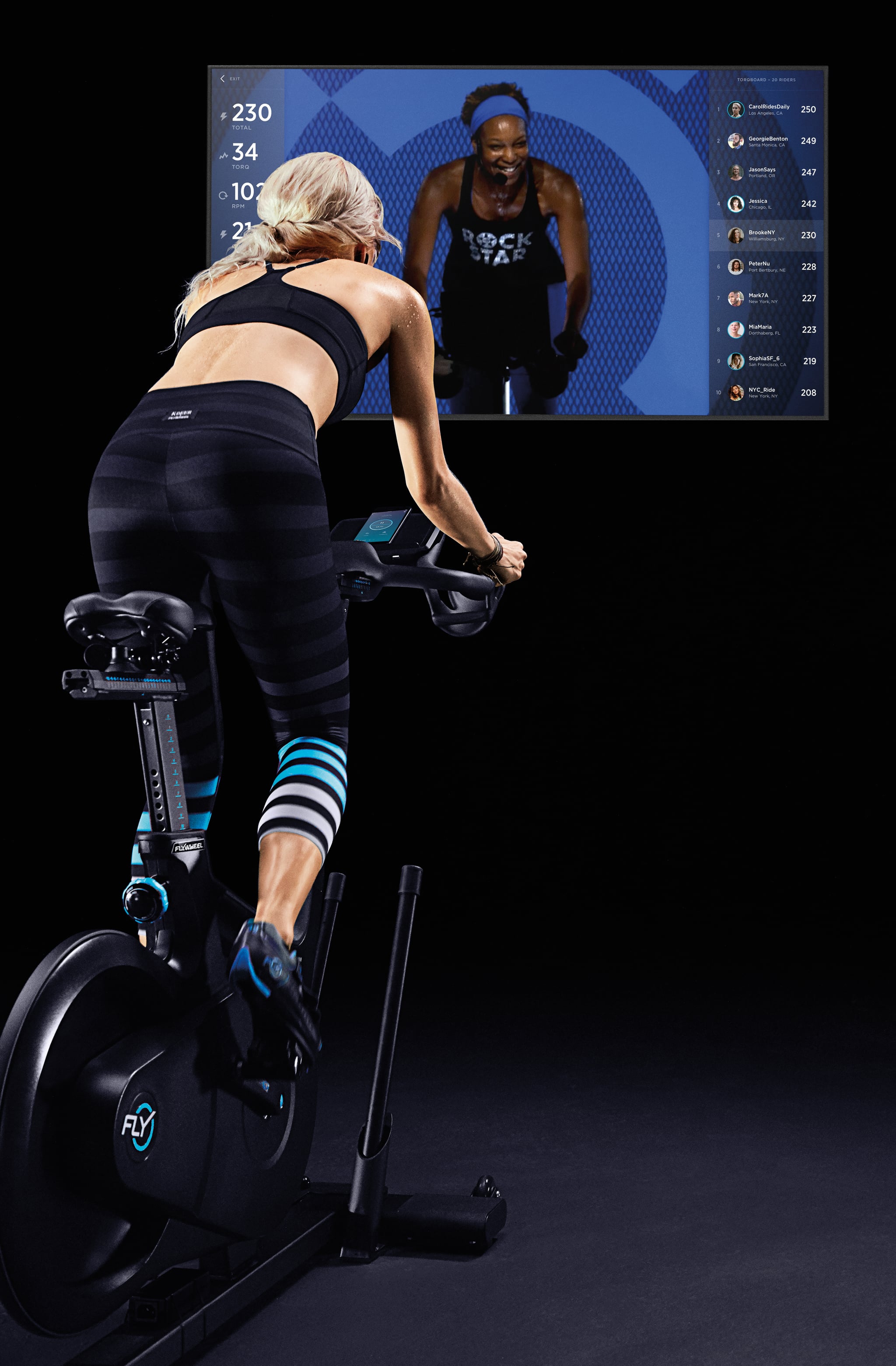 I know it's important to mix up your workouts to keep your body guessing, prevent injury, and not get burned out on one thing (blah, blah). But if I had one fitness class that I had to pick for the rest of my life, it would be indoor cycling. I love doing themed rides, such as Emo Night at The Monster Cycle, and find the 45 minutes of cardio challenging yet fun. And since I live in New York, there are so many cycling classes to choose from that I never get sick of the same thing.
But of all the boutique cycling classes in New York, Flywheel is one of my favourites. The workout is probably the hardest cycling workout in the city, the instructors are motivating, the atmosphere isn't cultish, and keeping up with the numbers on the torq board pushes me to do better. So when Flywheel reached out to see if I wanted to test its Fly Anywhere bike, I jumped at the chance. After having the bike for three weeks, this is what I learned:
What Is the Fly Anywhere Bike?
Flywheel's Fly Anywhere bike is a stationery bike that lets you stream in-studio rides in real time or ride to an on-demand class. You can connect the bike to your TV with Apple TV or Chromecast or your own smart device (iPhone, iPad, or Android). For $400 extra, you can get a bike with a built-in screen (this is the one I used). Like the studio bikes, each bike also tracks your RPMs, torq, current, and total power. Although the knobs and levers to adjust the seat and handlebars are a little different from the studio bikes, it felt almost exactly like riding in the studio, complete with the two weight bars for the arms section.
The bike itself cost $1,699, having it shipped and assembled is another $299, and the optional built-in screen is an additional $400. To stream the classes (why would you have the bike if you can't get any of the classes?), it's an extra $39 a month or you can prepay for $468 a year and get the 13th month free.
If more than $2,000 for the bike seems steep at one time, you can also sign up for a 24-month payment plan, which offers payments at $123 a month at zero percent APR.
The Rides Were Just as Intense as the Studio
For some reason, I thought riding from the comfort of my own home would mean the classes would be a little bit easier than they are in the studio. Boy, was I wrong. The classes are tailored just like the studio ones with intense intervals, races, hills, sprints, and climbs.
The nice part about that was when I had to turn the torq up to 40, sprint at over 115 RPMs, or do my third race of the ride, I could yell and curse out the instructor without getting any weird looks. On the flip side, I could also sing along to the music and dance around the bike, all the while knowing no one was watching me.
However, I did notice that my numbers were better when I did a ride at a Flywheel location. As much as I enjoyed riding in the comfort of my own home, there's something about being in the actual studio, competing against other people and listening to the instructor live, that is more motivating. Plus, some of the other riders you're competing against on Fly Anywhere are truly insane: getting over 500 total power vs. my measly 250.
I Didn't Have to Match My Clothes and a Shirt Was Optional
I'm admittedly not an athleisure fashionista, so it's not like I look super cute every day when I hit the gym. But I do at least make an effort to wear clothes that match and put my hair up in a way that's not ridiculous when I'm going to be working out with other humans.
With Fly Anywhere, however, I could wear my worst-looking workout clothes (the ones I keep in the back of my drawer for laundry day) and not care. Also, when I got super sweaty, I had no problem taking my shirt off and riding in just my sports bra, something I wouldn't dare do in public (I have my own set of body image issues, which is a tale for another time).
I Could Sleep In in the Morning
When I sign up for a 6 a.m. ride at the Flywheel on the Upper East Side, I have to get up extra early (usually around 5) to put my workout clothes on, drink my pre-workout smoothie, and take the bus down to the studio. However, when I planned on doing an at-home ride, I didn't need to wake up until 6 or so. That still gave me plenty of time to get up, change, drink my pre-workout choice, and be on and off the bike before hopping in the shower by 7:30.
Although an hour may not seem like a huge difference, when it's that early in the morning, I savor any extra minute of shut-eye I can get.
I Fit a Ride in Almost Every Day
The great thing about the Fly Anywhere on-demand classes is that they range in length: 20 minutes, 30 minutes, 45 minutes, or an hour. In the studio, it's usually primarily 45-minute method rides (Flywheel's signature interval class). But on the at-home bike, there were power rides (a little more intense), tempo rides (riding to the music), and method rides at a variety of lengths.
If I happened to sleep through my alarm a little bit, I could still squeeze in a 30-minute ride before work. If I was feeling particularly lazy on a Sunday, a day I usually take as a rest day, I still forced myself to hop on the bike for 20 or 30 minutes. Even if I worked out that morning, sometimes I would take a 20-minute class before dinner just to get another sweat in. On Saturday mornings, I usually did an hour ride since I had more time. With so many options, there was no excuse to skip a ride.
If I Had the Space (and the Money), I Would Totally Buy One
As much as I loved having this bike for a few weeks, it took up a lot of space in my tiny 400-square-foot apartment. The bike itself is actually not that big; there just wasn't a great place to put it in my living room. And with so many FlyWheel locations in New York, it's hard to justify having a bike at home when I could just go to a studio and ride.
A bike with a one-year streaming membership, plus the cost of shoes (you need Look Delta clip cycling shoes to clip in) is more than $2,500. A class in New York is almost $38 after tax. If you're someone who rides at FlyWheel several times a week, this may be a worthwhile investment. If you're someone (like me) who averages only a couple times a month, it's not really worth it.
But if I ever moved somewhere that didn't have a Flywheel nearby, I would absolutely consider buying the Fly Anywhere bike. The rides were challenging, the instructors were great (Kyle Axman, Dionna Littleton, and Emily Fayette were my favourites!), there was a huge variety of classes, and you can't beat the convenience of working out in your own home.