Fragrant Steamed Fish
From Susannah Chen, POPSUGAR Food
Notes
Green jalapeños are milder, but their red counterparts add a pop of colour to this dish.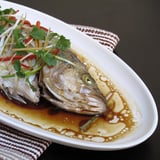 Ingredients
1 900 gram whole fish, such as sea bass or sole, cleaned and descaled
3 tablespoons rapeseed or other vegetable oil, plus more for rubbing the fish
8 1-inch slices of ginger root, plus about 20 grams ginger cut in matchsticks for garnish
2 green onions, dark greens removed, sliced in half, plus half a green onion, dark greens removed, cut into matchsticks
6 tablespoons Chinese Shaoxing rice wine, divided
3 tablespoons soy sauce
1/2 teaspoon granulated sugar
1 jalapeño, seeded and cut into matchsticks
10 grams cilantro, loosely chopped, for garnish
Salt, to taste
Directions
Preheat oven to gas mark 6.
Rinse the fish with water, and pat dry with a paper towel.
Rub both sides of the fish with salt and oil.
Place half of the ginger root and sliced green onions in an oven-safe platter or glass baking dish. Lay the fish on top, and cover with the remaining ginger and green onions. Pour 3 tablespoons of rice wine over the fish, green onions, and ginger. Score the fish with a sharp knife by creating two incisions in the fish's flesh deep enough to reach the bone.
Wrap the entire fish, including the oven-safe platter, in parchment paper, making sure to twist the parchment paper up tightly to prevent the fish from drying out. Bake at gas mark 6/ 400°F for about 25 to 30 minutes (depending on the size of the fish) or until a chopstick inserted into the thickest part of the fish comes out easily.
Meanwhile, in a bowl, combine soy sauce, remaining rice wine, and sugar. Set aside.
When the fish is cooked through, open the parchment paper, and pour away whatever juice comes out; it will be fishy. Remove and discard the scallions and ginger root that are on top of the fish. Tilt the fish up with a spatula, and remove and discard the bed of scallion and ginger root. Set the fish back down, and cover with the fresh, julienned ginger root, scallions, jalapeño, and cilantro. It should be in layers on top of the fish. Pour the soy sauce over the aromatics.
Heat the 3 tablespoons oil on the stove in a small saucepan over medium heat until aromatic. (It's heated through when a damp, but not wet, chopstick sizzles when it touches the oil.) Once it's heated through, pour the oil over the fish; you should hear a sizzling sound. Serve immediately.
Information
Category

Main Dishes

Cuisine

Chinese

Yield

Serves 4-6