Healthy Beef and Mushroom Stew Recipe
The 1-Pot Wonder That'll Warm You Up on Winter Nights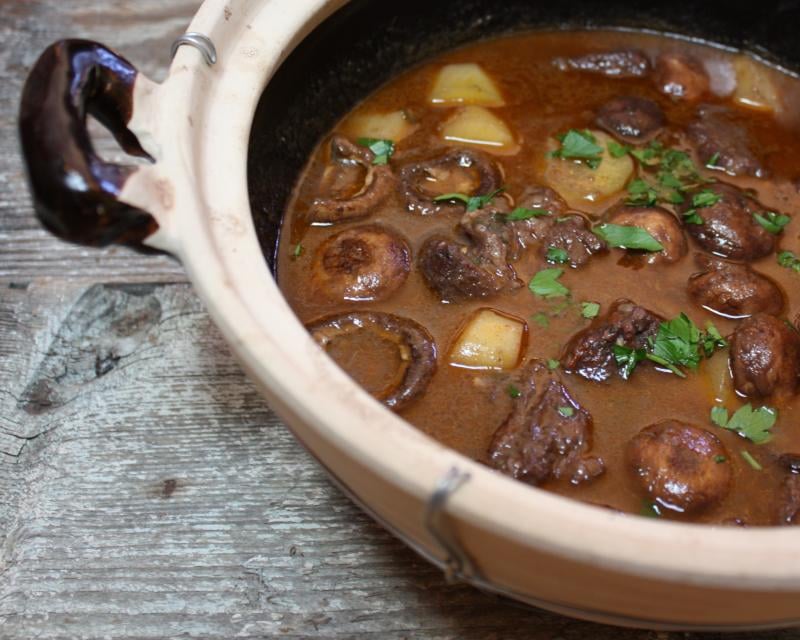 From personal experience, the first healthy habit that usually goes out of the window when Winter sets in is my meal prepping. And as soon as that falls by the wayside, the cold nights quickly turn into the perfect excuse to indulge in all manner of not-so-healthy comfort food.
If this sounds familiar, it's time to put your slow cooker to good use. Get ready to add this healthy, warming beef and mushroom stew to your Winter menu.
Hearty, Healthy Beef and Mushroom Stew
Ingredients
One large onion (chopped)
2 cloves of crushed garlic
500g of lean diced beef
350g of button mushrooms (you can use chestnut mushrooms if you want to be fancy!)
One swede (chopped into large chunks)
Two bay leaves
1 teaspoon dried oregano
1 teaspoon dried parsley
2 teaspoons fresh thyme
1 beef stock cube
200ml of cold water
One tbsp of olive oil
1 teaspoon salt
Cracked black pepper to taste
A sprig of fresh tarragon to garnish
Corn flour to thicken if needed
Directions
Add your oil to a pan and brown your beef on a high heat for around 5 minutes, being careful not to overcook it.
Brown off your mushrooms and cook your garlic in the same pan.
Add everything except the tarragon and corn flour into your slow cooker dish and place it in the fridge overnight.
Put your dish into the slow cooker and stir the contents.
Place it on a low heat and leave for at least 6 hours.
Mushrooms contain a lot of water and could make your stew a little runny; feel free to add some corn flour to thicken it up.
Garnish with some tarragon, serve, and enjoy!
Information
Category

Soups/Stews, Stew

Yield

2-4 servings