Healthy Yoghurt Galaxy Bark Recipe
Galaxy Yoghurt Bark to Keep You Full and Fit
We all like healthy snacks, but that doesn't mean they can't also be fun! And who wouldn't want to power their daily adventures with protein-rich galaxy yoghurt bark? The flavours are truly out of this world!
Galaxy Yoghurt Bark to Keep You Full and Fit
Recipe by Mona Zavosh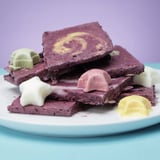 Ingredients
Blueberry Acai Layer
1 cup Greek yoghurt
1 100-gram pack unsweetened organic acai puree
1 ½ cups organic wild blueberries
2 tablespoons freeze-dried blueberry powder
1 tablespoon raw organic honey
Matcha Layer
¼ cup Greek yoghurt
½ teaspoon matcha green tea powder
1 tablespoon organic raw honey
Turmeric Layer
¼ cup Greek yoghurt
¾ cup frozen pineapple
¼ teaspoon turmeric
1 tablespoon organic raw honey
Strawberry Layer
¼ cup Greek yoghurt
⅓ cup frozen organic strawberries
1 ½ tablespoons freeze-dried strawberry powder
2 teaspoons organic raw honey
½ cup dry toasted sliced almonds
2 tablespoons honey Greek yoghurt
Directions

Process each of the 4 layers of the bark separately using a clean blender or food processor each time. Place each layer in a separate bowl.

Line a 9 ½"x13" baking sheet with wax paper. Sprinkle almonds evenly on the baking sheet. Spread the blueberry acai yoghurt on top of the almonds. With a teaspoon, place 2-4 tablespoons each of the matcha, turmeric, strawberry, and honey yoghurt mixtures on top of the blueberry acai yoghurt. You will have a little extra left. Using the back of a wooden skewer, swirl together all the different yoghurt mixtures until you get the look of a galaxy far, far away. Sprinkle the top of the bark with extra blueberry powder and whole freeze-dried blueberries. Optional: add yoghurt mixture to star ice cube mold to create shapes. Freeze for 2-3 hours.
Break the bark apart and top with more freeze-dried blueberry planets and blueberry galaxy dust.
Information
Category

Kids, Snacks

Yield

8 Servings