How to Make a Smoothie For Weight Loss
You've heard smoothies are great for weight loss, so you throw random healthy ingredients in your blender and hope for the best. You could end up with three terrible outcomes in this situation: a disgusting smoothie that tastes way too healthy to stomach, a smoothie that doesn't keep you full so you end up devouring office donuts, or worse, a calorie bomb that makes you gain weight.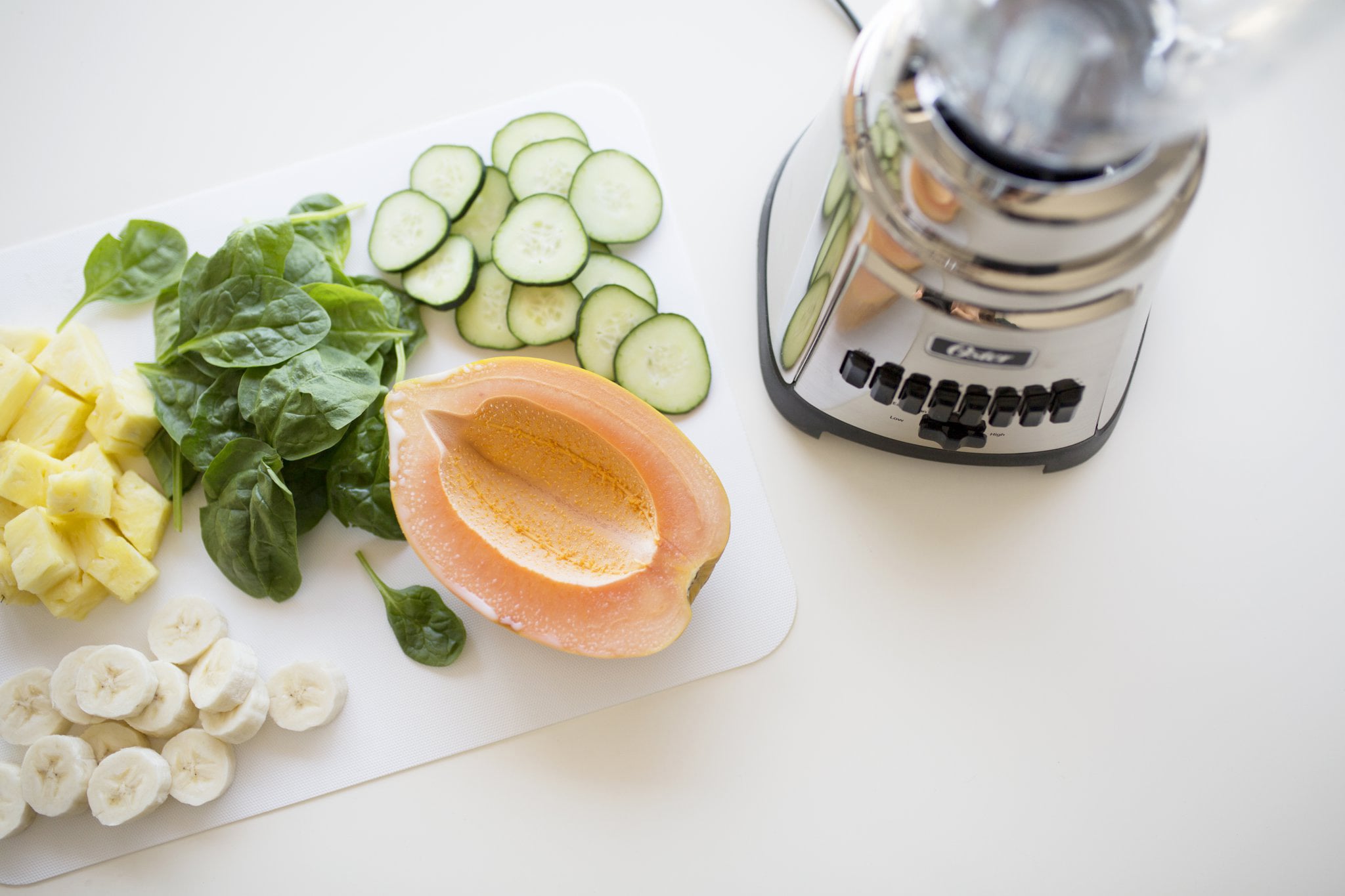 Image Source: POPSUGAR Photography / Sheila Gim
If you want the first meal of the day to help you drop pounds, you need to follow the below breakfast weight-loss formula recommended by nutritionists Stephanie Clarke, RD, and Willow Jarosh, RD, of C&J Nutrition. Your smoothie should aim to have:
Calories: 300 to 400
Fibre: 5 to 10 grams
Protein: 13 to 20 grams
Carbs: 40 to 55 grams
Healthy fats: 10 to 15 grams
Sugars: 36 grams or less
Sticking to this formula will create a smoothie that will be filling and sustain your blood sugar levels. The carbs give you energy, the healthy fats and fibre will keep you full longer, and the protein will sustain your energy. How does his translate to what goes into your blender? Here are some examples.
Strawberry Banana Spinach Smoothie
60 grams spinach
1 banana
70 grams strawberries
1/5 container soft tofu
1/2 tablespoon almond butter
240 ml unsweetened soy milk
120 ml coconut water
Blueberry Cheesecake Smoothie
150 grams frozen blueberries
1/2 frozen banana
85 grams extrafirm tofu
1 tablespoon raw cashews
240 ml vanilla soy milk
1/2 teaspoon vanilla extract

Image Source: POPSUGAR Photography / Jenny Sugar
Strawberry Milkshake Protein Smoothie
350 grams frozen strawberries (about 12)
2 tablespoons rolled oats
360 ml vanilla soy milk
1/2 serving vanilla plant-based protein powder (I used Vega Performance Protein; 41 g)
5 raw almonds
1 medjool date
Honeydew Protein Smoothie
260 grams honeydew melon
60 grams spinach
1 teaspoon flaxmeal
8 raw almonds
1 serving vanilla protein powder (I used Vega Performance Protein; 41 )
180 grams ml unsweetened vanilla almond milk
5 ice cubes
Chocolate Strawberry Banana Smoothie
5 frozen strawberries
1 frozen banana
30 grams spinach
170 grams plain Greek yoghurt (or soy yogurt)
120 ml chocolate soy milk
1/2 tablespoon peanut butter