How to Work Out in a Crowded Gym
Your Survival Guide For Days When the Gym Is Beyond Crowded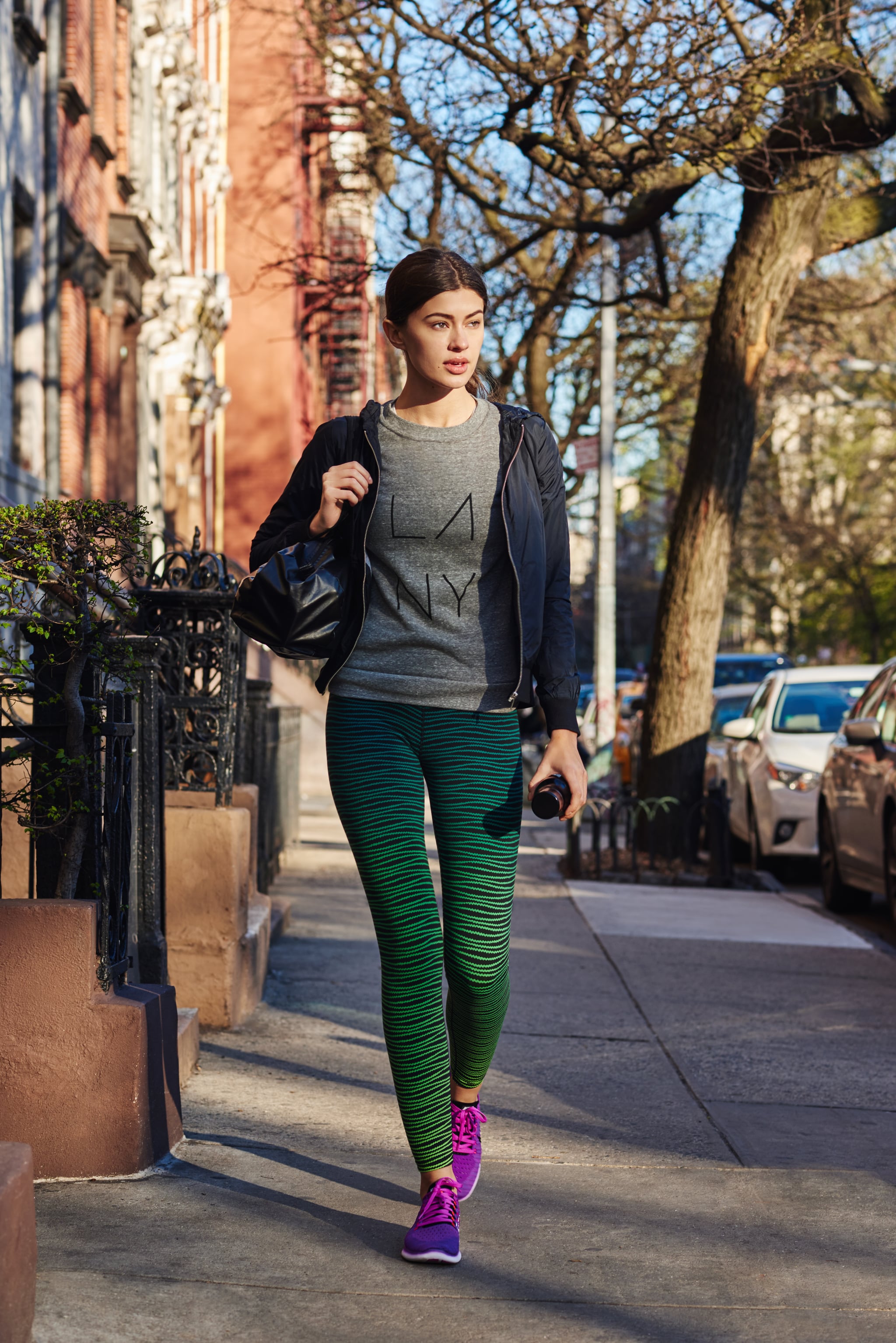 Enjoy your treadmill runs, everyone, because the gym is about to get really crowded. As in opening day of Star Wars crowded, causing you to wonder why you even showed up to sweat in the first place. Before you throw in the towel and let the new January crowd of gym-goers deter you, take a look at these tips from the people who know best: fitness directors of gyms. Armed with their insider knowledge, you'll find that it's still possible to get in a great workout despite the insane crowds.
Before You Go: Have a Plan
Before you even step into the gym, set yourself up for success. Make sure you've packed everything you need (forgetting socks, sports bras, and hair ties is more common than you think). Word of warning: the gym is really crowded in the beginning of the year, so make sure you know exactly what you plan to do once you're there. There's nothing worse than walking around aimlessly only to find out everything is taken once you decide on your workout. Going back to the crowded part, also make sure you have a backup plan in case the machine you want is occupied or you can't find any free weights to use.
All Packed? Here's the Best Time to Go
If a room full of sweaty people freaks you out or you just want to make sure the trusty treadmill will be available to you, avoid peak times. "To beat the crowds, work out during lunch. The biggest crowds will be between 6 p.m. and 8 p.m., followed by the morning rush from 6 a.m. to 8 a.m.," said Mike Spiegel, East Coast regional director of fitness for Crunch Gym. If a midday workout is out of the question, try heading there later in the evening when the postwork crowd is wrapping up.
But Wait, What If Peak Times Are the Only Times I Can Go?
Don't let a crowded gym scare you away from a good workout — though you may have to compromise a little. If the lines for the elliptical and treadmill machines resemble the kind of lines you see at Disneyland, take a hard pass. Instead, use machines most people neglect, like the rowing machine or Spin bikes. Another insider tip came to us from Breann Mitchell, regional fitness director of The Bay Club. "Do your homework! If your favourite weight machine is always in use, look up free weight exercises that work the same muscles and get your reps in that way." If the gym is at peak capacity and you can't even get your hands on a pair of weights, stake out some space and give no-equipment bodyweight exercises a go.
Good Advice, but Even the Rowing Machine Has a Line
"Skip the machines and check out the group exercise classes," says Mitchell. "Most gyms offer a variety for all fitness levels." Much like your approach to cardio machines, you'll want to exercise patience and compromise with classes. If your favourite Tabata class is full, be open to the aerial yoga class being offered at the same time. The one upside of classes is that they have hard start and stop times, which makes planning easier. Try to show up for a class 10-15 minutes early to increase your chances of getting a spot, and for those days you are really in a rush, don't be afraid to leave class a little early — just be respectful of your fellow gym-goers and exit the class as quietly as possible.
Tried That, but the Classes Are PACKED
At the end of the day, you don't need a machine or teacher to help you exercise. Find a spot on the floor or in the weight room and do your own thing. Spiegel recommends it, in fact. "Cardio isn't where it's at. The machines aren't where it's at," he told POPSUGAR. "For amazing results, I highly recommend 'Iron Cardio,' which is my nickname for kettlebell training. The kettlebell is one of the best tools to accomplish an excellent base of fitness. If improved strength and conditioning, building lean muscle, burning fat, and getting workouts done with maximal efficiency in minimal time is of interest to you, look no further than the kettlebell." Spiegel stressed that to avoid injury, it's important to master the basics of using kettlebells. Get started with this basic kettlebell workout that you can even do at home.
Still Can't Find a Spot? Splurge a Little and Book a Trainer
Both of the experts we spoke to said that if all else fails, book yourself a session with a personal trainer. Doing so provides an excellent personalised workout with a dedicated space and access to equipment. You can also inquire on small group training classes, said Spiegel. "Small group training affords many of the benefits of personal training, without the hefty price tag," he said. "You will get an experience that is much more personalised than large group fitness classes yet offers a similar sense of community. Most importantly, small group training is fun."
Workout Is Done . . . but the Shower Situation Is Out. Of. Control
Congratulations! You've made it through the craziness of the gym only to be faced with the insanity of the locker room. While cutting the line is not encouraged, there are ways to get in and out of there as quickly as possible. From wearing clothing that's easy to change in and out of to mastering the art of dry shampoo, these time-saving locker-room hacks will make you the most efficient person at the gym.