Will Laurie Hernandez Compete in the 2020 Olympics?
"I Miss It So Much": Olympic Gymnast Laurie Hernandez Wants to Compete in the Tokyo Games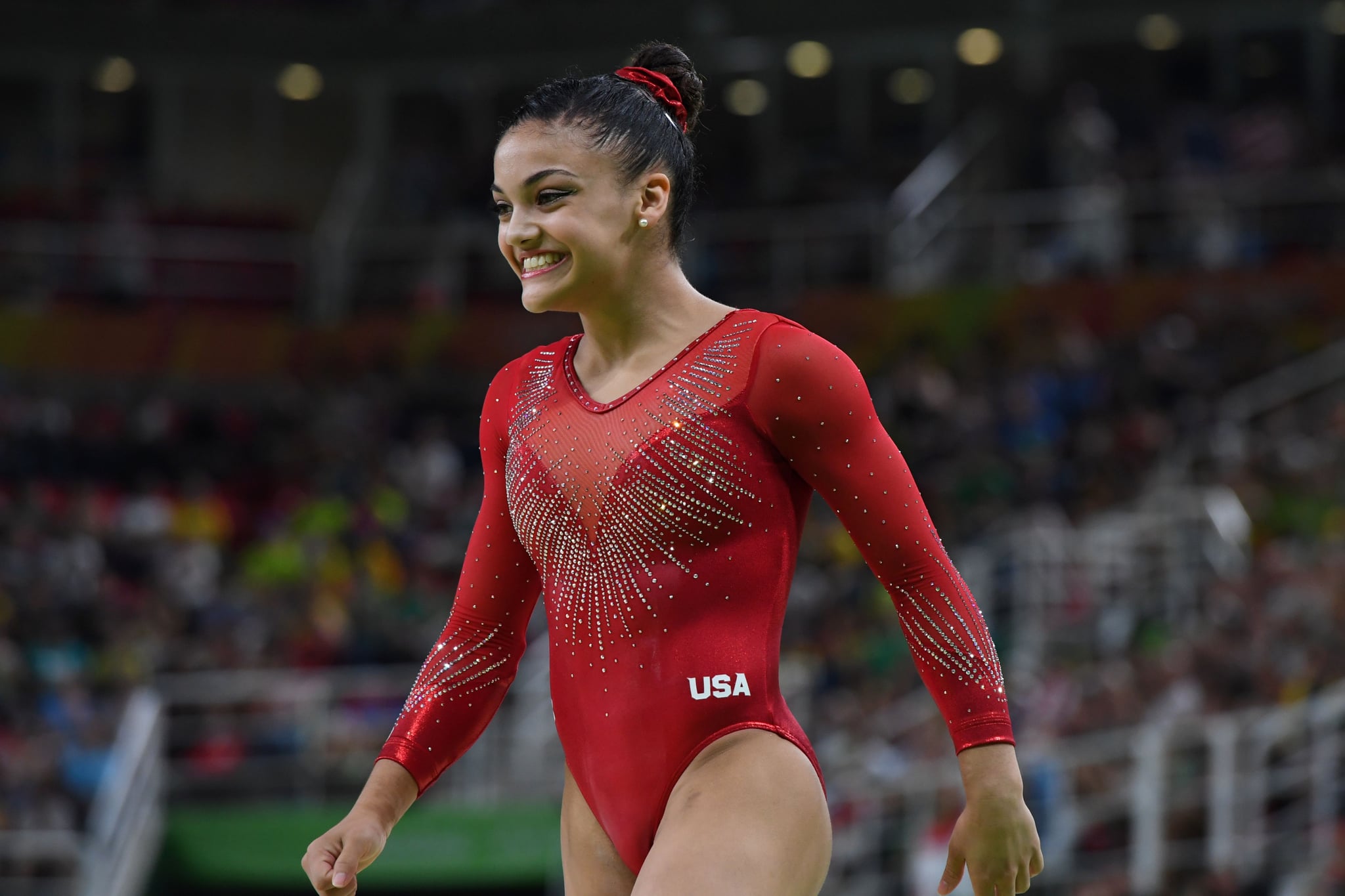 After a two-year break from the world of leotards and gravity-defying tumbling passes, Olympic gymnast (and absolute ray of sunshine!) Laurie Hernandez is eyeing the 2020 Olympics in Tokyo. Laurie was part of Rio's "Final Five" along with Aly Raisman, Simone Biles, Madison Kocian, and Gabby Douglas. She received a gold medal in the team competition and a silver on beam. Even if you don't remember her routines, you probably recall her vibrant presence on the international stage and her smile — it lit up TV screens. I sat down with Laurie ahead of a gymnastics class associated with her Alcon Dailies Total1 contact lenses Eye Can, Eye Will partnership, and we talked about her return to training.
When Will We Know If Laurie Hernandez Is Competing in 2020?
Laurie officially returned to training in the Fall of 2018, and she has a long journey ahead until Tokyo 2020. The US women's Olympic gymnastics team — along with the men's team — will be announced after the 2020 Olympic team trials next Summer near the end of June. Most likely, USA Gymnastics, led by its president, is going to select the team (Li Li Leung currently holds this title).
National teams, competing in Tokyo, will consist of four members instead of the longstanding number of five, which Laurie said was one of the reasons she and her teammates dubbed themselves the "Final Five" at Rio 2016. They also used this name to mark former national team coordinator Martha Karolyi's last Olympics (currently, Tom Forster holds this position).
Two gymnasts from each country can qualify as individual athletes based on World Cup, World Championship, and other international competition rankings — meaning, teams can take four members but the two competing as individuals cannot contribute to the team results. They can, though, still place on the podium in individual all-around and/or event finals (bars, beam, floor, and vault).
Laurie Hernandez Returns to Gymnastics After 2 Years
Laurie, who trains in California for about four hours a day, six days per week, said there are competitions this Summer, though she's not quite sure she'll be ready to compete by then. In September, she will "probably" go to the national team training camp in Florida, which was formerly held since the early 2000s at the Karolyi Ranch in Texas. USA Gymnastics made the switch to this Florida facility after more than 150 women accused former USA Gymnastics and Michigan State doctor Larry Nassar of sexual abuse — many of them naming the Karolyi Ranch, run by Bela and Martha Karolyi, as the site of such abuse. (Nassar is currently serving a life sentence in prison for multiple counts of sexual abuse and child pornography.) Laurie was not one of the women who came forward but has said in the past that she stands with former teammates who have.
"The goal for 2020 is definitely to make that team," Laurie said, but time away was something she feels she needed. "I think the things that I learned in the last few years, from 2016 to 2019, have just been literally through maturity. There's nothing you can tell a 16-year-old . . . you can't give her a book of information and tell her to grow up . . . you just need to experience things outside of gymnastics and outside of sports."
Laurie has accomplished a lot since the 2016 Olympics. She won Dancing With the Stars, published her memoir I Got This: To Gold and Beyond, and cohosted American Ninja Warrior. She was 16 at her last Olympics. Now 19, she feels like she has matured and is ready for another chance at gold. Time away was "wonderful" because it reminded her that she genuinely loves gymnastics. "I miss it so much," she said. "So why not come back?"