Low-Calorie, Big Portions: Red Pepper and Lentil Bake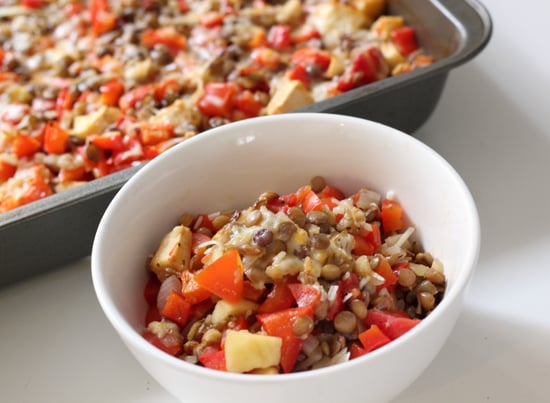 High in vitamin A, vitamin C, and fibre, red bell peppers make a perfect accompaniment to protein-rich lentils in this low-calorie recipe. Even better news? You'll be surprised at how large an under-250-calorie portion of this cheesy red pepper and lentil bake really is. Make a batch of this dish ahead of time and reheat throughout the week for a quick evening meal.
Get the recipe.
Notes
The original recipe calls for eight red bell peppers; I halved the amount and increased the amount of lentils by a little bit, but feel free to play with the ratio to your liking.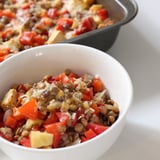 Ingredients
1 teaspoon olive oil
1 large onion, peeled and finely chopped
1 garlic clove, peeled and finely chopped
100 grams lentils, such as Puy or green
360 mL low-sodium, organic vegetable broth
4 red bell peppers, deseeded and chopped
1 large cooking apple such as Granny Smith or McIntosh, peeled, cored, and chopped
2 teaspoons dried basil
120 mL white wine
400 grams canned chopped tomatoes
40 grams shredded cheddar cheese
20 grams shredded parmesan cheese
Salt and pepper to taste
Directions
Preheat the oven to gas mark 4.
Heat the olive oil gently in a large saucepan, add onion and garlic, and fry for five minutes until the onions are translucent.
Add lentils and stir, then add vegetable stock. Bring to a boil, then reduce heat and simmer for 25 minutes.
Add the peppers, basil, apple, white wine, and canned tomatoes and mix well.
Transfer the mixture to an oven-proof 9-by-13 baking dish and sprinkle cheese on top. Cook in oven for 30 minutes.
Serve immediately, or freeze remaining portions in individual servings.
Makes four servings.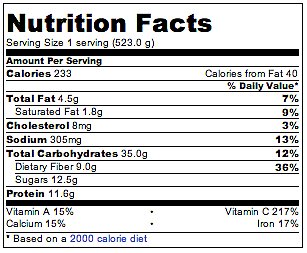 Information
Category

Main Dishes
Image Source: POPSUGAR Photography / Leta Shy