Peruvian Chicken Soup Recipe
This Peruvian Chicken Soup Is the Perfect Winter Warmer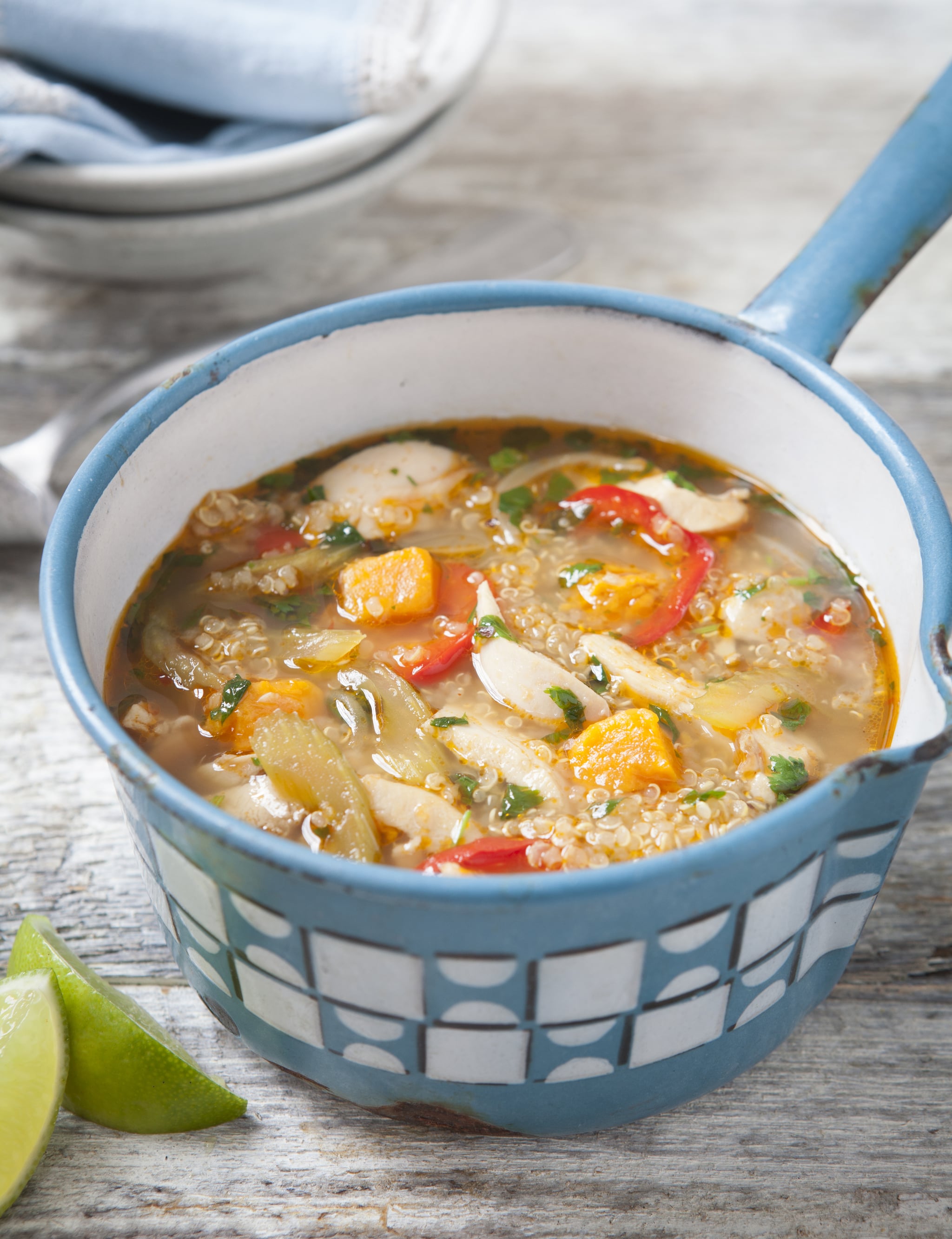 Protein is a must that has a special function in your body, fuelling up your muscles and filling you up. But, having your lean protein the same way all the time can get boring very quick. Make your chicken dinners more exciting this Winter by adding this filling Peruvian soup to your rotation. This hearty broth mixes fibre-full quinoa with protein-packed chicken breast to make a perfect nutritional equation for dinner success.
Peruvian Chicken Soup
BBC Good Food Show
Ingredients
1.5 litres chicken stock
4 chicken thighs or 2 chicken breasts, skin on, bone in
2 tbsp. olive oil
1 onion, thinly sliced
2 celery sticks, thinly sliced
1 red pepper, deseeded and sliced
100 g quinoa, rinsed and soaked for 5 minutes
2 garlic cloves, crushed
1 tbsp. Amarillo chilli sauce, or similar mild chilli sauce
1 bay leaf
1 sprig fresh oregano
1 large sweet potato, diced
Large bunch coriander, roughly chopped
Lime wedges, to serve
Sea salt and freshly ground black pepper
Directions
Bring the chicken stock to a boil in a large saucepan, then add the chicken.
Turn the heat down low and simmer gently for about 10 minutes, until the chicken is cooked through. Skim off any foam that collects on the surface, then remove the chicken and set it aside.
Strain the chicken broth through a sieve lined with a double layer of muslin or cheesecloth into a bowl, then pour it back into the saucepan.
Heat the olive oil in the same pan and add the onion, celery, and red pepper. Cook them over a medium heat for about 5 minutes, just to start the softening process, then add the quinoa and toast it until it starts to smell nutty, then add the garlic and chilli sauce. Cook for another minute.
Pour the chicken stock back into the saucepan, then add the herbs and season with salt and pepper. Bring the soup to the boil, then simmer on low heat for 15 minutes. Add the sweet potato and simmer for a further 5 minutes.
Remove the skin and bone from the chicken and cut the flesh into slices. Add them to the soup and simmer for a few minutes to warm through.
Taste for seasoning and add more if necessary. Remove the bay leaf and oregano, then stir in the chopped coriander. Serve in bowls with lime wedges on the side.
Information
Category

Soups/Stews

Yield

4-6 servings
Image Source: BBC Good Food Show