Saffron Seafood Chowder Recipe
This Saffron Seaside Chowder is Your New Winter Saviour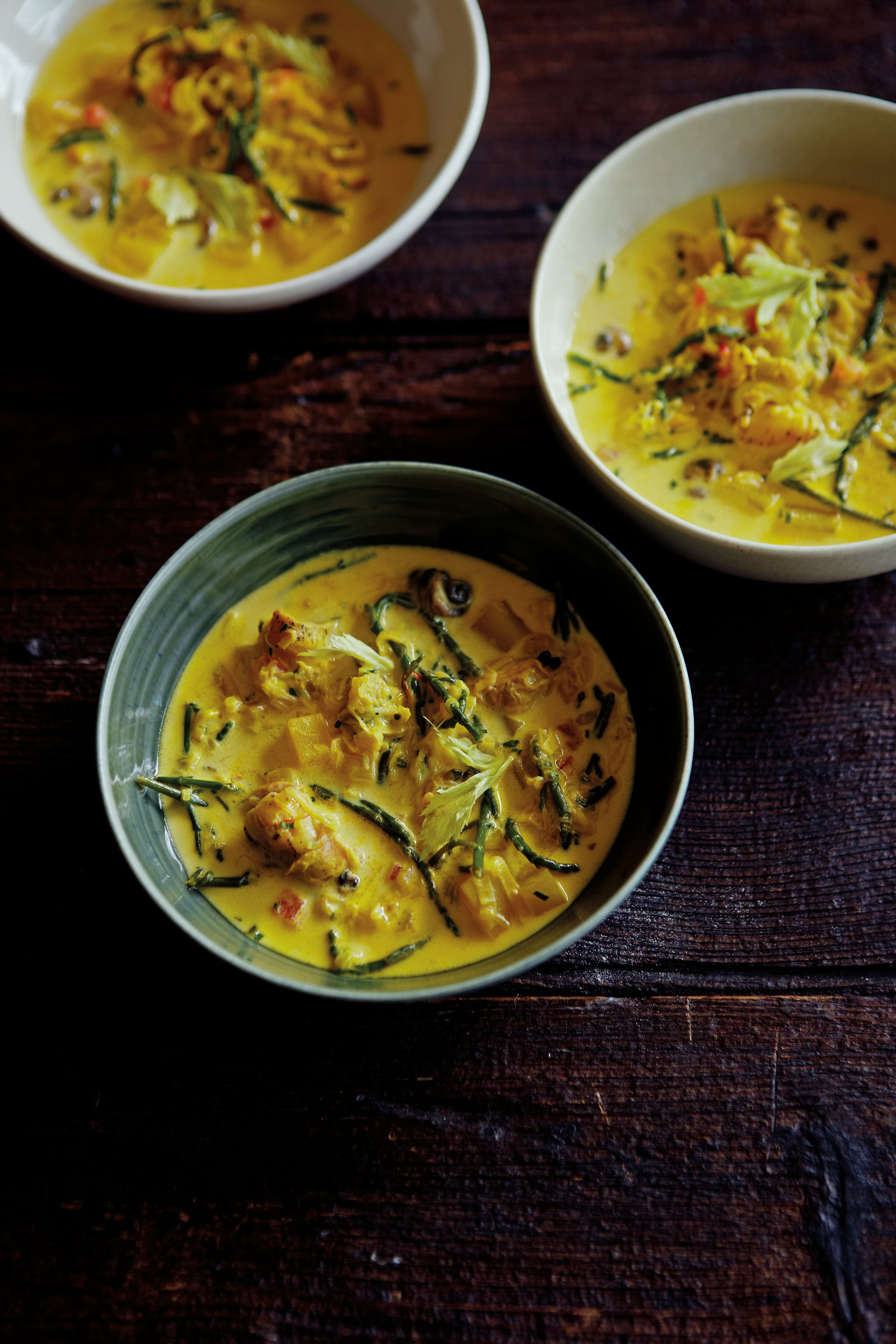 Saffron might not be as popular as some of the other metabolism-boosting spices you should have in your kitchen, but the memory-boosting, cold-fighting spice definitely deserves a place on the rack.
Remedy that by substituting saffron for turmeric in your nightly cup of golden milk, or indulging in this tasty, protein-packed chowder that's a certified Winter warmer.
Saffron Seafood Chowder
BBC Good Food Show
Ingredients
2 tomatoes
300 ml white wine
1 kg mixed shellfish, cockles, clams, mussels, winkles, soaked in cold water
50 g unsalted butter
1 shallot, finely chopped
1 garlic clove, finely chopped
1 fennel bulb, finely chopped
½ leek, white part only, finely chopped
250 g potatoes, peeled and cut into 5mm pieces
2 pinches of saffron strands
1 star anise
500 ml chicken stock
175 ml double cream
75 g samphire, trimmed
12 shelled cooked whelks
2 tablespoons finely chopped chives
handful of celery leaves
sea salt and freshly ground black pepper
Directions
Start off by skinning and and seeding your tomatoes, and finely chopping the flesh.
Heat a sauté pan until hot, add the wine and the shellfish, cover and cook for 3 to 5 minutes until just cooked through. Strain into a colander over a bowl, reserving the cooking liquor, and allow to cool slightly before picking the meat out of the shells.
Wipe the sauté pan out and add the butter, shallot and garlic and sweat for a few minutes, before adding the fennel, leek, potatoes, saffron, and star anise. Cook this for about a minute.
Add the reserved cooking liquor and chicken stock to the pan and bring to the boil. Reduce the heat to a simmer and cook for 3 to 4 minutes until the potatoes are just tender.
Add the cream and samphire then simmer for another couple of minutes until the texture thickens a little. Reduce the heat then add the tomatoes and all the shellfish, including the whelks, and gently warm through. Add the chives and celery leaves and season to taste.
Taste before adding any additional seasoning as you probably wont need much salt, serve straight away and enjoy.
Information
Category

Main Dishes, Shellfish