Salmon, Kale, and Quinoa Egg Wrap Recipe
The Recipe That'll Make You Replace Your Wraps With Egg Whites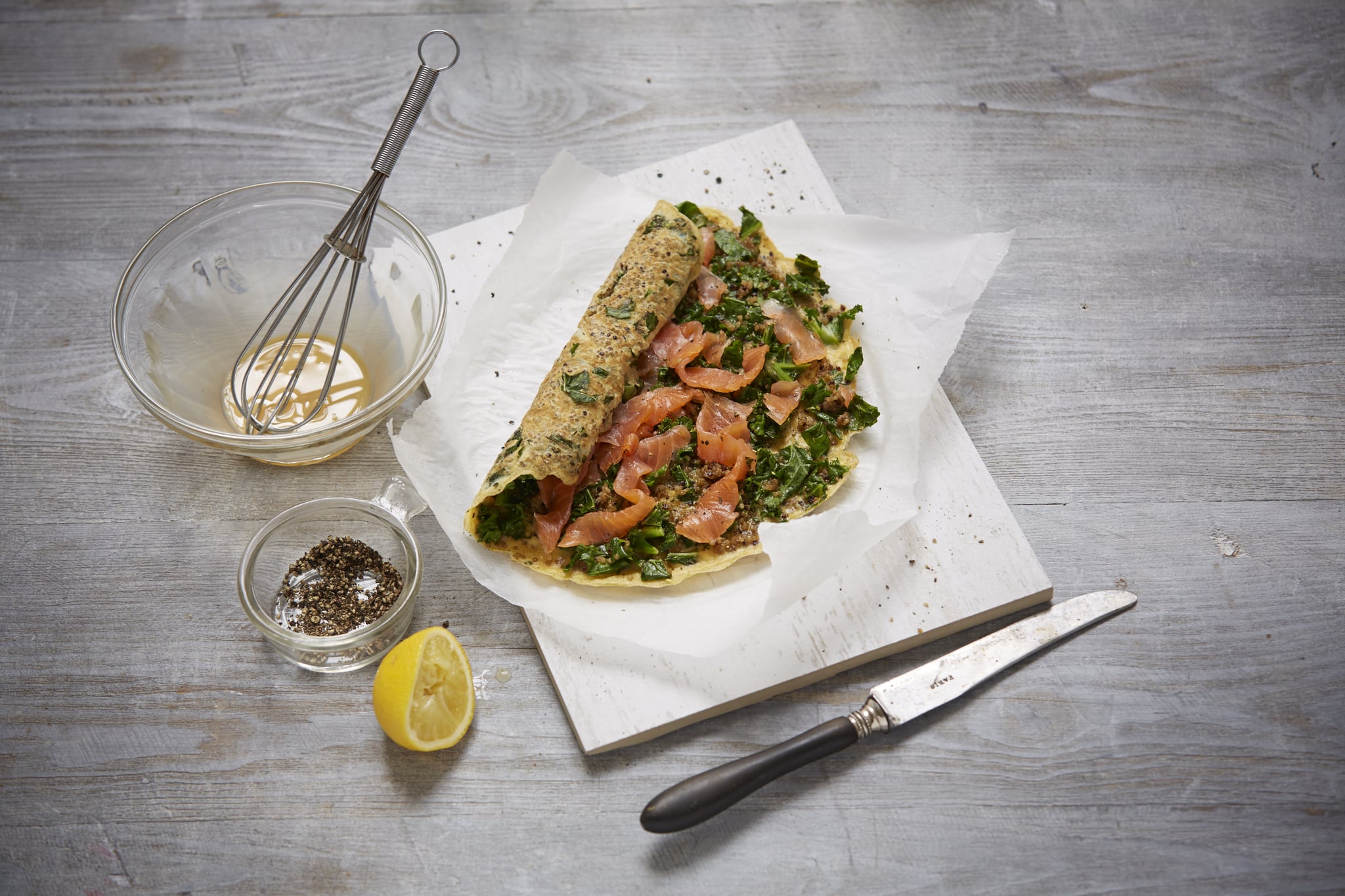 Eggs are always a good idea, whether you're too tired to cook dinner, want a make-ahead or no-fuss breakfast, or need a quick bite. We've got a new recipe to add to your brunch repertoire that combines fluffy eggs with fibre-full kale, crunchy quinoa, and tasty salmon to make the best breakfast, lunch, or dinner wrap you've ever tasted!
Kale and Smoked Salmon Roll-Up
Two Chicks
Notes
Feel free to use either egg whites or whole eggs; the recipe will be delicious either way!
Ingredients
120ml free-range liquid egg white or liquid whole egg (this recipe used Two Chicks)
30g shredded kale
50g ready cooked red and white quinoa, crumbled
40g smoked salmon slices
Splash of olive oil
Zest and juice of 1/2 lemon
Salt and freshly ground black pepper
Directions
Heat the oil in a nonstick frying pan and throw the kale in with a splash of water. Stir-fry for a few minutes until the leaves are wilted, then add in the quinoa and lemon zest, making sure to mix well. Season with a little salt and some black pepper.
Whisk your eggs or shake the carton of ready cracked eggs, then pour into the pan, stirring until the eggs begin to set. Tilt the pan and use a wooden spatula to make sure runny parts of the egg get cooked.
Cook until the base is golden and no parts of the omelette are runny.
Slip onto some baking parchment and leave to cool slightly.
Top the omelette with the slices of smoked salmon, a squeeze of lemon juice, and additional black pepper. Roll up tightly and wrap up for later or enjoy immediately!
Information
Category

Breakfast/Brunch, Eggs

Yield

1 serving