Sausage, White Bean, and Kale Soup
Notes
This soup is fairly mild, but for less spice, swap sweet Italian sausage; for more, add a generous pinch of red pepper flakes at the same time that the garlic and tomato paste are added.
Ingredients
1 1/2 tablespoons extra-virgin olive oil
1 medium leek or yellow onion, finely chopped
2 medium carrots, peeled and finely chopped
2 medium celery stalks, finely chopped
Sea salt
1 tablespoon minced fresh rosemary
2 tablespoons tomato paste
2 large cloves garlic, minced (about 1 tablespoon)
1.2 L chicken broth
Two tins cannellini beans, rinsed and drained
170 grams (about 1 bunch) kale, centre ribs removed, leaves chopped
1 parmesan rind (1-by-3 inches; optional), plus grated parmesan for garnish
340 grams hot bulk Italian sausage, rolled into bite-size meatballs
2-3 tablespoons cider vinegar, to taste
Freshly ground black pepper
Directions
Heat 1 tablespoon of the oil in a 4- to 5-quart pot over medium heat. Add the leek or onion, carrot, celery, rosemary, and a generous couple pinches of salt and cook, stirring occasionally, until the vegetables begin to soften, about 6 minutes. Add the tomato paste and garlic and cook until fragrant, 45 seconds. Add the broth, and parmesan rind (if using). Bring to a boil, reduce the heat to medium low, and simmer gently until the vegetables are tender, about 15 minutes.
Meanwhile, heat the remaining 1/2 tablespoon oil in a 10-inch nonstick skillet over medium-low heat. Add the sausage meatballs, and cook, flipping about halfway through, until browned and cooked through, about 10 minutes.
Add the kale to the soup; cook 1 minute, then add the meatballs (discarding any of the rendered fat and oil) and the beans; cook for 4 more minutes to meld the flavours. Stir the cider vinegar into the soup and season to taste with salt and pepper.
Ladle into bowls and garnish with grated parmesan.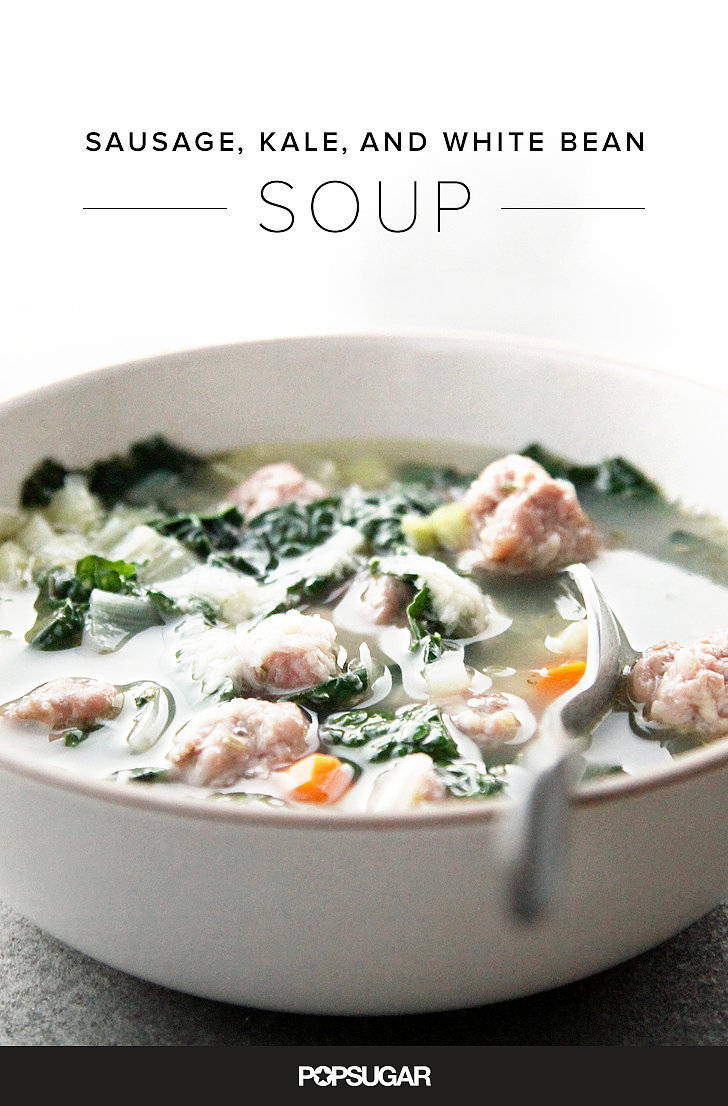 Information
Category

Main Dishes

Cuisine

Italian

Yield

Serves 4