Should You Meal Prep?
PSA: I Refuse to Meal Prep, but I Still Have Healthy Meals — Here's How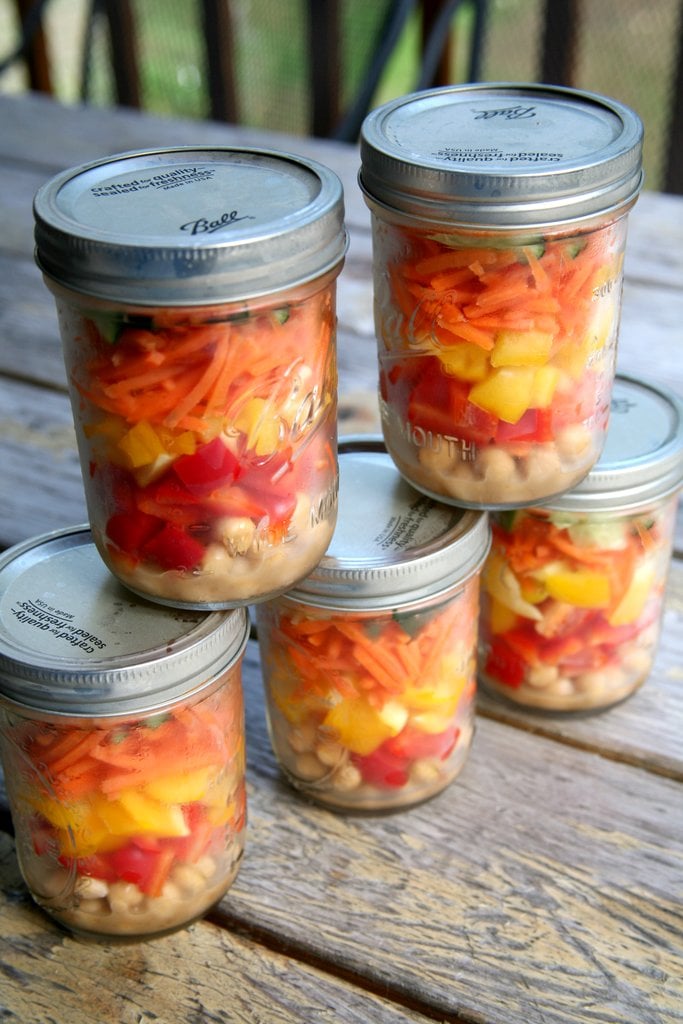 We've all seen the weeks' worth of perfectly portioned meals on Instagram. They typically flood my feed on a Sunday, a day that I love to kick back and avoid the stress of the week ahead. The timing of these overly organised meal posts is enough to give anyone the Sunday scaries.
I've never been into meal prepping, so when I first started to notice this trend on social media, I started to question my own decisions. As a registered dietitian, I'm hyper aware of food trends, especially the ones promising to make healthy eating easier. It works for some people sure, but for me and many others, meal prepping isn't a part of normal life and that's OK! Don't stress, I have three legitimate reasons that prove you don't need to meal prep for a healthy diet.
No Prep Does Not Mean No Plan
Planning what foods to buy makes for easier meal prep and saves money, but there are other ways to save time throughout the week that don't involve a marathon day of meal prepping. Just a few of my favourites.
Cook more whole grains than you need for a recipe and package the rest of the plain, cooked grain in the fridge for the coming day's meals.
Stock up on frozen, already prepped vegetables. They're just as nutritious as fresh and save lots of time on cleaning and chopping. Frozen veg are great for stir-fry dishes, pizza, soups, and pasta sauce.
Don't pressure yourself into cooking everything from scratch. We have food companies for a reason and lot of them are making innovative products that can easily fit into a healthy diet. I'll pick up a jar of tomato sauce (the lower the sodium, the better, so compare brands!) and "fortify" it with added vegetables like leafy greens, peppers, squash and courgette, and mushrooms. Other options like premade whole wheat pizza dough, jarred, low-sodium marinades, low sodium canned beans, and quick-cooking whole grains are all staples in my house.
Meal Prep Can Limit Variety
OK, I realise you can have variety with meal prepping, but the majority of meal preps I've seen include five to seven containers of the same exact foods. It might make a nice-looking Instagram post, but seriously, how boring is that? No wonder people ditch their attempts to eat healthy – I would too if it meant eating the same thing every day! Instead, start with a meal in mind and shop accordingly.
If your meal idea includes vegetables (as it should), then keep in mind that it doesn't need to be the same set of vegetables each time. You can pick up what appeals to you (or what's local and in season) and use those ingredients to create your dish.
Remember, even the most strict recipes have flexibility. recognise that you can swap a whole grain like brown rice for another type like farro and you can sub veggies of your choice in place of others you may not enjoy or for the ones you have on hand. If a recipe calls for broccoli, but you hate broccoli, why not try cauliflower instead? The point is to try new foods and flavours, increase variety, and keep your taste buds entertained while also providing the variety of nutrients your body needs.
Avoid Meal Prep and Remain Flexible
How do you know what will sound good to you on a Thursday when you're prepping the Sunday before? Most people don't and I'm not a fan of eating food that doesn't sound appealing. Remaining flexible in your meal planning throughout the week allows you to create satisfying meals you crave, not force a meal into your day that doesn't sound great at the time. Food is meant to nourish your body, but it should also to bring enjoyment and pleasure.
Meal prepping works for some people and for those who enjoy it, please keep prepping away. But for those like me who are spending their weekends meal-prep free, remember, meal prepping is not the only way to a healthy diet.