Smoothie Recipe to Ease Sore Muscles
Sip Away the Soreness: Cherry Berry Ginger Smoothie
A little soreness lets you know you got in a good workout, but you don't want to be so achy that it hurts to laugh or raise your arm to brush your hair. Delayed onset muscle soreness (DOMS) can cause discomfort for a day or two, and aside from stretching and taking an excruciating exhilarating ice bath, certain nutrients and foods can actually help prevent or ease your soreness. Here's a smoothie recipe you can whip up that's chock-full of them.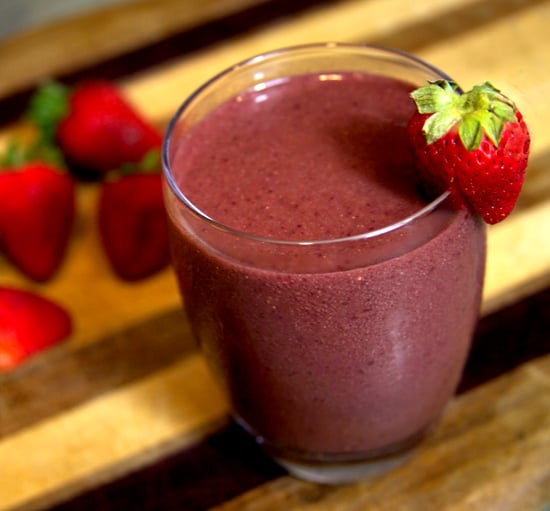 This recovery drink contains antioxidant-rich strawberries and kale, both of which are full of pain-easing vitamin C, as well as wheat germ, an excellent source of vitamin E, which can help decrease exercise-induced muscle damage. Omega-3s can help reduce inflammation, so throw in some sardines — just kidding — walnuts are also high in these healthy fats. Add fresh ginger, a natural painkiller, and my fave, cherries, which contain anthocyanins, potent antioxidants (also found in strawberries) that help reduce inflammation and muscle damage. Top it off with green tea, a double whammy that contains caffeine and catechins that have anti-inflammatory effects.
Keep reading to learn how to make this 260-calorie smoothie.
Cherry Berry Ginger Smoothie
From Jenny Sugar, POPSUGAR Fitness
Ingredients
1 cup frozen cherries
150 grams strawberries
35 grams kale
15 grams walnuts
1 teaspoon wheat germ
1/2 teaspoon freshly grated ginger
180 ml green tea
Directions
Mix everything thoroughly in a blender. Enjoy immediately.
Makes one serving.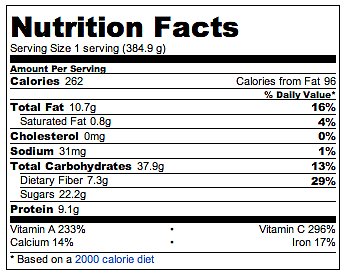 Source: Calorie Count
Information
Category

Drinks