Stop After One Alcoholic Drink to Feel the Endorphins
Another Reason to Stop After One Glass: Endorphins
I'm doing a little Spring cleaning and found this simple health tip in the FitSugar files. It's a good reminder to enjoy your nightly wine in moderation.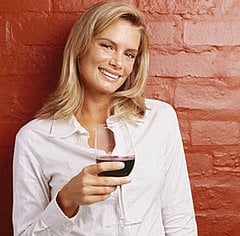 By now we all know that drinking in moderation, especially wine, is beneficial for your health. However, it is important to remember to drink in moderation, and for women that means stopping after one glass. Here's another reason to keep your alcohol intake in the moderate zone: endorphins. Recent research found light to moderate drinking releases endorphins, while heavy drinking does not. A "feel good" brain chemical, endorphins can also reduce anxiety.
Lead researcher in the study and professor of psychiatry and physiology at McGill University, Christina Gianoulakis PhD, hammers the point home with this explanation:
Readers should understand that drinking only low amounts of alcohol will increase endorphin release and produce pleasant effects. Thus, if after consumption of about two drinks of alcohol an individual does not experience the pleasant effects . . . he or she should stop drinking.