Stretches For Better Mobility
4 Dancer-Approved Stretches That'll Get Your Body Long and Limber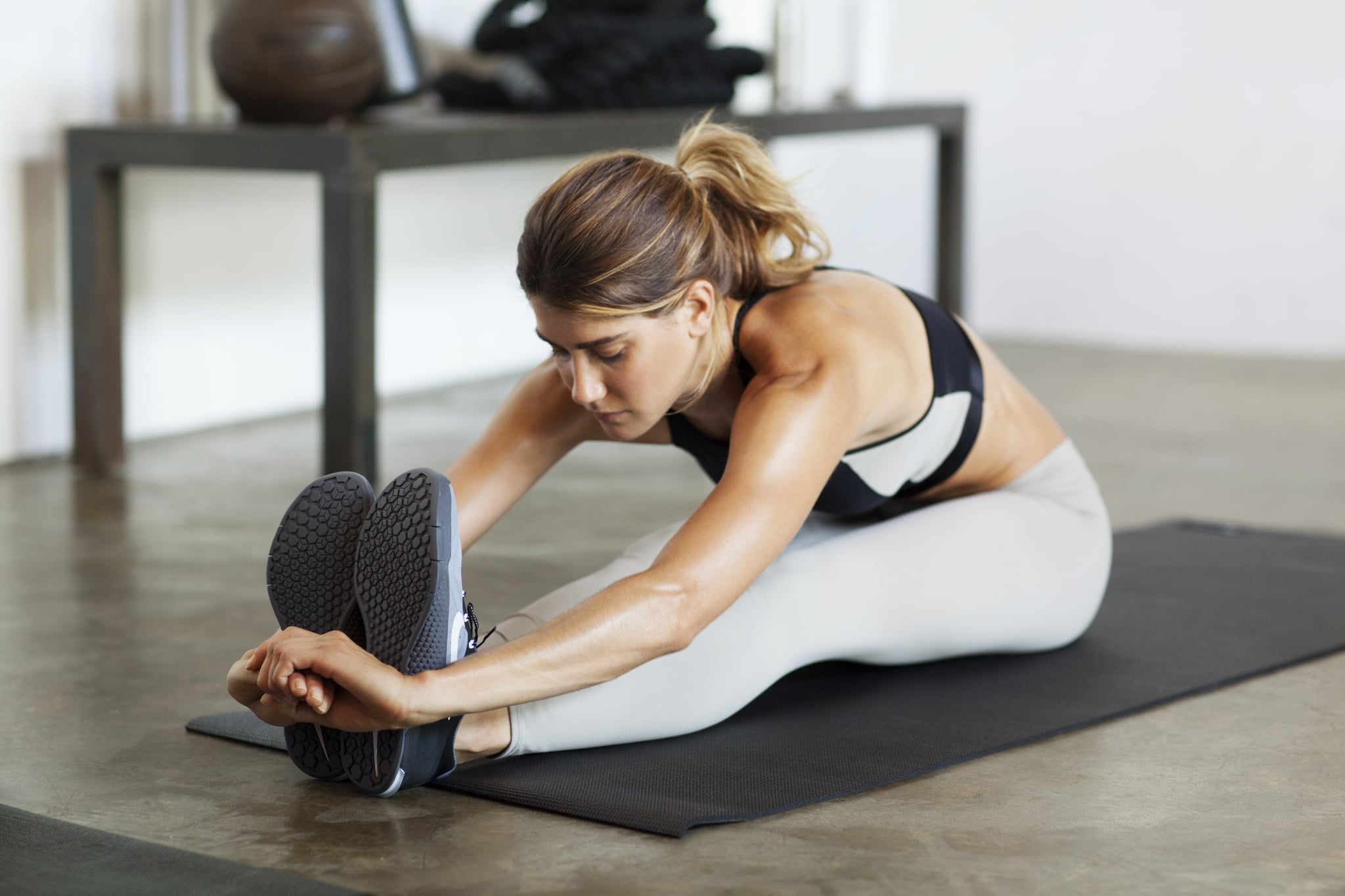 Stretching may be deceptively gentle, but it's actually an important part of maintaining a fit and healthy body. Just because you can do a stretch routine in the comfort of your own bed doesn't mean you're not putting your body through its paces.
Not only does stretching increase your blood flow and safely get your joints ready for more strenuous activity, but stretching routines also lengthen your muscles, improve your posture, and can be effective workouts on their own.
If you want to add a few effective stretches to your pre- or post-workout routine, dancer, Reebok ambassador and fitness enthusiast Danielle Peazer has just the moves for you. Read on for the four stretches that'll lengthen and limber you up, straight from Danielle's new 12-week body plan.
Box Stretch
Good for: Strengthening and elongating the spine, as well as stretching the inner and outer legs.
How to do it: Sit down with your legs extended in front of you and straddled as wide as comfortable with your knees and toes facing the ceiling. Start to widen your straddle slowly if comfortable and reach your hands as far forward on the floor as you can and hold.
Hamstring Stretch
Good for: Releasing tight hamstrings.
How to do it: Seated, extend your right leg in front of you and bend the other inwards with the sole of your left foot touching your right thigh. Reach as far forward as you can with the intention of touching your chest to your right thigh. Hold and repeat on your other leg.
Glute Stretch
Good for: Lower-body alignment and improved posture.
How to do it: Lie back and elevate your legs, keeping your knees bent. Bring your right ankle to rest on your left thigh. Gently pull your left thigh towards your chest and hold when you can feel a comfortable stretch in your glute.
Quad and Hip Flexor Stretch
Good for: Lengthening the quads.
How to do it: Kneel on your right knee and bring your left foot forward, keeping it flat on the floor and leaving the leg bent at a right angle. Square your hips and drive them as far forward as possible while remaining comfortable. Bring your hips back, and taking hold of your right foot with both hands, pull it towards you. Hold and repeat, alternating legs.
Image Source: POPSUGAR Photography / Rima Brindamour