Treat Shin Splints With Ice Massage
RX For Shin Splints: Ice Massage
Shin splints are the bane of many new runners. The tight calves that accompany mileage increases can spell pain for the lower leg. If running causes any discomfort, take time off to allow your shin splints to heal. But you need not sit idle on the sidelines while you recuperate: ice massages help, too. A serious runner, my Equinox trainer reminded me of the healing combo of ice and massage to decrease the inflammation around the tibia (anatomy speak for shin), caused by this overuse injury. The technique is simple, but first you need to make the ultimate tool: the icing cup!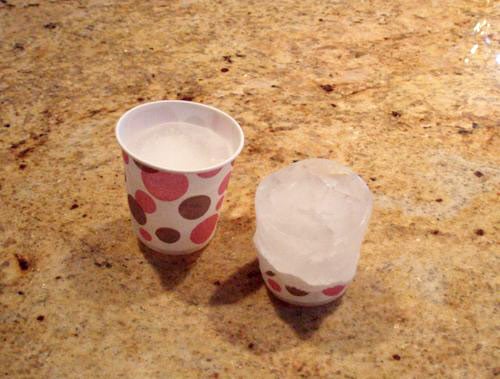 Make Your Own Icing Cup
Used in gyms and physical therapy clinics, an icing cup protects your fingers from freezing and provides a perfectly sized contact point for massaging troubled spots. Take six paper cups, fill them with water, and freeze. When it comes time to ice, peel back the paper and begin the massage.
The Massage
Starting by your foot, place your icing cup on the outside of your shin, on the tibialis anterior muscle. Making long strokes toward your knee, massage the muscle with an amount of pressure that feels good. Mix up your massage strokes and try small circular patterns, once again starting at the ankle and working up toward the knee. After five minutes of massaging, finish your 20-minute icing cycle with 15 minutes of static icing by placing an ice pack (or frozen peas) on your shin. Aim to massage and ice twice a day.
If you're not up for an ice massage, you can always show your shins some foam roller love. Do keep stretching your calf muscles, and once the pain diminishes try these easy exercises to strengthen the tibialis anterior.