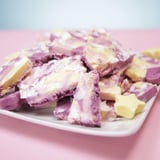 Ingredients
125 grams blueberries
1 mango, diced into 1/2-inch cubes
3-4 strawberries, diced into 1/2-inch cubes
800 grams Greek yoghurt
3 tablespoons honey
2 tablespoons raw unsweetened coconut
Directions
Place blueberries, mango, and strawberries in their own microwave-safe bowls and microwave individually for 90 seconds each. Remove fruit from the microwave and use a fork to mash any remaining chunks until you obtain a smooth consistency.
Add 260 grams Greek yoghurt and 1 tablespoon honey to each bowl of mashed fruit and mix until combined. The yoghurt will take on the colour of the fruit so the blueberry yoghurt will be purple, the strawberry will be pink, and the mango will be yellow.
Line a baking sheet with parchment paper and, using a spoon or spatula, spread a layer of 1/2 of the blueberry yoghurt to cover the baking sheet, leaving at least 2 inches of space around the edges.
Take all of the strawberry yoghurt and add it on top of the blueberry yoghurt in 5 to 6 large sections. Take care not to fully cover the purple blueberry yoghurt.
Finish by drizzling the mango yoghurt and the remaining blueberry yoghurt on top to make a nice assortment of colours, and then use a spoon to gently marble all of the coloured yoghurts together.
Top with a generous sprinkling of coconut flakes, cover with plastic wrap, and place in the freezer for 2 hours. After 2 hours, remove the Unicorn Yoghurt Bark from the freezer and cut into different-sized sections. Enjoy immediately, or place in a plastic container for storage in the freezer.
Information
Category

Kids, Snacks

Yield

12 pieces for 6 servings