Vegan Creamy Broccoli Soup Recipe
Metabolism Booster: Creamy Nutmeg Broccoli Soup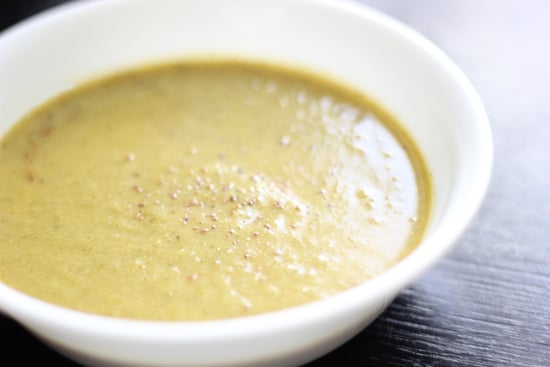 Soup nourishes the body, especially when it's chock-full of metabolism-boosting, detoxifying nutrients like this creamy vegan broccoli soup. The recipe is part of the postdetox maintenance mode from the new book 1 Pound a Day: The Martha's Vineyard Diet Detox and Plan for a Lifetime of Healthy Eating, and each of the soup's components add an important benefit. The calcium and vitamin C in broccoli, for example, helps you burn more calories, while nutmeg and cayenne help boost your immunity, protect against disease, and increase your metabolism. The high fibre content makes this soup a good option when you want to detox; the garlic in the soup helps flush out toxins from your body as well. This tasty and creamy soup makes a hearty main when paired with whole grain bread or a salad; read on for the recipe.
Notes
I made a few modifications from the recipe in the book: the original calls for unsalted vegetable broth (preferably made at home), but I used store-bought low-sodium vegetable broth for convenience. I also used four large broccoli stalks instead of eight and upped the spice quantity to one teaspoon of nutmeg instead of 1/2 teaspoon and 1/4 teaspoon of cayenne pepper instead of 1/8. Feel free to modify to your tastes as well.
Ingredients
1.1 Litres low-sodium vegetable broth
4 large broccoli stalks, chopped (use both the stems and florets)
1 tablespoon coconut oil
50 grams spring onions, chopped
1 or 2 garlic cloves, peeled and chopped
1 teaspoon ground nutmeg
1/4 teaspoon cayenne pepper
240 mL rice milk
Directions
Bring broth to a boil in a large pot over high heat. Add broccoli and reduce heat. Cover and simmer until tender, about 10 minutes.
Meanwhile, heat the oil in a small skillet over medium heat. Add the spring onions and garlic and cook until tender, stirring from time to time.
Stir the onions and garlic into the broth. Remove from heat and let cool for 10 to 15 minutes.
Working in batches, puree until smooth in a blender or food processor. Return the puree to the pot.
Combine the nutmeg and cayenne in a small bowl and stir in the rice milk. Gradually stir this mixture into the puree.
Return the soup to medium heat and cook until heated through, stirring from time to time. Serve hot. Makes four servings.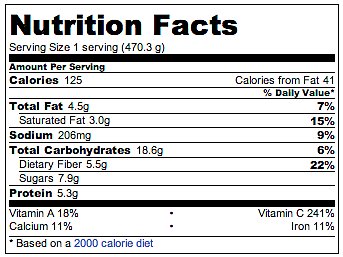 Information
Category

Soups/Stews

Yield

4