Vegan and Gluten-Free: Cumin-Spiced Lentils With Quinoa
It doesn't have to be a salad every night for vegans who are also gluten-free. A warm bowl of this savoury lentil stew makes for a comforting meal. This creamy dish is full of protein, fibre, and flavour.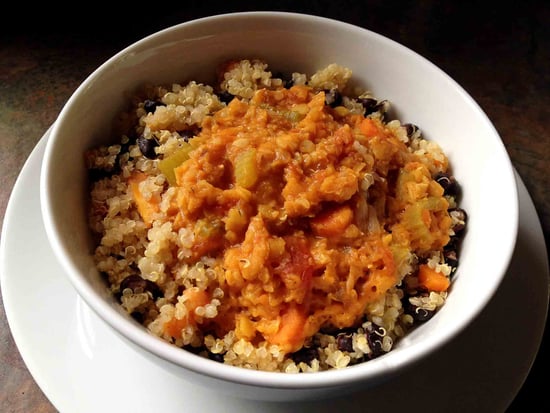 For under 400 calories each yummy bowl offers a whopping 18.7 grams of protein and 19.5 grams of fibre. Read on for the simple recipe.
Vegan and Gluten-Free: Cumin-Spiced Lentils With Quinoa
From Jenny Sugar, POPSUGAR Fitness
Ingredients
For quinoa:
190 grams dried quinoa
480 mL vegetable broth
2 carrots, peeled and diced
1 can black beans
Salt and pepper


For lentil topping:
1 tablespoon olive oil
1 sweet onion
115 grams chopped tomatoes (any brand boxed tomatoes will do)
225 grams dried green lentils
1 Litre vegetable broth
6 stalks celery, sliced
4 carrots, peeled and chopped
1/4 teaspoon ground coriander
1/4 teaspoon ground cumin
Salt and pepper
Directions
Place dry quinoa and vegetable broth in a covered pot and heat on high. After it comes to a boil, lower heat and simmer for 10 minutes. Stir in the raw carrots and beans. Cook for another 15 to 20 minutes or until quinoa fluffs with a fork.
While the quinoa is cooking, in a larger pot, sauté onions in olive oil for five minutes. Then add the tomatoes, lentils, vegetable broth, celery, carrots, and spices. Cover and cook on medium heat for an hour or until the lentils are soft.
Spoon one-sixth of the quinoa-bean mixture into a bowl, top with one-sixth of the lentil mixture, and serve immediately.
Makes six servings. Check out the nutritional information for one serving.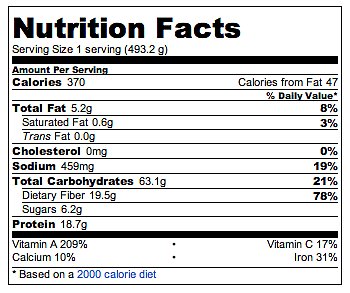 Source: Calorie Count
Information
Category

Main Dishes

Yield

6 servings