If you're not familiar with nutritional yeast, you can find it at most health food grocers in the bulk bins aisle. It's what gives this dish its hearty, cheesy flavour, while also loading it with vitamin B12. In addition to B12, this recipe is high in iron and protein, and low in sugar, saturated fat, and cholesterol.
Vegan Mac and Cheese
From Michele Foley, FitSugar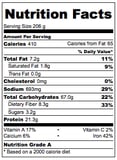 Ingredients
4 tablespoons Smart Balance Light spread
720 mL vegetable broth
40 grams flour
30 grams soy sauce
1 1/2 tablespoons garlic powder
1 tablespoon paprika
1 tablespoon turmeric
Salt and pepper to taste
60 grams nutritional yeast
450 grams cooked macaroni pasta
For the topping:
2 tablespoons Smart Balance Light spread
90 grams breadcrumbs
Directions
Preheat oven to gas mark 4.
In a medium size dutch oven, over low-medium heat, melt the Smart Balance Light spread, then slowly incorporate flour and vegetable broth; whisk until smooth.
Stir in soy sauce, garlic powder, paprika, turmeric, salt and pepper.
Add nutritional yeast and mix until the sauce is smooth and creamy.
Add cooked macaroni to the sauce and stir until all pasta is coated evenly. (If you prefer the mac and cheese to be creamier, forgo baking it and serve at this stage.)
Optional: transfer mixture to a 9x13 baking dish.
To make the topping, melt the Smart Balance Light spread and toss in the breadcrumbs until coated. Top macaroni mixture with the breadcrumbs.
Bake for 30 minutes. Let rest for five minutes before serving.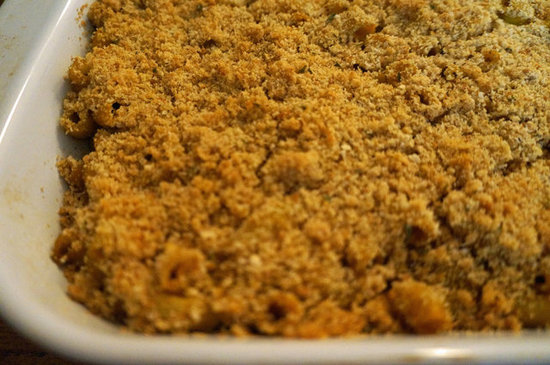 Makes 8 entree-size servings.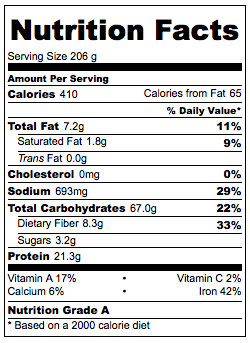 Information
Category

Main Dishes