Vegan Sweet Potato Pie Recipe
Tired of Pumpkin Pie? Make This Decadent Dessert Instead
Not being Stateside to take part in Thanksgiving shouldn't stand in the way of you enjoying some of the feast's staples.
Sweet potato pie is one such dish, and since sweet potatoes are chock-full of nutrients — especially vitamin A, which promotes immunity and eye health, and hunger-controlling fibre — reaching for a slice of sweet potato pie is never a bad idea.
Regular sweet potato pie can include high amounts of butter and eggs, so I made some common vegan substitutes (coconut oil for butter and cornstarch for the eggs) to lighten up the pie without compromising taste. One of the best parts about the pie, to me, is the dollop of whipped cream that's accompanied with it, so I may have gone a bit overboard with the coconut whipped cream frosting — feel free to reduce the amount of coconut cream and serve alongside instead!
Vegan Sweet Potato Pie With Whipped Coconut Cream Frosting
Pie filling adapted from Whole Foods. Pie crust adapted from Cooks. Coconut whipped cream from Oh She Glows.
Notes
Cook, cool, and peel the sweet potato before proceeding; I boiled mine until tender (about 25 minutes) but you could also roast them. Bake and cool the crust before you make the pie filling, and make the coconut cream after your pie has had time to cool; you'll need to refrigerate a can of full-fat coconut milk overnight. It helps to also chill the bowl you'll be whipping the cream in for a few minutes before you're ready to whip.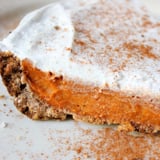 Ingredients
For the crust
65 grams pecans, coarsely chopped
45 grams rolled oats
95 grams whole wheat pastry flour
200 grams coconut oil
2 tablespoons maple syrup
For the filling
3 tablespoons cornstarch
160 grams packed dark brown sugar
2 sweet potatoes, cooked
180 ml unsweetened almond milk
1 teaspoon nutmeg
1 teaspoon cinnamon
1/2 teaspoon sea salt
For the coconut whipped cream
1 can chilled full-fat coconut milk (fat solids only)
2 teaspoons confectioners sugar or maple syrup
1/2 teaspoon vanilla extract
Directions
Add pecans and rolled oats to a blender and grind to a powder. Make sure you don't overblend — you may end up making a paste. Place flour in a medium-sized bowl and add pecan and oat mixture. Mix well.
Add the coconut oil and mix with a fork until it is thoroughly incorporated into the flour mixture.
Stir in the maple syrup; mix just enough to blend well and form a dough that will hold together when pressed.
Transfer mixture to a 9-inch pie pan and spread into an even thickness on the sides and bottom of the pan.
Poke holes in bottom and sides of the crust. Bake at 375 degrees for 20 to 25 minutes or until golden brown. Let the crust cool before filling.
While crust is baking, make the pie filling: in a large bowl, whisk together brown sugar and cornstarch until combined. Add sweet potato, almond milk, nutmeg, cinnamon, and salt and whisk until blended. Pour mixture into pre-baked pie crust.
Bake 1 hour or until edges are set and centre slightly jiggles. Let cool on a wire rack at least 1 hour before serving.
Once pie has cooled, open the can of chilled coconut milk, turn upside down, and open. Pour out the liquid at the top; you'll use the cream part, not the liquid.
Gently pour the coconut fat into your chilled mixing bowl and whisk with a hand blender or standing mixer until whipped. Add confectioners sugar and vanilla or maple syrup and whip again until fully incorporated. Spread evenly onto pie and refrigerate.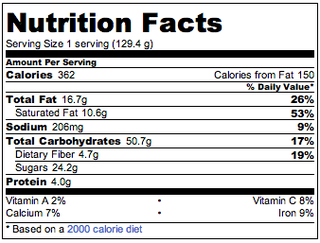 Information
Category

Desserts, Pies/Tarts
Image Source: POPSUGAR Photography / Leta Shy