What Is a Battle Ropes Class Like?
I Tried a Battle Ropes Class, and I Never Sweated So Much in 30 Minutes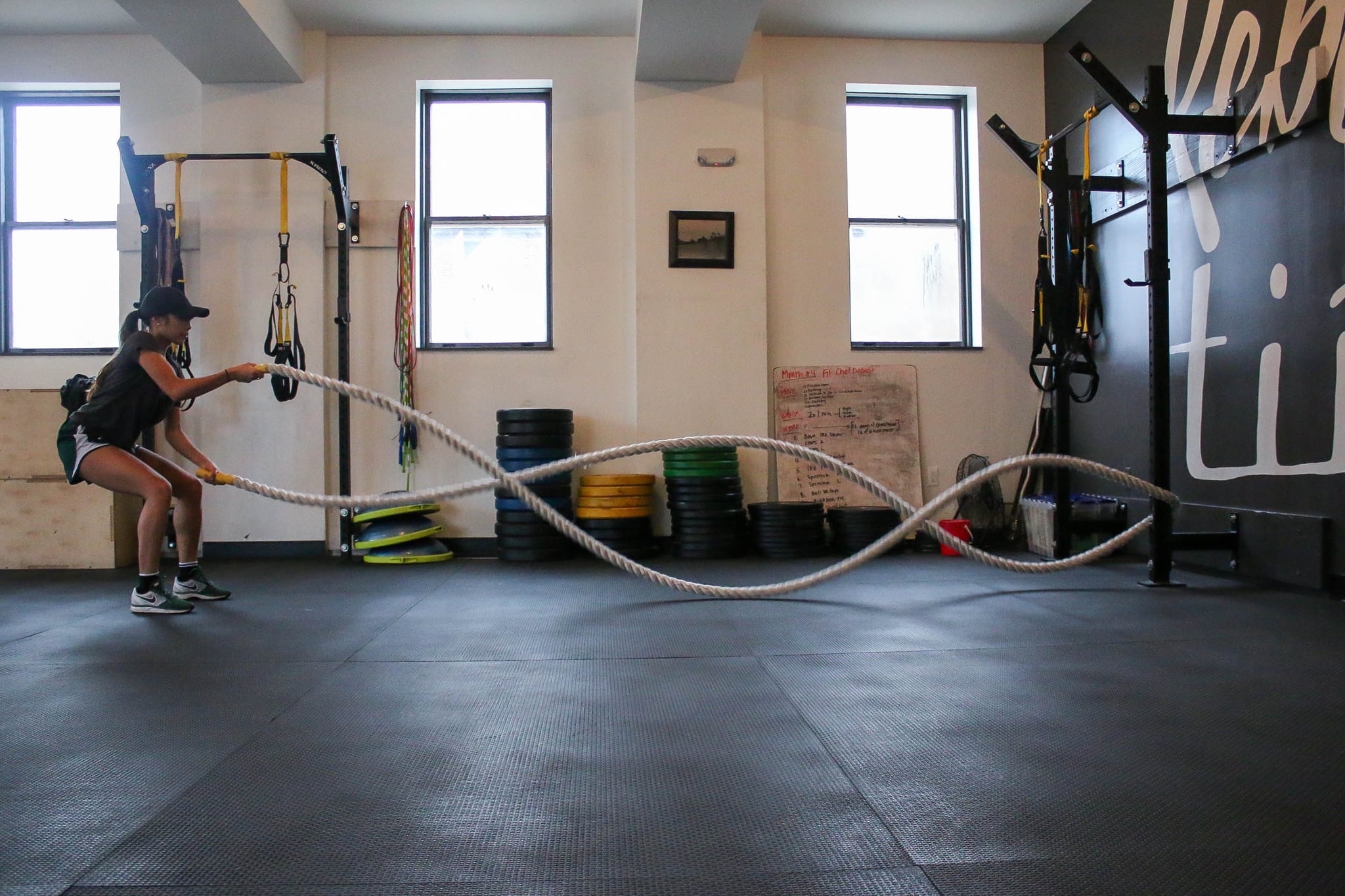 Whenever I go home to St. Louis, I know two things will happen: I will eat toasted ravioli, and I will work out with my sister, who is superfit and a certified personal trainer. And since the boutique fitness studio Tru Fusion, which offers a wide variety of workout classes, has opened in St. Louis, we decided to check out a battle ropes class there one Saturday morning.
I'm familiar with battle ropes; we use them pretty frequently in the HIIT boutique class SweatShed. But I have never done an entire class dedicated to battle ropes. Right away, my sister set us up on the longer ropes, which are more difficult (thanks, sis). The class was a 30-minute format, with five minutes of a warmup and five minutes of a cooldown. So that left 20 minutes of battle rope work, which doesn't sound bad, right? False — it was intense and a great mix of cardio and strength work.
Our instructor informed us that you get what you put into the class, and that couldn't be more true. The harder you slammed and moved the ropes, the tougher it was. The class was set up in a HIIT format with 45 seconds of work followed by 15 seconds of rest. Each set was a different battle rope move using either an up grip with your thumbs on top of the handles (like you're shaking hands with the rope) or a down grip, with your thumbs underneath the ropes.
The moves varied from slamming the ropes while alternating each arm to move the ropes like waves, to slamming the ropes to each side, like you would move a long jump rope. Some exercises incorporated squats and curtsy lunges while moving the ropes. I expected to feel the exercises in my shoulders and biceps, but I was not expecting to work up such a sweat from the cardio of it all. About five minutes in, I was looking forward to each 15-second rest, and by the halfway mark, I was begging for the final set.
Afterward, I was supersweaty but felt accomplished. It was definitely a good workout and efficient in just a 30-minute class — plus, I'm not sure I could have gone any longer than that. The next morning, I felt it in my glutes and shoulders. Although I unfortunately don't live in St. Louis to take advantage of this class, I look forward to checking out a battle ropes class in New York. If you're curious about trying a battle ropes class, definitely do it! It was a great workout and a fun way to mix up cardio and strength training.