Yummy Potato, Bean, and Kale Soup Recipe
Make This Tonight: Kale Potato Bean Soup
Whenever I crave something filling that's not necessarily good for me, I take comfort in this yummy kale potato bean soup that's a cinch to make and a crowd-pleaser to boot.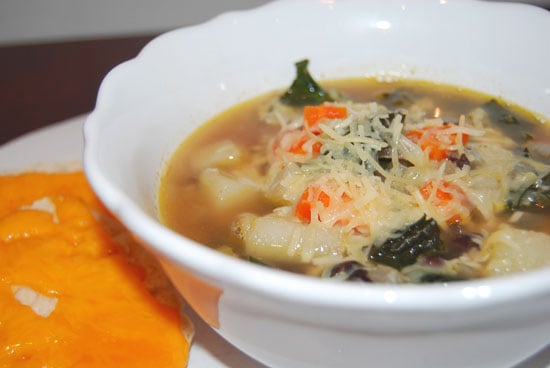 Chock full of tasty veg, protein packed beans, and other fresh ingredients, this vegetarian soup is quite tasty and easily adaptable. I, for instance, like to add more beans and corn to the mix every so often. And on those rare moments where I do want a little meat in the pot, it's simple enough to add bits of grilled chicken or meatballs. So the next time you think about kindling the fire, consider firing up a bowl of the kale potato bean soup to go along with it!
If you want to see the recipe, just read more.
Kale Potato Bean Soup
Original Recipe
Ingredients
3 tablespoons olive oil
115 grams chopped onion
65 grams chopped carrot
55 grams chopped celery
200 grams cubed peeled potato
1/2 teaspoon salt
2 garlic cloves, minced
480 mL organic vegetable broth
260 grams chopped kale (about 1/2 bunch)
1 tin no-salt-added black beans, rinsed and drained
1/2 teaspoon freshly ground black pepper
1 tablespoon red wine vinegar
2 tablespoons shaved Parmesan cheese
Directions
1. Heat a large pot oven over medium-high heat. Add olive oil to pan.
2. Add garlic, onion, carrot, potato, and celery and sauté for 7 minutes or until tender.
3. Toss in salt and pepper and cook 1 minute.
4. Stir in 4 cups vegetable broth and kale. Bring to a boil and cover. Reduce heat and simmer for 3 minutes.
5. Place drained black beans into the pot. Bring to a boil again. Reduce heat and simmer for another 5 minutes.
6. Stir in vinegar. Serve up in a bowl and add a bit of shaved Parmesan cheese on top!
Information
Category

Soups/Stews
Nutritional information per serving:
250 calories, 11.8 g protein, 30.5 g carbohydrates, 9.2 g fibre, 10.4 g fat, 0 mg cholesterol, 593 mg sodium