Arrae Calm Supplement Review
This Calming Supplement Eased My Tension Headaches Without Irritating My Gut
As POPSUGAR editors, we independently select and write about stuff we love and think you'll like too. If you buy a product we have recommended, we may receive affiliate commission, which in turn supports our work.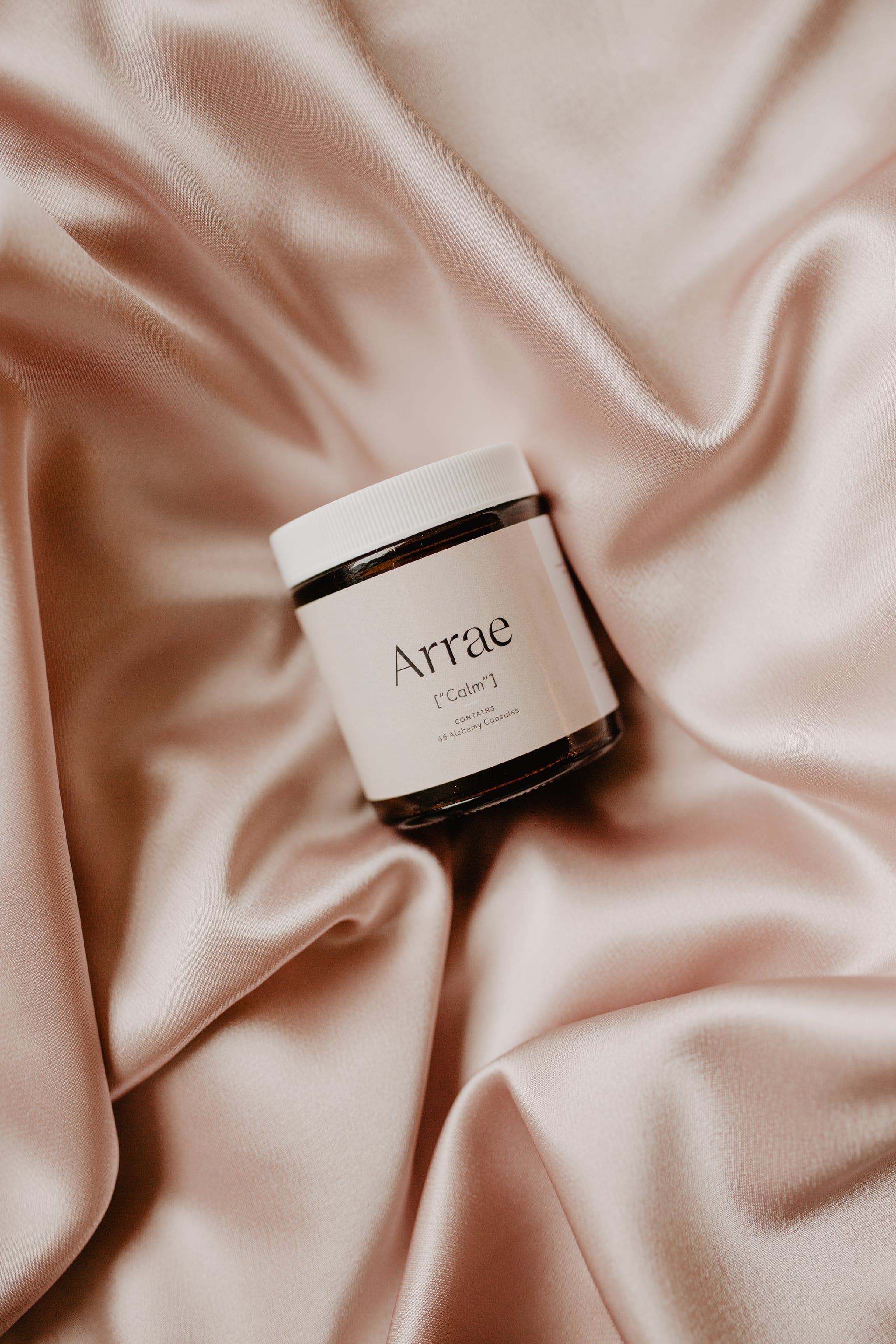 I initially heard about the supplement brand Arrae through a flight attendant-vlogger I follow on YouTube, in a video she made about products to help with GI discomfort while travelling. I deal with stomach issues all the time, not just while travelling, and at this point I'm desperate for anything that'll help me feel relatively normal, so I started Googling right away.
What I learned about Arrae made me even more curious. One of the founders, Siff Haider, said on the Arrae site she had "struggled with health issues for years and turned to natural remedies as a last resort." But she had a hard time finding supplements that don't contain extra "stuff" — fillers or nonorganic ingredients that could set off sensitive stomachs (like mine). This led to her creating her own line, with the help of a medical advisory board with two naturopathic physicians.
I ended up trying out a sample of Arrae's Calm ($48). If this seems like a strange choice for someone who was primarily focussed on gut health, let me explain: I was hoping the Calm supplement might work holistically to help make a dent in my stomach issues. The item description on Arrae's site even notes that in addition to promoting mental relaxation, Calm might prevent GI discomfort, since "digestion is optimised when the body is in a calm state."

What's more, my therapist always reminds me that stress and anxiety can also create more GI issues, particularly for those who are prone to IBS. Even my GI doctor recently recommended cognitive behavioural therapy as a way of possibly helping alleviate some of my gut issues, after a colonoscopy and endoscope showed up clear.
So I had a hunch that Calm might be a good addition to my healthy gut routine. Knowing that the supplement contained just four ingredients, with no fillers, and was totally vegan was extra reassurance — if it didn't help, I figured there was a slim chance that it would irritate my stomach more. Here was my experience.
What I Loved About Arrae Calm
The first day I tried Calm was a particularly stressful day for me, since I was just returning to work full time, after some serious time off. I also developed a headache early morning that lasted into the late afternoon, so I was eager for something to take the edge off.

As a vegan who eats as clean as possible, I appreciated how the brand listed each ingredient with a short descriptor. In Calm, there were things like passionflower (which is though to increase levels of a calming brain chemical, GABA, Mount Sinai reports) and magnesium (which has a well-documented relaxation effect), which I knew, but also inositol (which some early studies indicate may help control panic, Psychology Today notes) and l-theanine (an amino acid that may reduce stress), with which I was less familiar.
After I took the supplement, it wasn't long before I noticed my headache literally disappearing, I also felt an overall sense of tranquility wash over me, which made me suspect that I'd been experiencing a tension headache.
I was concerned Calm would make me feel tired, but I felt peaceful, not draggy, concerns I've always had when considering using wine, CBD, or sleeping pills. I was able to go to my daughter's late-day indoor football game without an issue.
After just one trial, I wasn't fully convinced this pill could possibly be alleviating my headaches, so I had to give it another shot a few days later. Following a morning run, I had a headache that wouldn't quit, so I took another Calm pill. Sure enough, within the hour, I found that my headache pain had mostly subsided.
Of course, that's just my personal experience — and only a couple days' worth at that. But it was enough to convince me that the supplement was having some sort of soothing effect, which was very welcome.
As for whether the calming effects of the supplement had any effects on my GI health, the answer is: yes, in my opinion. My stomach is absolutely more sensitive when I'm stressed, and on the days I was taking the supplement, I noticed that it wasn't as reactive to small disruptions to my routine or general upset. In general, my days seem to flow more smoothly when I take Calm — and that's a very welcome effect.
What's Worth Noting About Arrae Calm
The packageing is gorgeous — but the pills are admittedly a bit larger than I'm used to. So, I was happy to learn from Arrae's site that I could open the capsules and mix the supplement in with food or drink of my choosing. To take my doses, I busted open the Calm capsule (which was easy enough to do) and dumped the pill's contents into a water bottle, then drank it down. There was literally no taste whatsoever (phew). The site's FAQs does note that this might make you feel the effects of the supplement faster, so if you want to be on the cautious side, you could try swallowing the pill first to gauge the effects before trying the water route.
Who Is Arrae Calm Best For?
Arrae Calm is best suited for anyone who is looking to take the edge off on a daily basis, but not looking to completely wind down and take a rest.
That said: it's always a good idea to talk to your doctor or trusted medical professional about supplements before adding them to your routine, especially since ingredients in them can interact with prescription medications and medical conditions.

Additional Details
Arrae Calm contains four ingredients: l-theanine, inositol, passionflower, and magnesium bisglycinate, all of which are thought to be calming. You take one to three capsules, whenever you need a dose of relaxation or experience a spike of anxiety — a great option for people who prefer relief in the moment, rather than having to take a supplement every day.
Where Is Arrae Calm Available?
Arrae, Erewhon, Gee Beauty, Sage + Sound
Rating: