Athleta Advance Sprint Sports Bra Review
Struggle to Take Off Your Sweaty Sports Bra After a Workout? You Need to Try This Bra With a Clasp
As POPSUGAR editors, we independently select and write about stuff we love and think you'll like too. If you buy a product we have recommended, we may receive affiliate commission, which in turn supports our work.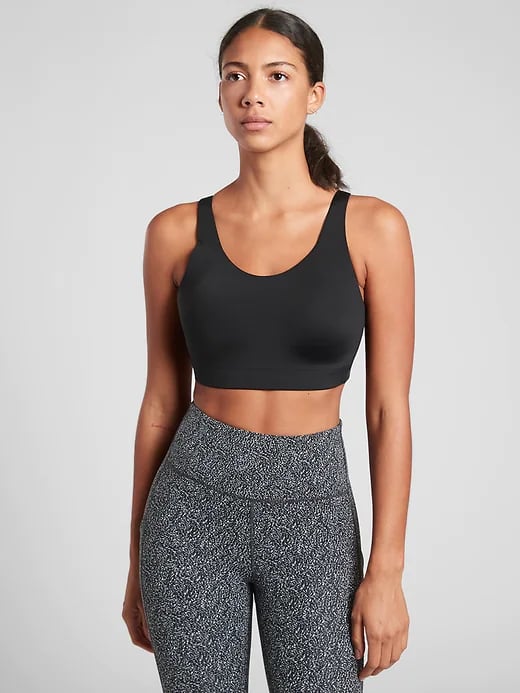 We all know the struggle: you just finished a sweaty, hard-as-hell workout and ready to strip off your workout clothes and jump in the shower. However, getting that soaked, tight sports bra over your head can be a workout in and of itself. I like most compression sports bras because they make me feel held in and supported during even the toughest of workouts, but I dread when I have to take them off afterwards.
Luckily, Athleta sent me the Advance Sprint sports bra ($30-$69) to try out, and it's a game changer. This bra has a clasp on the back, which makes getting out of a sweaty sports bra infinitely easier. I have tried other clasp sports bras in the past, but they haven't had enough compression or support to carry me through my high-impact workouts.
The Advance Sprint sports bra is tight enough to hold my boobs in without being uncomfortable, and offers high, full-coverage support. Since it is more fitted, it's easier for me to put it on over my head with the clasp already hooked and then secure it into place, and then take it off with the clasp when I'm done with my workout. I tried this bra with a couple HIIT cycling workouts and a double-floor workout at Barry's (hello, burpees), and I felt secure and supported the entire time.
Another issue with sports bras is they tend to show cleavage when I'm bending over to do moves like bent-over rows and deadlifts, but the Advance Sprint Bra has a high enough neck that that hasn't been an issue. I also love that the sizes come in true bra sizes, from 32B to 40DD, so it's easy to find a more accurate fit.
If you're looking for a sports bra that holds up to your tough workouts and doesn't require you to be a contortionist to get out of, I recommend the Athleta Advance Sprint bra. Bonus: it comes in a pretty lavender and a nice olive colour, too.
Image Source: Athleta