Bethany Shriever on Winning Gold at the Tokyo Olympics
BMX Cycler Bethany Shriever on Winning Gold in Tokyo: "Never Give Up on Something You're Passionate About"
It's no surprise 22-year-old Bethany Shriever is on such a high. The Olympian — who won her BMX cycling race in a storming 44.358 seconds last Friday — held off two-time Columbian champion Mariana Pajon to take home gold at the Tokyo Summer Olympics 2020. A truly impressive win, made even more remarkable by the fact Shriever went from working as a part-time teaching assistant to Olympic glory. The victory is "mind-blowing and a dream come true", she told POPSUGAR.
"I never expected I'd qualify for the Olympics, never mind race and come in first place," the East Londoner said. "I'm still having to pinch myself that it is true."
And what a journey she has had to get there — bumps in the road that Shriever looks at with positivity, claiming "without those knock-backs, I wouldn't be where I am today." By that, she is not just referring to the struggle she had coping as one of the few women in a sport dominated by men, but also the injuries she has endured along the way, never mind the funding.
The champion had been rejected for funding by UK Sport and spearheaded a crowdfunding campaign, raising around £50,000, before British Cycling agreed to support her if she moved to Manchester. "That is why this win means so much to me. It is not just my win, but everyone who got me here." Showing me her gold medal via our Zoom call, the cyclist added: "I am proof that you must never give up on something you are passionate about."
Speaking to POPSUGAR ahead of travelling home to the UK, Shriever said "it has been a whirlwind few days, and it has yet to sink in."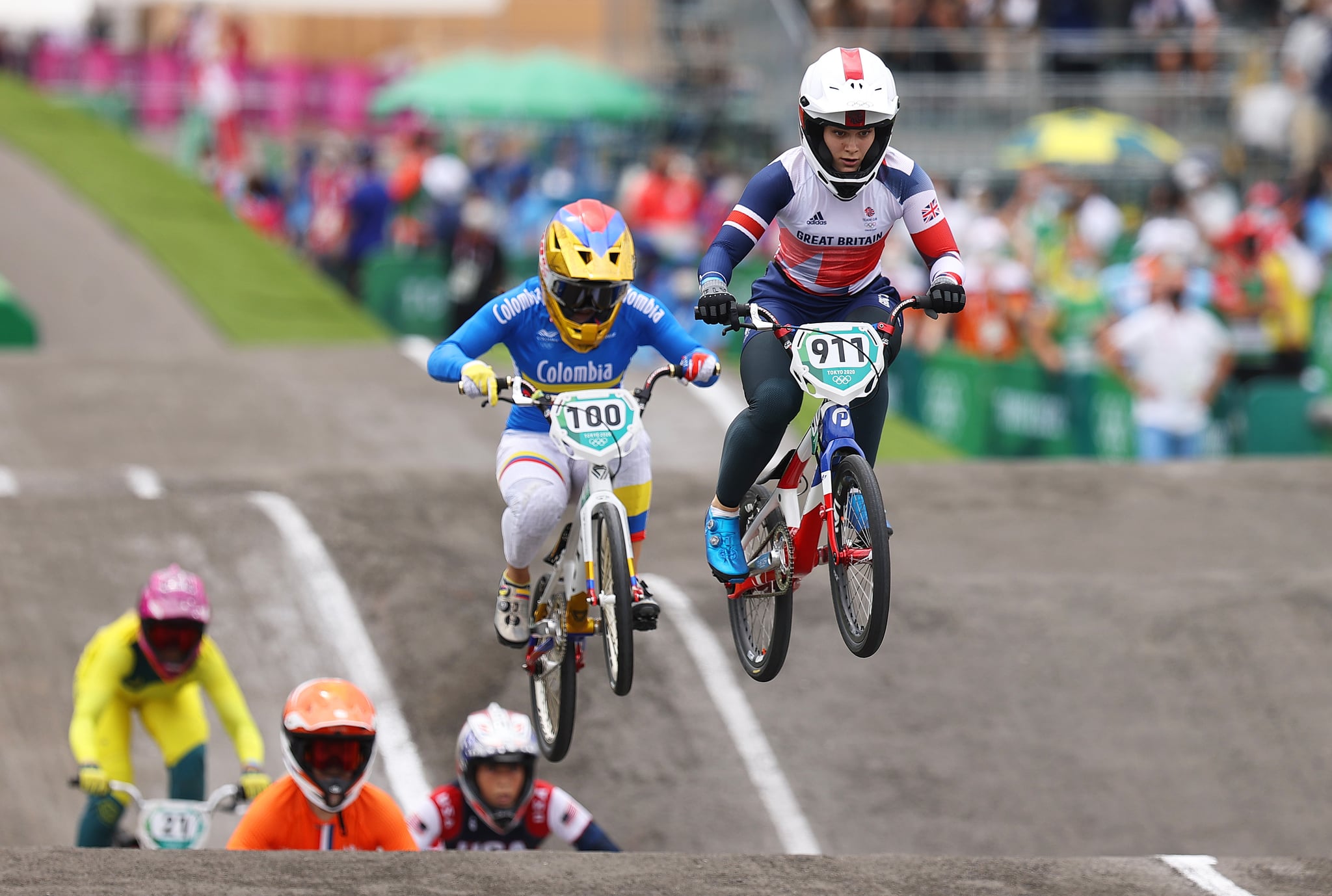 Having overcome many challenges during her cycling career, Shriever knows how important it is to remain grounded, even when flying through the air on her BMX. "You have to have the right mindset if you want great results. On the day of the race, I remained calm, was not stressed at all, and just went for it. Staying cool, calm, and collected helped me win the race."
Although the sport is a dangerous one, with Shriever acknowledging there is a big risk of injury crashing into other cyclists, she says it is psychologists, together with her family, who have helped her keep her wits about her. "Over the years, I have learnt how to control what is going on in my head. You can't race and think about falling off the bike," she said, adding that "my mum and dad did everything they could to support me growing up, taking me to competitions and trying to fund the sport."
It's not just her parents, however, who provide Shriever with support. "The BMX cycling world is such a family environment, and the support is amazing," she said. "I met my boyfriend, who is sixth in the world on the circuit, and we love training together."
Amongst her army of fans, Shriever plans to visit a very special class of 4-year-olds whom she has been teaching alongside her training. "I'll show them my gold medal; hopefully, it will be one of the best classes they've had." As for her medal, Shriever has not decided where to place it yet, but is determined to show it to as many people as possible in a bid to encourage more young women to take to sport.
To learn more about all the Olympic and Paralympic hopefuls, visit TeamGB.com. Watch the Tokyo Olympics and Paralympics this summer on BBC One and BBC Two.