How Carrie Underwood Works Out On Tour
Carrie Underwood's Tour Workouts Aren't As Glam As You'd Expect — But She Gets It Done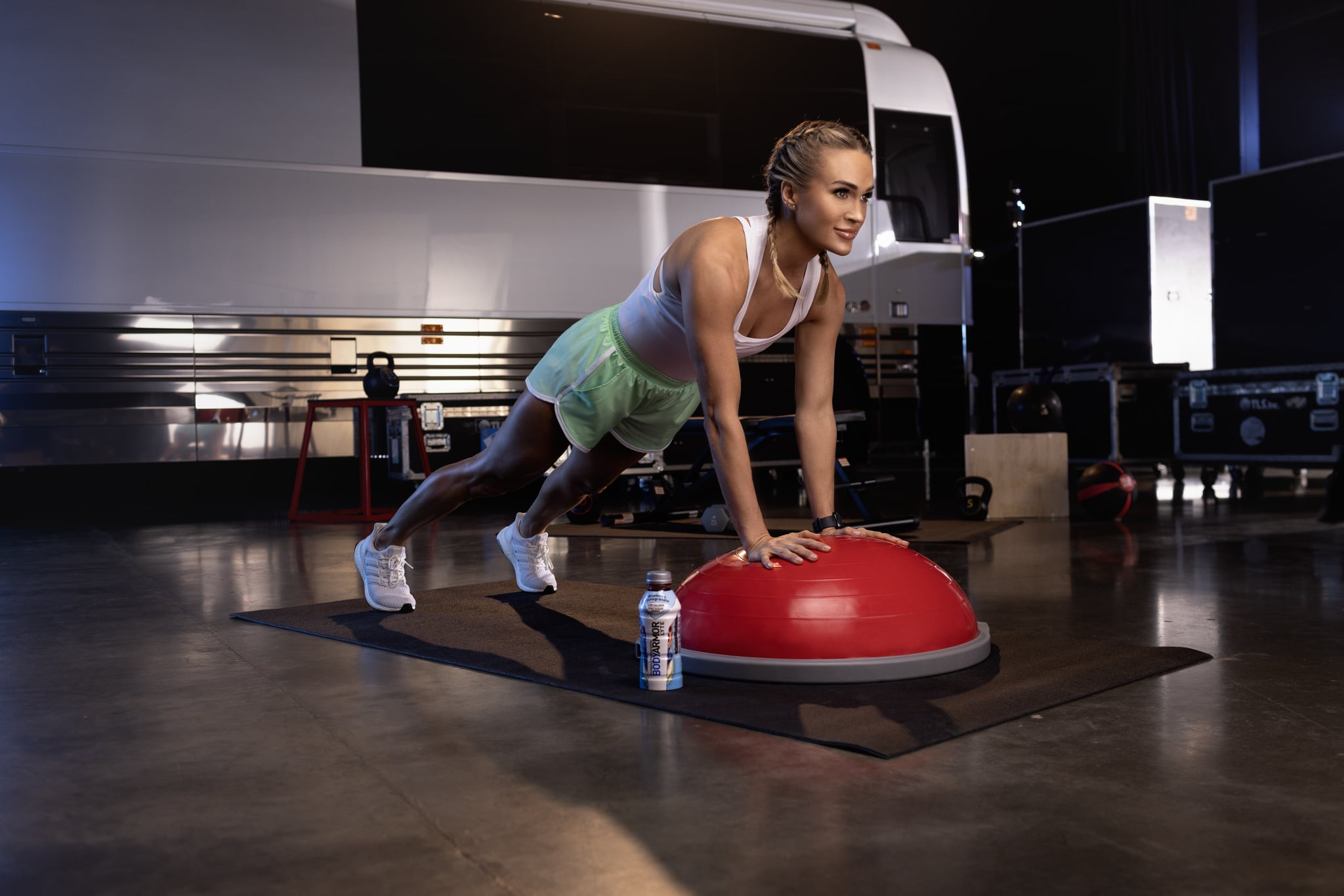 Image Source: Courtesy of Bodyarmor
Carrie Underwood just wrapped her Denim & Rhinestones tour, and though everything on stage looked worthy of a country queen, there was a lot of unglamorous hard work that went on behind the scenes — including how Underwood fit in workouts while touring.
"When I'm on the road, I have a trainer that comes with me, and sometimes we're working in hotel gyms, sometimes we're just trying to figure stuff out in a random room in a venue with a couple sets of weights," Underwood tells POPSUGAR. No matter the circumstance, her trainer, Eve Overland, always "keeps things interesting," Underwood says.
Her on-tour fitness routine is more like maintenance mode than time to progress. Underwood says they're often back on the bus and headed to the next city as soon as one show's over. There's no luxurious postshow ice bath or even rowdy partying. The singer says she usually watches "something mindless" on TV and tries to get some sleep. "I'm physically pretty exhausted after a show," she says. "My body doesn't want to do much more, but it's getting my brain to turn off [that's the hard part]."
Because she doesn't have much time or a designated place to sweat while travelling, the mom of two does most of her physical prep work ahead of the tour. "It is a very intense, high-energy show. There's a lot of physicality that goes into it," she says. (FTR, that physicality includes a section in which she's perched atop a giant, suspended sphere that looks like something out of an aerial yoga class or circus act — something she also showed off at the 2022 American Music Awards.) In all, "I have to prepare myself for [the show], for sure," she says. "When we're about to kick into a tour, I have to train like I'm about to go on tour."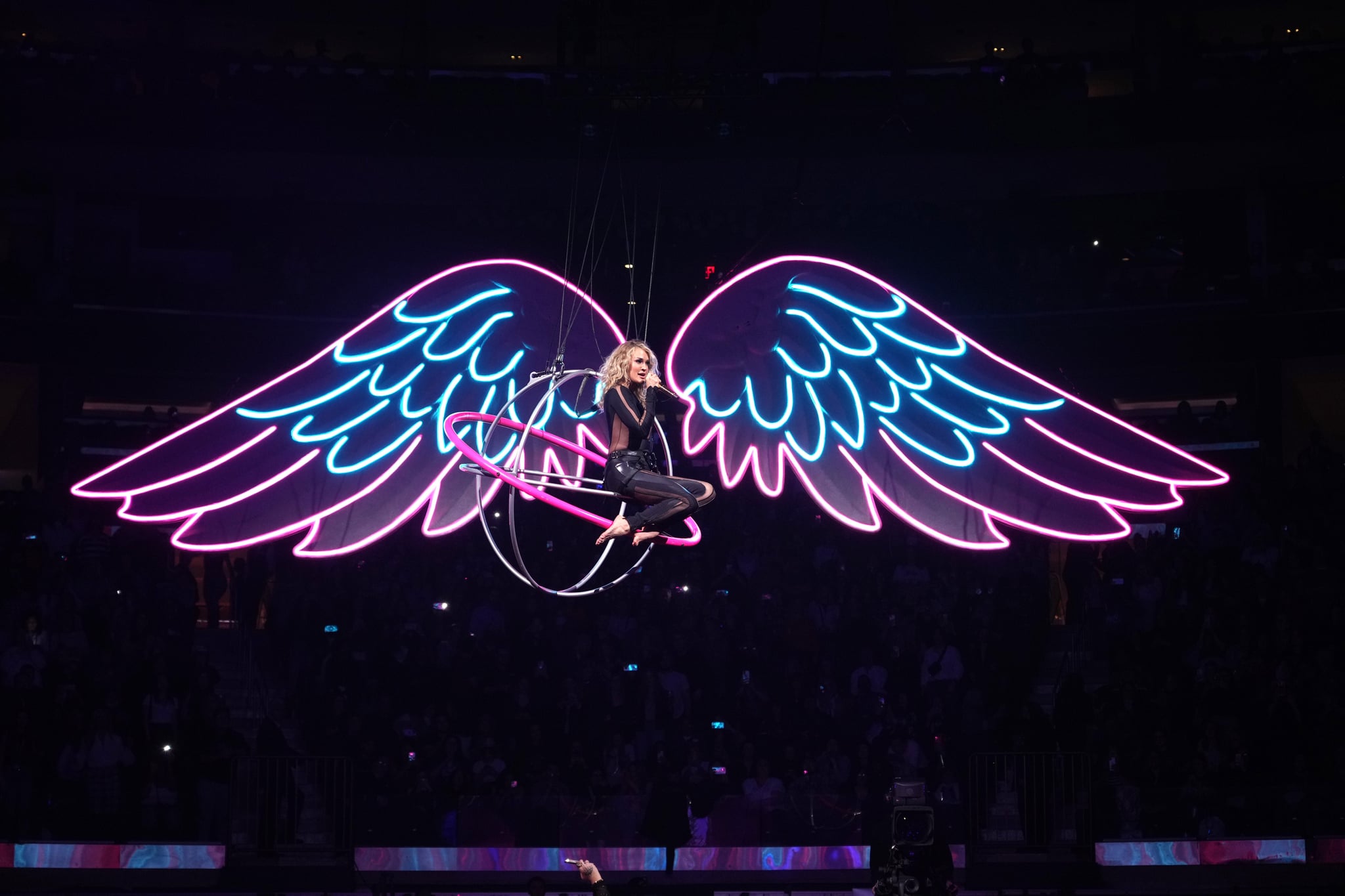 Image Source: Getty / Kevin Mazur
A huge part of that pretour training includes equipping her lungs to handle the nonstop performance. You've seen stars like Miley Cyrus and Lady Gaga sing while working out — and there's a reason for that.
"It's important to have my cardio be at a certain level or else I couldn't breathe through my songs," she says. "And definitely, diet and hydration are a big part of getting ready for a tour, but also day-to-day, just making sure I'm eating healthy, I'm staying hydrated, and I'm paying attention to those things, because everything else will suffer if those baseline needs are not being met." Underwood is an ambassador for Bodyarmor sports drink, and she says she counts herself lucky for having fridges of their drinks on hand anywhere she needs them — especially considering the fact that she's sure to break a sweat on stage.
In general, Underwood and Overland do a lot of circuit training and weight lifting, often with Underwood's own Fit52 workout app, which aims to turn workouts into a sort of game, something they'd been doing together for years. No one was doing it on a large scale, so they decided to make an app. "For me, selfishly, it's just great to have on my phone when I don't want to plan something out and I can open the app and have a workout ready for myself," Underwood says. "I love that people have come through meet and greets and been like, 'I feel so much better, I lost some weight, feel a lot more energetic.' It's always cool to hear personal stories about how people are taking charge of their health."
The singer knows firsthand that maintaining your well-being isn't about going to extremes but rather taking care of the basics — and squeezing in what you can. In 2019, Underwood told POPSUGAR that as her schedule has gotten busier (as a parent and entrepreneur on top of being a top country artist), she's had to remain focussed on what's important: "I try to make the most of my time. I have changed my focus," she said. "Instead of just trying to get those external results that I wanted, my goals have changed. I want to be stronger, I want to live longer; those are the things that I want now other than just, 'I want to fit into that.'"
Underwood's goals and wellness practices still aren't big or splashy; rather, her habits are things she can "stick with forever," and that's what she recommends for others as well.
"Those baseline things that you do to take care of yourself really do matter," the singer says. "Whenever someone's like 'I need to get healthy', they immediately start thinking on some grand scale, like 'I have to get a gym membership, I have to go seven days a week and work out two hours a day, and I have to completely overhaul my diet.' But I feel like if you start small, cleaning up your diet a little bit, going for walks, doing things you enjoy . . . doing those baseline things, that's what everything else is built on."
Image Source: Getty Images / Kevin Mazur