Coco Gauff Talks Training Habits Ahead of 2023 US Open
Coco Gauff Is at the Top of Her Game Thanks to These 2 Secrets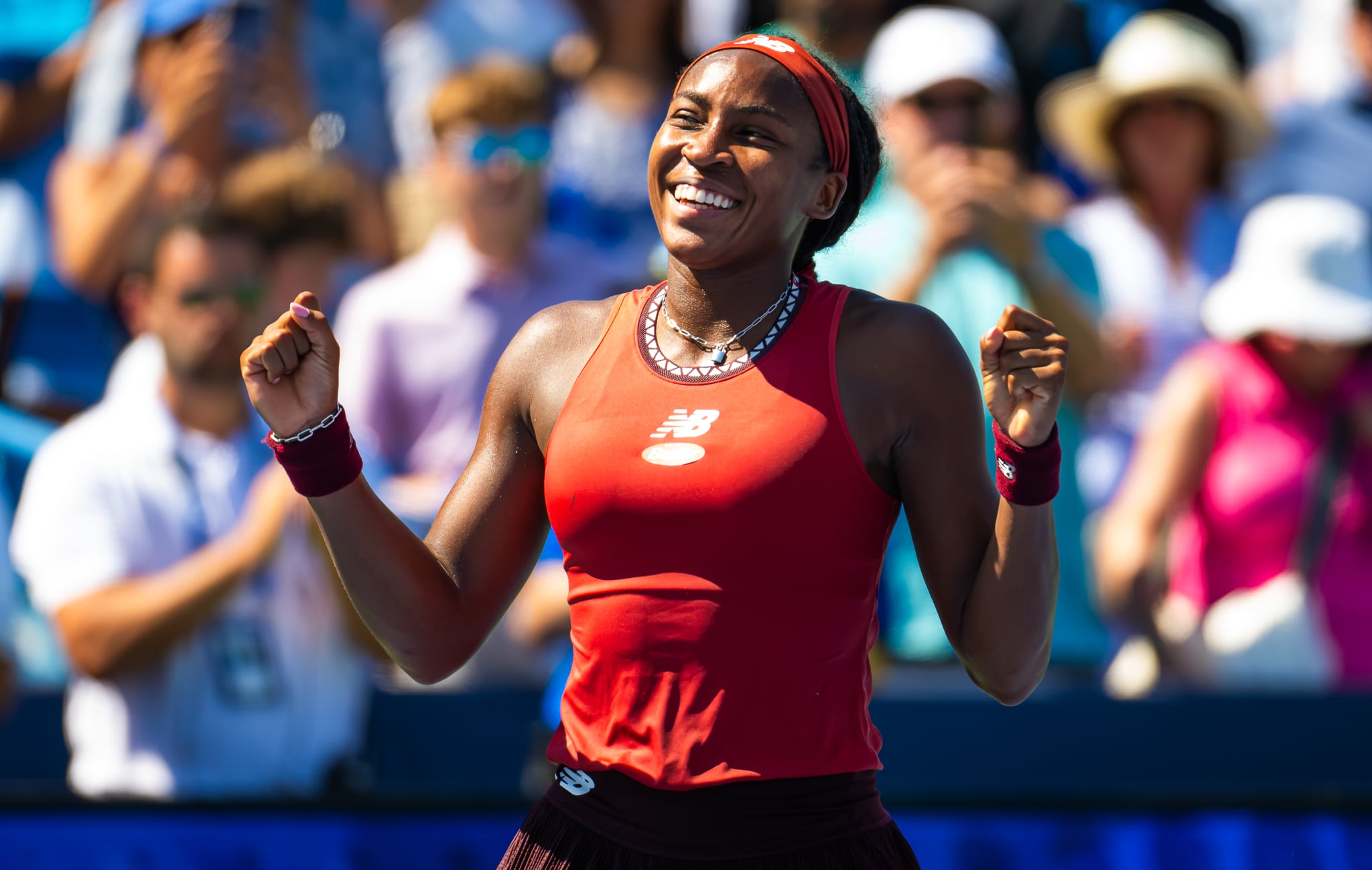 Coco Gauff is on fire right now. In early August, at the Mubadala Citi DC Open, the 19-year-old snagged her first big US singles title, simultaneously becoming the youngest women's champion in that tournament's history. Then, she seamlessly followed it up with another big W, capturing the trophy at the Western and Southern Open, becoming the first teenager to do so in more than 50 years.
Now, Gauff is heading into the US Open — which is currently in qualifying rounds and kicks off in earnest on Aug. 28 — at the top of her game.
What's her secret? It's an interesting combo: pasta and boxing.
"The US swing is my favourite time of year. . . . These tournaments feel like home."
Gauff has recently partnered with Barilla for its Serving Love campaign, which offers tennis (and pasta) fans a chance to win a meal kit or a year's worth of free groceries when they enter on the campaign website from Aug. 23-30. Barilla is also making a donation to its longstanding partner New York Food Bank.
"As an athlete, pasta is a staple in my diet as it provides the balanced nutrition and functional fuel I need on and off the court," Coco Gauff says in the Barilla release. She's especially a fan of its Chickpea and Red Lentil pasta, which has just one ingredient with zero additives and thus inspired the Serving Love campaign (ICYDK, "love" means "zero" in tennis scoring).
Going into the Open, Gauff tells POPSUGAR she feels "amazing." Her winning streak has put her in a much better headspace after a disappointing run at this year's Wimbledon (which, as a reminder, is the tournament that made her a breakout star at age 15, when she beat her own idol, Venus Williams in a match).
"Just a few weeks ago, I lost in the first round at Wimbledon, so to be able to turn that around and feel confident going into the US Open is key," she tells POPSUGAR. "My coach always says the only way is forward."
There's something else helping her with confidence this season, too. Her fitness trainer prompted her to add a new activity to her preseason training: boxing. In a Jan. 17 column for the BBC, Gauff wrote that her trainer wanted her to box to help improve her balance, so she went down to a gym near where she lives in Florida, one that was full of professional fighters. "I'm not a fighter — even though I have trained in the past with Mike Tyson," she wrote. "If someone came up and punched me I would be out first punch!" Still, her boxing trainer said she improved in the three weeks she worked with him.
"Boxing is something I focus on in the offseason to mix up my training, but I still put a big emphasis on footwork," Gauff tells POPSUGAR. "I love it, and it helps me break an unbelievable sweat."
As for her sessions with Tyson? Gauff trained with the boxing legend back in 2019, when she first hit the big-time tennis scene, and describes it as a "surreal experience."
"Future GOAT 15-year-old WTA @CocoGauff
Awesome example of kindness, courage and tenacity. Look out for what she does in 2020," he wrote in a social media post alongside a video of him training Gauff with a punching bag. "Mike is still so quick, but hearing some of his stories of his fight days definitely motivated me in the ring," she tells POPSUGAR.
Other than preseason boxing, Gauff is dedicating lots of training time on "footwork, trying to go bigger on certain shots, and otherwise just stay as relaxed as possible," she says. "The US swing is my favourite time of year. I love to build up to NY in Atlanta, DC, and Canada. These tournaments feel like home."
After a tournament, she'll recover a bit by forgoing two-a-day workouts, but "otherwise everything is the same," she says. "I play cards with my team, go to team dinners, and try to catch some movies in the city. Off the court, I like to go to the movies with friends, read anime/comics, listen to music, and I love to try different restaurants."
She also loves being part of the hype squad for other women athletes, especially at a time when women's sports are finally getting the recognition they deserve.
"It's great to see more of the world putting an emphasis on women's sports," she says. "I love to support the WNBA, women's Final Four, and the Women's National Team in football. It's great to see so many athletes developing their brands and representing the pinnacle of sports off the field as well as on it." And surely, for a star like Gauff, the admiration goes both ways.