Coco Gauff's US Open Win Is Proof Representation Matters
Coco Gauff's US Open Win Is Proof Representation Matters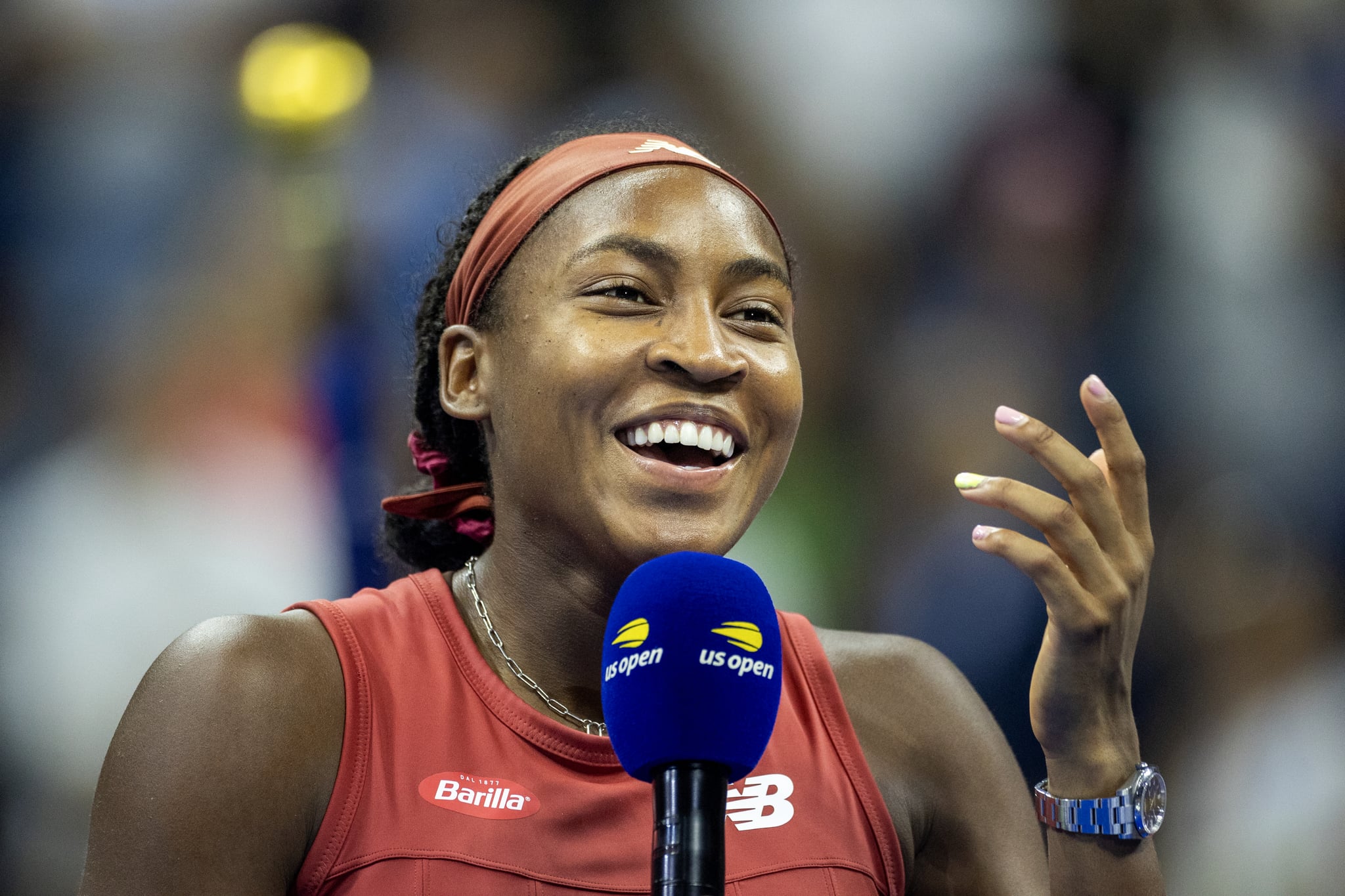 When Coco Gauff called out those who thought they were "putting water on [her] fire" after making history at the US Open this weekend, she spoke to so many of us who have been underestimated and marginalized in society.
By now, you've likely heard the amazing news that Gauff became the youngest American to win the US Open women's singles title since Serena Williams did so at age 17 in 1999. And it wasn't just Gauff who made history during this year. Four Black American players — Gauff, Frances Tiafoe, Madison Keys, and Ben Shelton — all reached the quarterfinals, marking the first time that has ever happened in a Grand Slam tournament since the Opens began in 1968. In doing so, the players seem to be ushering in a new era of tennis, one that Serena and Venus Williams began carving out decades prior.
This win was a monumental moment for Gauff, in particular — not only because of what it means for her career but also because of the incredible full-circle moment it brought to her life. Perhaps you've also seen the now-viral video that's circulating of little 8-year-old Gauff dancing in the stands of the 2012 US Open, where Serena went on to claim her 15th Grand Slam and fourth US Open title. In her victory speech on Sept. 9, Gauff shared how the Williams sisters inspired her to believe her dream of becoming a pro tennis player was attainable. "All the things that they had to go through, they made it easier for someone like me to do this," Gauff said.
As we celebrate Gauff's victory, it's also important to revisit the paths of the Williams sisters to see how far we have come. When they entered the world of pro tennis in 1990s, they were the only Black players in the sport that were dominating to that extent. They both began playing professionally at age 14, and by the early 2000s, the sisters were the ones to beat. At the end of the 2002 tournament season, they were ranked No. 1 and 2 in the world. When Serena won the US Open in 1999, she was the first Black woman to win a Grand Slam since Althea Gibson won the French Open in 1957. That same year, the Williams sisters went on to win the doubles title as well.
However, with this success and notoriety came much backlash, blatant discrimination, and racism. The Williams sisters were penalized for the way they wore their hair, had their wardrobe choices banned from tournament appearances, and were criticized for the sounds they made on the court. The most monumental incident resulted in a 14-year boycott of the Indian Wells tournament. During the 2001 tournament, not only was Richard Williams, the sisters' dad and coach, accused of fixing matches between his daughters, but during Serena's finals match, she was booed mercilessly by the crowd throughout her match and even after she won.
Likewise, when Venus and Richard arrived at the arena, they were met with the same boos. In later interviews, Richard said that the predominantly white crowd was also screaming racial slurs at him and his daughter. Despite winning this title, Serena shared in recent years that she'd cried for hours after the match because of the way she and her family were treated by the crowd. During an interview promoting the film "King Richard," based on the Williams family story, she told Will Smith on an episode of Red Table Talk in 2021: "Even when I went back 14 years later, it was very traumatizing."
Just like Gauff, I'm grateful for the Williams sisters and all they endured to pave the way for this generation of young Black athletes to be able to show up as their authentic selves and shine in their sports — or, as Gauff put it, to burn "so bright."
As a child with siblings the same age as Venus and Serena, I remember my parents celebrating each of the sisters' wins and being visibly upset by the commentators' conversations about them. Both my mother and father would even voice their concerns for the sisters' safety because growing up in the '60s and '70s, they still recalled how young Black athletes were treated in sports as they dared to break the colour line.
The Williams sisters have undoubtedly helped shatter the barrier of entry for the Black tennis stars of today. They've inspired players such as Naomi Osaka (with four grand slam titles), Sloane Stephens (with one grand slam title), and the four Black American players who made history in this US Open this year.
The Williams sisters are still champions of the sport, and Serena even celebrated Gauff's win this past weekend, writing "Amazing!" on her Instagram story, sharing a photo of Gauff holding the trophy high. As we continue to see history being made in the sport, it's important to acknowledge and pay homage to those who paved the way for the athletes we cheer for today.
As a Black woman who grew up watching the Williams sisters play — and quite frankly, might never have paid attention to the sport if it weren't for them — it's exciting for me to see so many young Black Americans excelling. It gives me a tangible example to grasp on to that not only is change happening, but it's being felt by multiple generations in real time. Seeing Gauff win and fall to the ground in tears is a moment of relief many Black Americans have felt after working so hard to achieve a goal that once seemed impossible. I cheered not only for her, but also for the people in my parents' generation who weren't given the opportunity to see moments such as these on a regular basis, or at all. I cheered for future generations of Black children who are being shown the abundance of opportunities open to them because of those who've come before. Just like Gauff, I'm grateful for the Williams sisters and all they endured to pave the way for this generation of young Black athletes to be able to show up as their authentic selves and shine in their sports — or, as Gauff put it, to burn "so bright."
"[Serena Williams is] someone I looked up to, but to be in the same stat line as her means a lot to me," Gaaff said in an interview after her semifinal win. "She's my idol. I think the only regret that I'll have for the rest of my life is not being able to play her. . . . But I'm still happy to just be the product of her legacy and be out here."