Damar Hamlin Returns to Football After Cardiac Arrest
Damar Hamlin Has Been Cleared to Return to Football After Suffering Cardiac Arrest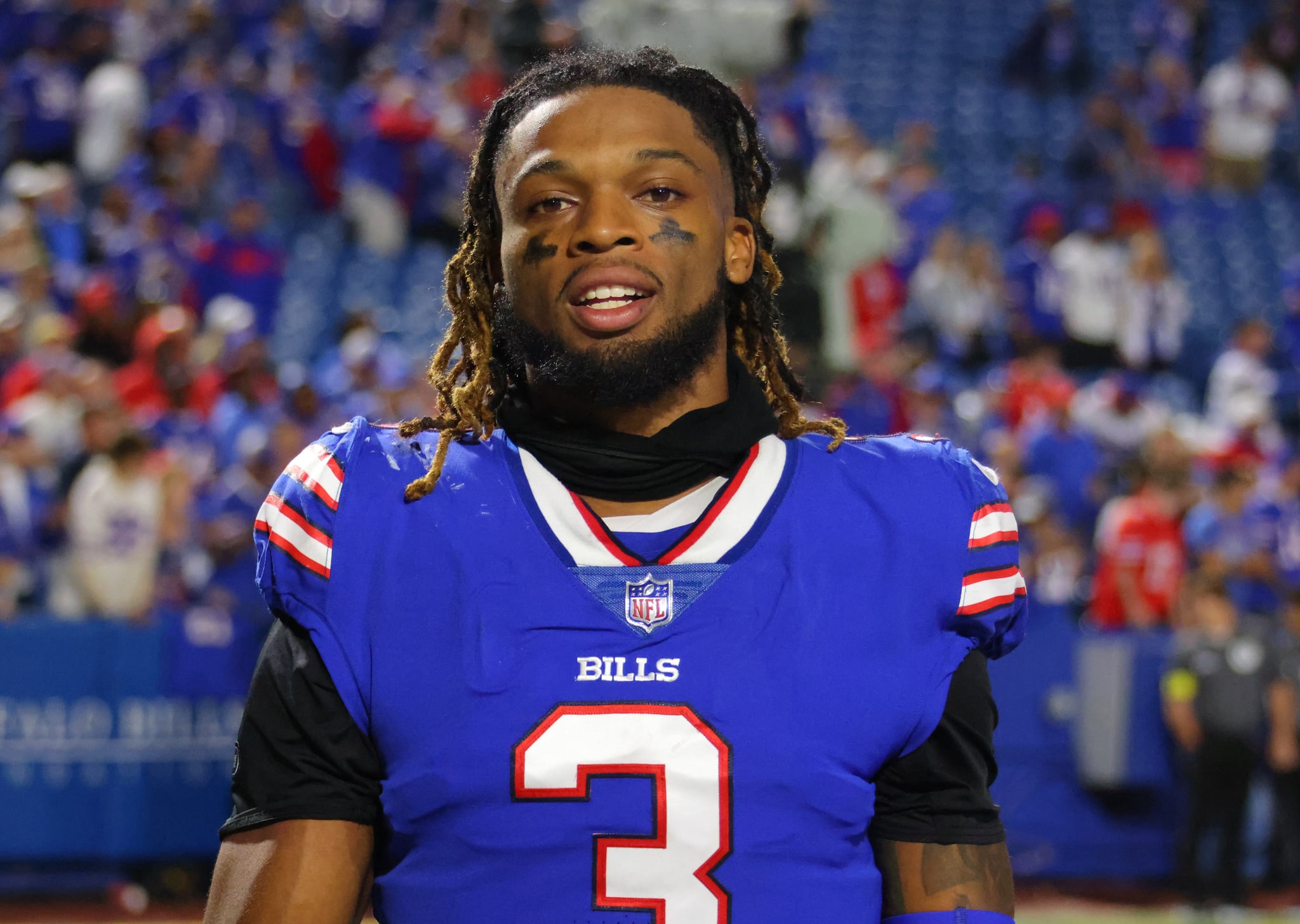 Image Source: Getty / Timothy T Ludwig
Damar Hamlin is heading back to the football field after suffering cardiac arrest in January during a game against the Cincinnati Bengals. Just three and a half months later, "he is fully cleared" to return to the team, Bills general manager Brandon Beane said during an April 18 news conference, per CNN.
Hamlin is said to be "in a great headspace," Beane also noted — and the team are reportedly eager to welcome him back. "We're super excited for Damar. He's moving forward one step at a time here. He's been cleared from a physical standpoint," Bills head coach Sean McDermott said, per CNN.
"We'll provide all of the mental help we can from a mind, body and spirit standpoint so just happy for him that he's been able to check some of those boxes to this point and we're moving forward taking it one day at a time," McDermott went on to say.
Exactly three months after the incident, Hamlin tweeted about his recovery progress, writing: "… just thankful. Thankful to be here, thankful an amazing circle of people who make life easy for me and allow me to focus on nothing but health & wealth."
Hamlin's quick return to the field is an unexpected one given how serious his condition was. Ahead, a refresher on what happened to Hamlin and a look at his recovery since the January incident.
… just thankful. Thankful to be here, thankful an amazing circle of people who make life easy for me and allow me to focus on nothing but health & wealth. 🙏🏾

— 𝐃𝐚𝐦𝐚𝐫 𝐇𝐚𝐦𝐥𝐢𝐧 (@HamlinIsland) April 3, 2023
What Happened to Damar Hamlin, Exactly?
On Jan. 2, during the first quarter of a Bills game against the Bengals, Hamlin was hit in the chest by Bengals receiver Tee Higgins's helmet. Hamlin was initially able to get on his feet, but he then fell to the ground unconscious. Luckily, the medical team arrived quickly and restored his heartbeat with CPR before taking him off the field, but they believe he suffered cardiac arrest. The NFL and the NFL Players Association agreed to postpone the game.
Sudden cardiac arrest can be fatal within minutes. "The individual becomes unresponsive, with no normal breathing and no signs of circulation," Danielle Belardo, MD, preventive cardiologist, tells POPSUGAR. About 90 percent of people who suffer out-of-hospital cardiac arrests die, according to the American Heart Association.
Cardiac arrest is different from a heart attack. Cardiac arrest is considered an "electrical issue" because it happens when rapid, abnormal impulses override your heart's natural rhythm, according to Cleveland Clinic. Conversely, a heart attack happens when a clogged artery disrupts blood flow and is often a common cause of cardiac arrest.
"Sudden cardiac arrest can be caused by a variety of different factors, and most often occurs in people with some form of underlying structural heart disease, most notably coronary artery disease, but other causes can be genetic, like hypertrophic cardiomyopathy, or acute triggers in individuals without underlying structural heart disease, such as commotio cordis," Dr. Belardo says.
While it's been confirmed that Hamlin went into cardiac arrest, per The New York Times, some health experts also speculated that it was commotio cordis. "Commotio cordis is a phenomenon in which a sudden blunt impact to the chest causes sudden death in the absence of cardiac damage," Dr. Belardo says. "This can be a relatively innocent chest wall impact, which results in an arrhythmia called ventricular fibrillation. Affected patients have no underlying heart disease and there is no structural damage to the chest wall, thoracic cavity, or the heart." In short, even someone who has no pre-existing conditions, genetic, or underlying structural heart abnormalities can have a sudden cardiac arrest after blunt force to the chest.
What is most important, Dr. Belardo says, is that Hamlin received CPR as soon as possible. "CPR, especially if performed immediately, can double or triple a cardiac arrest victim's chance of survival. This should reiterate the importance of anyone reading this to learn 'hands-only CPR,' because they could save someone's life one day," she says.
Hamlin's Recovery Timeline
After being resuscitated on the field due to cardiac arrest, Hamlin was immediately taken to an Ohio hospital where he was in critical condition. At the University of Cincinnati Medical Centre, Hamlin was sedated on a ventilator, "as doctors worked toward getting him to breathe on his own," per CNN. On Jan. 5, it was reported that Hamlin showed "signs of improvement," according to the Bills, and he began to wake up and communicate through writing, per the New York Times.
By Saturday, Jan. 7, Hamlin shared a statement on Instagram thanking everyone for their support. "When you put real love out into the world it comes back to you 3x's as much," he wrote in a post alongside a collection of photos of himself. "The Love has been overwhelming, but I'm thankful for every single person that prayed for me and reached out. We brung the world back together behind this. If you know me you know this only gone make me stronger. On a long road keep praying for me!"
The NFL player also shared a similar message on Twitter, writing, "Putting love into the world comes back 3xs as much . . . thankful for everyone who has reached out and prayed. This will make me stronger on the road to recovery, keep praying for me!" In a subsequent tweet, he added, "The love is felt, & extremely real. No matter race or religion everybody coming together in prayer!"
On Monday, Jan. 9, Hamlin was transferred from the Ohio hospital to a Buffalo hospital to finish out his recovery. And on Jan. 11, the Bills announced that Hamlin had been released. He was discharged from the Buffalo General Medical Centre/Gates Vascular Institute after completing a series of comprehensive medical evaluations, including cardiac, neurological, and vascular testing.
"We have completed a series of tests and evaluations, and in consultation with the team physicians, we are confident that Damar can be safely discharged to continue his rehabilitation at home and with the Bills," said Jamie Nadler, MD, critical-care physician and chief quality officer at Kaleida Health, in the team's statement.
Since being discharged, Hamlin has continued to rehab and work out. He is reportedly in "great shape" now, said Ira Turner, Hamlin's agent, during an interview, per The New York Times.
Hamlin's Return to Football
During the April 18 news conference, Beane said Hamlin has seen three separate specialists during the offseason and that all of them agreed he "is clear to resume full activities just like anyone else who was coming back from an injury," per CNN. Hamlin has reportedly been participating in voluntary offseason workouts with the Buffalo Bills.
The team have not stated when we'll see him play in a game, but "he's ready," Turner said, per The New York Times. "I'm sure there are nerves there as with anything but he's ready to go."
— Additional reporting by Alexis Jones