Damar Hamlin, Medical Team Gets Standing Ovation at ESPYs
Damar Hamlin Is Brought to Tears Presenting ESPY Award to the Team That Saved His Life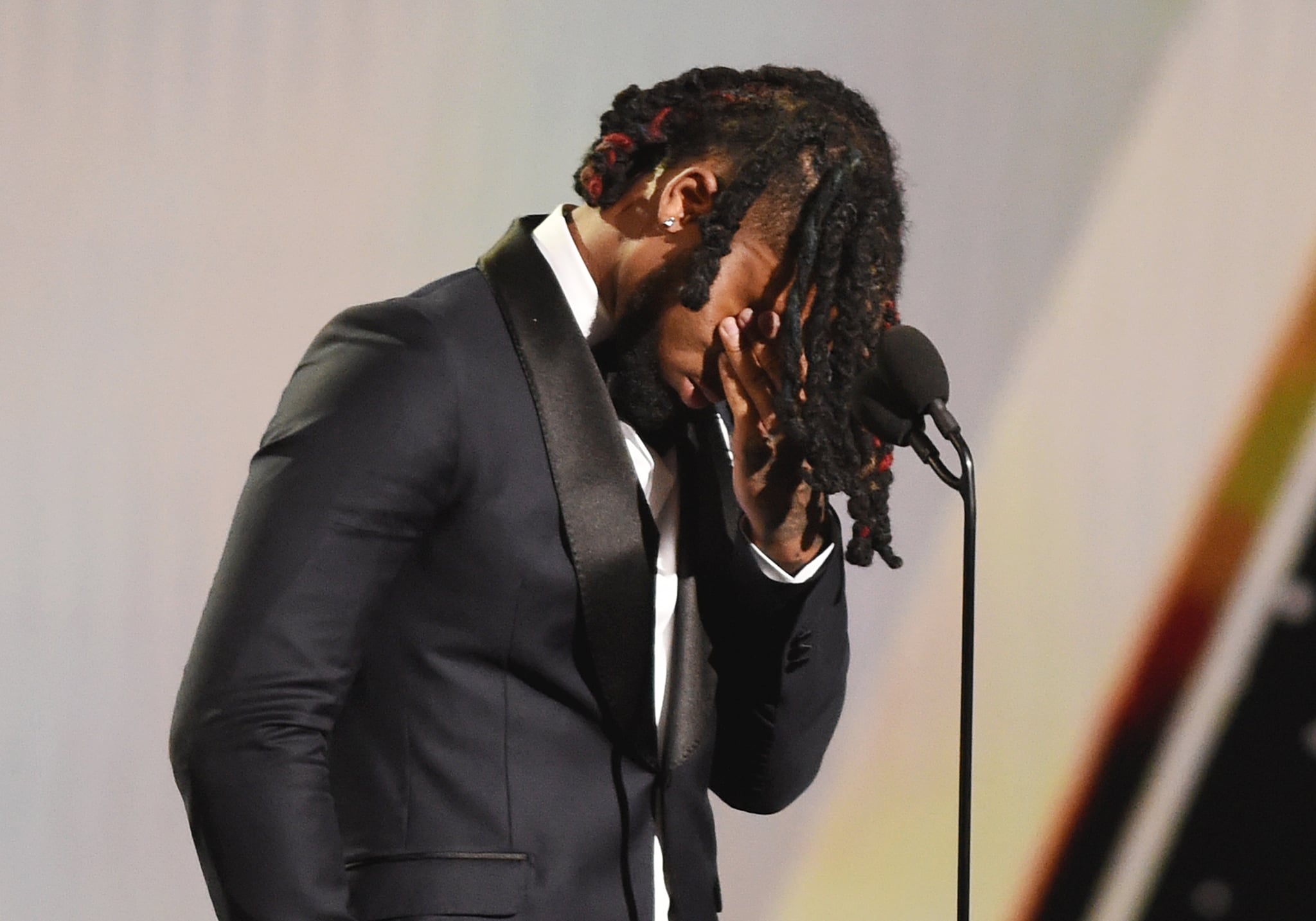 Damar Hamlin — and the team that saved his life — deserved every second of their standing ovation at the 2023 ESPY Awards. On July 12, the NFL player took the stage to present the Pat Tillman Award for Service to the training staff of the Buffalo Bills. This year, the award honours the very group of trainers who saved Hamlin's life on Jan. 2 following his unexpected cardiac arrest. After seeing a video montage detailing his collapse, healing journey, and incredible recovery, Hamlin wiped away tears. Fellow athletes in the crowd began to stand up in support, prompting a powerful standing ovation in his honour.
Some people in the audience showed their love by holding up hearts with their hands, while others clapped respectfully. The standing ovation continued as Hamlin introduced the Buffalo Bills training staff to the stage, turning towards the group and bowing his head as everyone gathered around him and placed a hand on his back in an intimate huddle. The camera also panned to Hamlin's mother, who brushed away tears of her own while watching the emotional scene.
Back in January, Hamlin was hit in the chest by a helmet in the first quarter of a game against the Cincinnati Bengals. He hit the ground unconscious shortly afterwards, but the medical team was luckily able to restore his heartbeat through CPR. In the hours following what doctors deemed to be a sudden cardiac arrest, fans raised over $4.5 million for his The Chasing M's Foundation charity, supporting toy drives, back-to-school drives, and camp initiatives for kids. "The Love has been overwhelming, but I'm thankful for every single person that prayed for me and reached out," Hamlin later shared on Instagram. "We brung the world back together behind this. If you know me you know this only gone make me stronger." Below, watch the heartfelt moment at the ESPYs.
Damar Hamlin was brought to tears when presenting the Pat Tillman Award for Service to the training staff of the Buffalo Bills ❤️ 💙 pic.twitter.com/IThNKmREyC

— ESPN (@espn) July 13, 2023