An ICU Doctor Speaks About Returning to NHS During Pandemic
Dr. Sophie Shotter on Returning to the NHS During the Coronavirus Pandemic, After 6 Years Away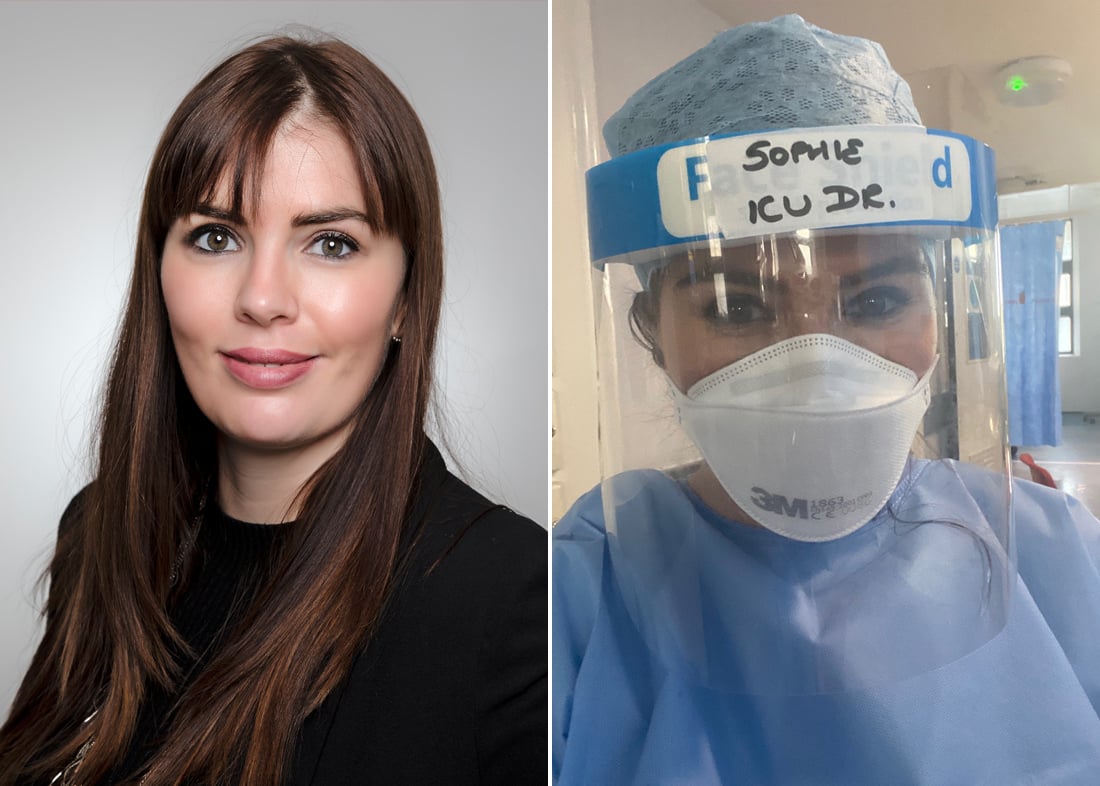 Dr. Sophie Shotter is an ICU doctor turned cosmetic doctor. Since leaving the NHS back in 2014, she has founded Illuminate Skin Clinic, and joined The Cosmetic Clinic in London to further hone her aesthetic skills. When the coronavirus pandemic reached the UK in early 2020, Sophie made the difficult decision to return to the public health system and take up her spot alongside frontline health workers, caring for patients affected by the virus. In June, Sophie spoke to POPSUGAR about what it was like to return to the NHS after so many years away.
POPSUGAR: Can you describe your prepandemic work life and how it changed during the pandemic?
Dr. Sophie Shotter: Prepandemic, I worked in the private sector. I run my own skin and wellness clinic, Illuminate Skin Clinic, and also work for The Cosmetic Skin Clinic in London. A typical day involves business management meetings and a busy list of patients. When the pandemic hit, we stopped offering all nonessential medical services at Illuminate Skin Clinic and operated as a not-for-profit private GP service. My background is as an anaesthetist and intensive care doctor, so I volunteered to return to the NHS for eight weeks. I worked at my local hospital, often doing 60 hours per week — returning to a mixture of long days and night shifts — while continuing to offer virtual skin-care consultations.
PS: Are you familiar with the concept of vicarious trauma as a health worker? And if so, do you believe vicarious trauma or PTSD is a common experience among health works?
SS: Yes, this is something I've been very conscious of in my career and was part of the driving force behind my decision to leave the NHS in 2014. I'm an empath and struggled, at times, to disassociate from other people's pain and trauma. I knew that long-term it would have a negative psychological effect on me, so I chose to remove myself from that situation.
I think it is very prevalent but also very under recognised. We're with patients and their families at often the most traumatic times in their life. Unless you are a robot, it is impossible to switch your own feelings off completely, although we learn to cope (to varying degrees). I know many medical professionals who have chosen a different career pathway, partly because of the impact of the emotional traumas they have been involved with.
PS: How does being a health worker impact your mental health in a positive and/or negative way, and has this changed during the pandemic?
SS: Being a healthcare worker is rewarding in a way that not many careers are. In the pandemic, for me, it has been a huge positive for my mental health because I got to go out and work, be around people, and to have a purpose. That made dealing with eight weeks in lockdown immensely easier. Yes, there were some extremely tough times — things that are horrendous to see, do, and feel — but for me, the positives outweighed this.
PS: In my experience, a lot of health workers don't believe they require (or perhaps, deserve) psychological support or assistance for "simply doing their jobs." What is your experience with this, and has your perspective changed since the pandemic began?
"We carry other people's pain, suffering, and loss home with us. Although it isn't our own, as an empath, I often still felt it very acutely."
SS: I would agree with that. If I told you the things that made up my normal life as a healthcare worker, it would be beyond most people's comprehension how I'm OK. My last weekend before I left the NHS (to return to my clinic), we lost a baby in a Caesarean section and a 21-year-old to a horrific drug overdose. I took that home with me, I cried, I offloaded onto my parents. But I never got proper help. We carry other people's pain, suffering, and loss home with us. Although it isn't our own, as an empath, I often still felt it very acutely.
Last year, I stopped at a road traffic accident and looked after the airway of a young 22-year-old who later died. I was the first medical person on scene. I stood up afterwards, covered in blood, having lost the patient. That hit me hard and made me realise that it's normal and OK to be upset by these sorts of things, but when they're your every day rather than your "once in five years," you cannot afford to let each one affect you so heavily. The NHS has made psychological support available to healthcare workers postpandemic, but I'm not aware of anyone who has used it.
PS: Were you offered psychological support, and is there any service you wish you had been offered to cope better during the pandemic?
SS: It was offered on posters in the coffee room but never formally. I've never been offered psychological support from my employer. The only thing that would have made it easier was better PPE, in all honesty, and a better resourced health system. If we knew that we had access to the best quality PPE and that supply wasn't a problem, then I think we would all have felt much easier about the situation. Nothing can be done to prepare you or train you for this, so I don't feel training would have been helpful for me.
PS: Throughout the pandemic, health workers have been hailed as heroes and were compared to soldiers going to the frontline of a war. How did this make you feel?
SS: I hated that terminology. I was so proud of how the NHS pulled together — its people are its biggest strength. These are people who have essentially taken a pay cut over the last five years due to inflation, who do an incredible job in very difficult circumstances. It's OK for a hero to die — soldiers die at war, healthcare workers die in a pandemic. Cynically, I believe maybe this is why the terminology was used — to make it more acceptable when some of us died. If people want to do something positive for healthcare workers, then say thank you, and also lobby your MPs for a very well-deserved pay rise. The fact that the House of Commons had only a handful of MPs in attendance last week when a pay rise for NHS staff was debated is, to me, very telling.
PS: Do you think the work you have done during the pandemic will affect you long-term, psychologically, or in a different way than your pre-COVID workload did?
SS: It will be something I always remember and never regret doing. There will be images in my head that I will probably never see in front of me again, and the memories of it will always be emotive. Probably, for me, the most difficult part was actually before I went back — I was under no obligation to return to help, I had friends in the NHS telling me not to do it as it was too dangerous. I spent two weeks seriously afraid, having dreams that I was going to die of COVID and feeling like I was voluntarily putting myself forward as a lamb to the slaughter. That feeling will never leave me, but I'm very proud of what I did.
This conversation is an excerpt from an article titled Coronavirus Shone a Light on Health Workers' Mental Health, but Their Struggles Aren't New, which tells the stories of five more British and American health workers who've been working in hospitals during the pandemic.
Image Source: Supplied by Dr. Sophie Shotter