How You Can Help Someone With an Eating Disorder
How You Can Help and Support Someone With an Eating Disorder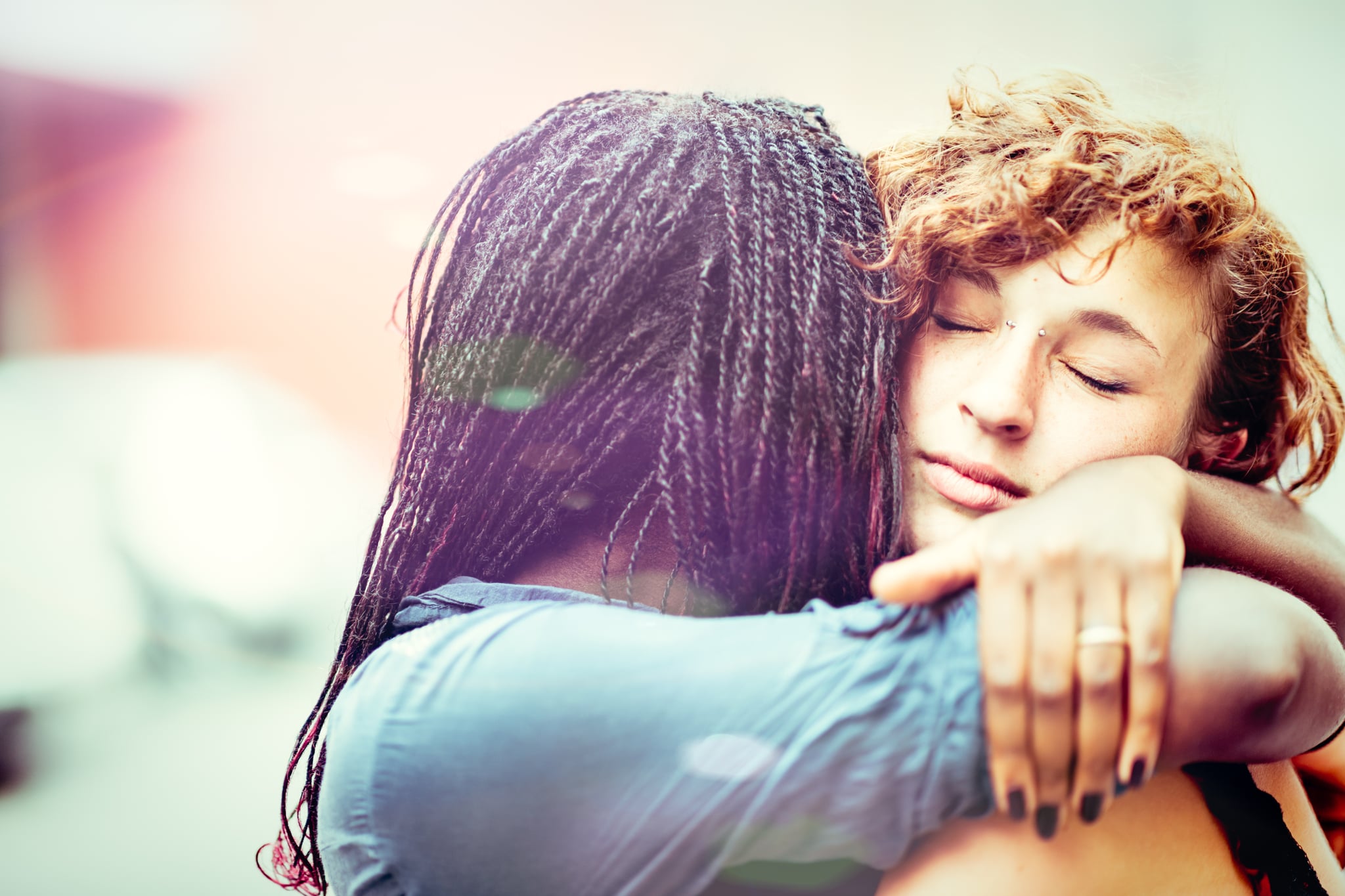 Eating Disorders Awareness Week happens every year in the UK to educate and draw attention to eating disorders. Right now, in the UK, around 1.25 million people have had an eating disorder, 25 percent identifying as male and roughly 75 percent identifying as female (don't forget these stats don't include the number of undiagnosed cases of eating disorders). These numbers are staggering, but not totally surprising. "In cultures where thinness is prized, we see more incidences of disordered eating, so it is definitely a significant contributing or exacerbating factor," psychotherapist Lynsey McMillan, MSc, who specialises in disordered eating, told POPSUGAR.
Many of us know someone who has struggled with, or is struggling with, an eating disorder. Maybe it's your friend, your sibling, your parent, your partner, or maybe it's yourself. Like other mental illnesses, eating disorders are an individual experience — none of them look the same and recovery is rarely a smooth, or linear, process. Offering your support, knowing what to say, and reaching out for help can be difficult, but educating yourself is a brilliant place to start. We spoke to a selection of experts on the subject, who helped to explain what eating disorders are, how to spot them, how and where to get help, and what recovery looks like.
What Exactly is an Eating Disorder?
Consultant psychologist Dr. Elena Touroni, the cofounder of My Online Therapy, described eating disorders as "serious mental health conditions that negatively affect our attitudes and behaviour towards food." According to the National Eating Disorders Association (NEDA) in the United States, eating disorders are complex psychiatric illnesses with biological components and can be life-threatening. As NEDA explains, "eating disorders are 50 to 80 percent genetically-based; they are not a choice."
There are many different kinds of eating disorders, but the most common are anorexia nervosa, bulimia nervosa, and binge-eating disorder. According to Dr. Touroni, people who have eating disorders "might eat too much, too little, or they might find themselves focusing excessively" on their body image. It's important to remember that eating disorders aren't biased; they can "affect both men and women, of any age and weight, and they can make you feel like food or eating has taken over your life", added Dr. Touroni.
What are Some Signs That Someone May be Struggling With an Eating Disorder?
Each eating disorder has its own unique symptoms and these can vary from person to person. According to Dr. Allison Chase, PhD, CEDS, an expert at the Eating Recovery Center in Texas, the most common signs of an eating disorder are "restrictive eating behaviours, binge eating, purging, excessive exercise, and laxative abuse". Other noticeable symptoms, according to Alexia Dempsey, RD, a registered dietician who specialises in eating disorders at the The Priory Hospital in Roehampton, England, include "missing meals, a distorted self-image, a desire to purge, an obsession with sudden weight game, or shame after eating."
How Can You Help Someone Who Has an Eating Disorder
If you want to support someone with an eating disorder, the most important thing you can do is to encourage them to seek professional help, which could be either talking to a GP or a consultant psychologist. The sooner the better, said Dr. Touroni, as eating disorders "have the highest mortality rate among psychiatric disorders, so helping your loved one get help as soon as possible will ensure their best odds of recovery".
Lots of people who have eating disorders find talking about them really difficult and aren't always open to receiving help. Tom Quinn, the Director of External Affairs at Beat, the UK's eating disorder charity, said that encouraging loved ones to share their feelings with you is a great place to start. Try to create a comfortable environment for them and "try not to assume what they may be going through". Quinn also added that if someone isn't ready to talk or wants to be left alone, "you should assure them that you can hear they're upset . . . and you'll be there to help them if they need you."
Dr. Chase emphasised that "for anyone struggling with an eating disorder, the support of loved ones is essential." The treatment of eating disorders can be a long and testing process and Dr. Chase suggested that a collaborative "fight" against the eating disorder is vital.
Eating disorders are a serious mental condition that can affect everyone involved. If you are a friend or family member of a person who is struggling with an eating disorder and you feel overwhelmed or lost, please reach out for help or talk about it.
For more information on how to support someone with an ED, please visit: https://www.beateatingdisorders.org.uk/.
What Does Recovery From an Eating Disorder Look Like?
Because of the diverse nature of eating disorders, recovery differs from person to person. Depending on the severity of the eating disorder, treatment might involve admission to the hospital or frequently working with a therapist. It's not always an easy path, and like all healing processes, it will take time. Dr. Touroni reassures that this is OK, your journey won't always be simple, and that "it's all about practicing compassion".
Supporting someone through recovery is tough and can be emotionally taxing, so if you are standing by a loved one, do also try and make time for yourself. "Looking after yourself will put you in the best position to support them," said Quinn. If you can, join a friends and family support group, which you can find online. It's a good place to meet others who have been through the same experience, talk about your feelings and create your own support bubble.
For more information on recovery, please visit: https://www.beateatingdisorders.org.uk/recovery-information.
If you or someone you know is struggling with disordered eating or an eating disorder, Beat has resources available including a helpline at 0808 801 0677 as well as an one-to-one web chat service. If you are in need of urgent help for yourself or someone else outside of Beat's helpline hours, call 999 or contact The Samaritans at 116 123.