Ellie Simmonds on Competing in Her Fourth Paralympic Games
Ellie Simmonds Reflects on Her Paralympic Career Ahead of Her Fourth Games in Tokyo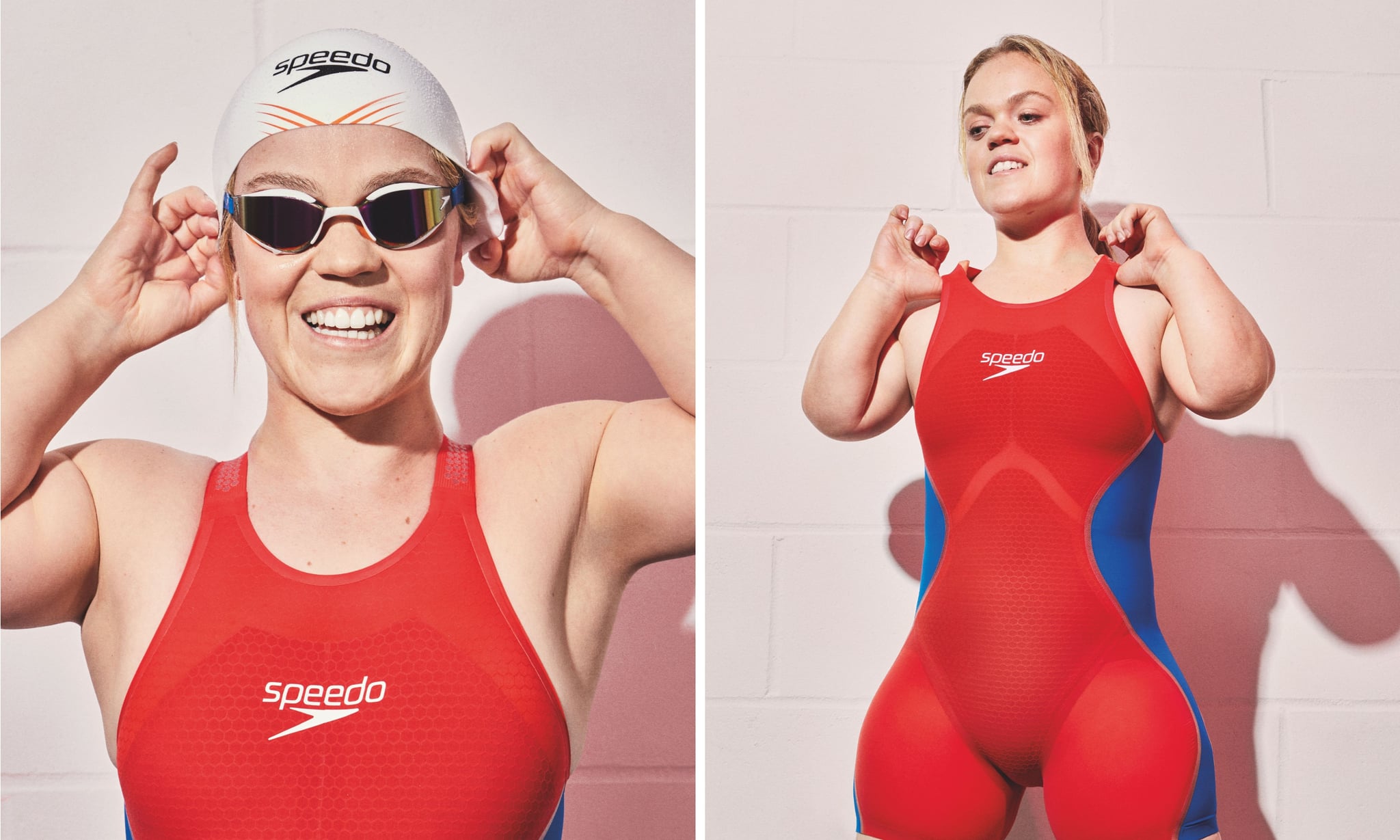 Ellie Simmonds is a British athlete who needs no introduction. Stepping on to the Paralympic stage for the first time back in 2008 in Beijing, Simmonds' tenacity and hard work saw her earn her first gold medal at the mind-boggling age of 13. Since then, she's taken home eight medals at Paralympic games (five of those, gold), was the youngest winner of the BBC Young Sports Personality of the Year award in 2008, and then also became the youngest recipient of an MBE the following year, at the age of 14.
Ahead of her trip to Tokyo for her fourth (yes, fourth) Paralympic Games, we caught up with Simmonds to find out what it feels like to kick your lotfiest career goals when you're still a teenager, and she also reflected on the moment she won gold on her home turf at the London Paralympics in 2012. Of course, we also wanted to know what she's most excited about this time around because we all know it's going to look a little bit different.
"I think it's going to bring the world together."
"It's going to be stricter and there are going to be lots of rules, but for [the Games] to happen during these circumstances, it's going to be good," Simmonds told POPSUGAR. "I think it's going to bring the world together. The Olympics and Paralympics do that anyway but with all the things that we've gone through this past year, it's going to bring even more people together, I think."
Keep on reading to find out exactly what we got chatting about ahead of Simmonds' trip to Japan.
POPSUGAR: Can you please tell me how you got into swimming and what motivated you to compete competitively from such a young age?
Ellie Simmonds: So, I started swimming at the age of five. I'm from a big family — I've got three sisters and one brother — and I'm the youngest. So for me, I always remember sitting at the sideline, watching my siblings learn to swim and then the next thing I knew, it was my turn to learn. [I was excited,] not just to learn how to be safe around the water but also just because I was a very active child and I hated being bored. I didn't only learn to swim, but I also did ballet, stage school, horse riding. As soon as I finished school for the day, I would be like, "What activity are we going to tonight?"
But swimming clicked with me — not just because I was good at it, but also because swimming is quite a time-consuming sport. So I wasn't just swimming once a week, but twice a week and I started swimming competitively on the weekends at the local leagues. I think for me, the turning point [when I realised it was] what I wanted to in the future was watching 2004 Paralympics in Athens. I was one of those kids sitting on the sofa and watching the Olympics and then watching the Paralympics and was totally inspired and in awe of watching Team GB smash it and then Paralympics GB smash it, too.
I asked my mum how old you have to be to go to the Paralympics and to win a gold medal. And I think, as a kid, I realised this was my dream. . . to go to a Paralympics and to get a gold medal. It's crazy to think that four years later I was going to my first Paralympics at the age of 13 in Beijing, 2008.
PS: I mean, it's one thing to be inspired by watching the Paralympics at home, but it's incredibly bold to take it to the next level and work towards it as a goal for the very next Games.
ES: I had great support from my parents, from my family and I think, for me, it was the whole transition from swimming at a club with able-bodied people, to my parents doing the research about the Paralympics, about disability competitions and transitioning from racing against people who are a lot taller than me, to racing against people who are similar heights. When I got scouted, in a sense, on the start program of British Para-swimming, I got the support from them at a young age [and was encouraged to believe] that if I kept carrying on, I'd hopefully be on that journey to go to the Paralympics.
PS: What was that transition like, to go from swimming in competitions with people who were able-bodied, into what I imagine would be more of a fair playing field?
ES: I liked it, because I was so used to racing against people who are amazing athletes, but also know that each time I raced them, I'd come in last. And it gets hard as you get older, to be the 8- or 9-year-old who came in last all the time. But then I realised that actually, when I'm competing against people who are on the same playing field as me, who are on the same level, who are similar to me, I realised that actually, I'm alright. I'm quite a good swimmer and I'm doing well. I remember going to my first junior competition and coming away with a trophy in 2005 because I was good. I think it was a wake-up call to realise I wasn't losing all the time [anymore], but I'm actually now transitioning and I'm winning. I mean, it's quite exciting in a sense because I realised I'm pretty good.
PS: It's a huge understatement to say that you were simply 'good'. You became a Paralympic gold medalist at age 13 and you've won many medals since, and you've been awarded an MBE. Is there one moment in your career that you think of as your proudest moment?
ES: Probably competing at the 2012 London Paralympics. For me, being a British athlete, competing in front of a home crowd, having a whole summer of 2012 where I watched the Olympics and saw the amazing success that Team GB had, watching Super Saturday, watching the opening ceremony of the Olympics. And then next thing you know, it was our turn, for the Paralympics.
Having crowds sold out, having my friends and family, people from my school who had never seen me swim before, but were now watching the Paralympics. For me, that was just the most amazing summer, and to compete and to actually swim so well, come away with two golds, a silver, and a bronze. That summer, I'll never, ever forget. Next year it will be 10 years since the 2012 London Olympics, and people still come up [to me] in the streets now and congratulate me. It was definitely a year that I will never forget and will always be in my memory books.
PS: You're about to head off to your fourth Paralympics. Can you tell me about your preparation for this meet and whether it's been different to previous Games?
ES: Oh, totally. I think, again, I'm older. I'm five years older than what I was in Rio 2016 and a lot older than what I was when I competed in Beijing and London. But also, we've been in a pandemic. It's been totally different. We had four months in 2020 in lockdown where we weren't allowed to do anything and with swimming, we need a swimming pool. I can't do that in my parents' back garden.
After that, we were very lucky that elite athletes were still allowed to train, but even then, it was only at our high-performance centres. So I moved away from home to Manchester and trained up there. So, it's definitely not been the usual lead-up to a Paralympics. But I think that's not just me, it's the whole world, isn't it? Everyone's been affected by this coronavirus and luckily enough, my friends, me, my family, we're all safe and we're all well at the moment.
PS: How do you maintain the same intensity and momentum? Obviously, in the past year with the Paralympics being postponed, but more broadly, your career has been so successful for so long, and from such a young age. How do you keep that intensity and the motivation to keep pushing towards the next Paralympics?
ES: The motivation changes as you get older. For me, going into London, my motivation was competing at a home Paralympics, wanting to succeed and to win a gold medal in front of the home crowd. Then Rio was again to top it, but as an older athlete, and now my motivation is that I just want to go to a fourth Paralympics to say that I've gone to a fourth Games. So I think you keep striving. You keep doing exactly the same thing, but your goals change. And for me, I put a different perspective on it, and I learn about myself as I get older. My body can't do what it did when I was 17, because I'm an older athlete now. I get tired. So I think you change your goals and perspective in the environment, but also age impacts the different achievements you want to reach.
PS: Can you talk me through what an average day or week of training looks like at the moment?
ES: Since January '21, [my training schedule] has been pretty much been exactly the same as normal, especially now that I'm back in London. So a typical day would be: I set my alarm for like 4.50 a.m., get out of bed, and go to catch the first tube. Then I train from 6.30 a.m. till 8.30 a.m., and then I come home or I go to the gym for about an hour and a half. After that, I come home, eat lunch, take a nap, and then go back to the pool in the afternoon and swim for another two hours, from 3 p.m. till 5 p.m. So I swim nine times a week, two hours a session, plus I do gym twice a week and then yoga as well.
PS: How do you find yoga helps with your other training?
ES: I think it's more [for my] mind. Lately, I've been enjoying yin yoga, so it's more about holding the poses for longer and stretching, which is good for the body, but also when we do Savasana at the end, it's so relaxing. It's a time where I've got an hour to shut off and not go on my phone, not have distractions. It's only been since lockdown, actually, last year that I started doing yoga and put it into my schedule, but I love it.
PS: What are you looking forward to after these Paralympics?
ES: For the moment, [the plan is to] just go to these Games and then evaluate after. I think I'd love to still be involved in the sport if I do retire afterwards; I love swimming and I want to give back to the sport. Maybe coaching or working with kids as well, becoming maybe a primary school teacher. I went travelling in 2017 and I'd love to carry on travelling and seeing the world and do things like that. So I think, I'll just see. I think we've learned this past year, it's hard to plan things.
PS: Do you have any advice for young kids who look up to you as a leader in your sport and who think they might want to compete in a Paralympics or Olympics one day too?
ES: The advice I would give is to have fun and enjoy it. It's hard, because you've got to balance school as well, but you've got to enjoy what you do. Also, do the research, find out about the local competitions, don't be afraid to talk to people, and ask for advice, reach out. I learned so much from talking to teammates and I'm still reaching out to those people to talk to who have done it in the past to gain experience. And don't be afraid to reach out, but also try your best and work hard. It's not going to be easy.
Image Source: Speedo