Fulton Classic Insole Review
The Verdict Is In: Fulton's Insoles Are Cool— and They Actually Work
As POPSUGAR editors, we independently select and write about stuff we love and think you'll like too. If you buy a product we have recommended, we may receive affiliate commission, which in turn supports our work.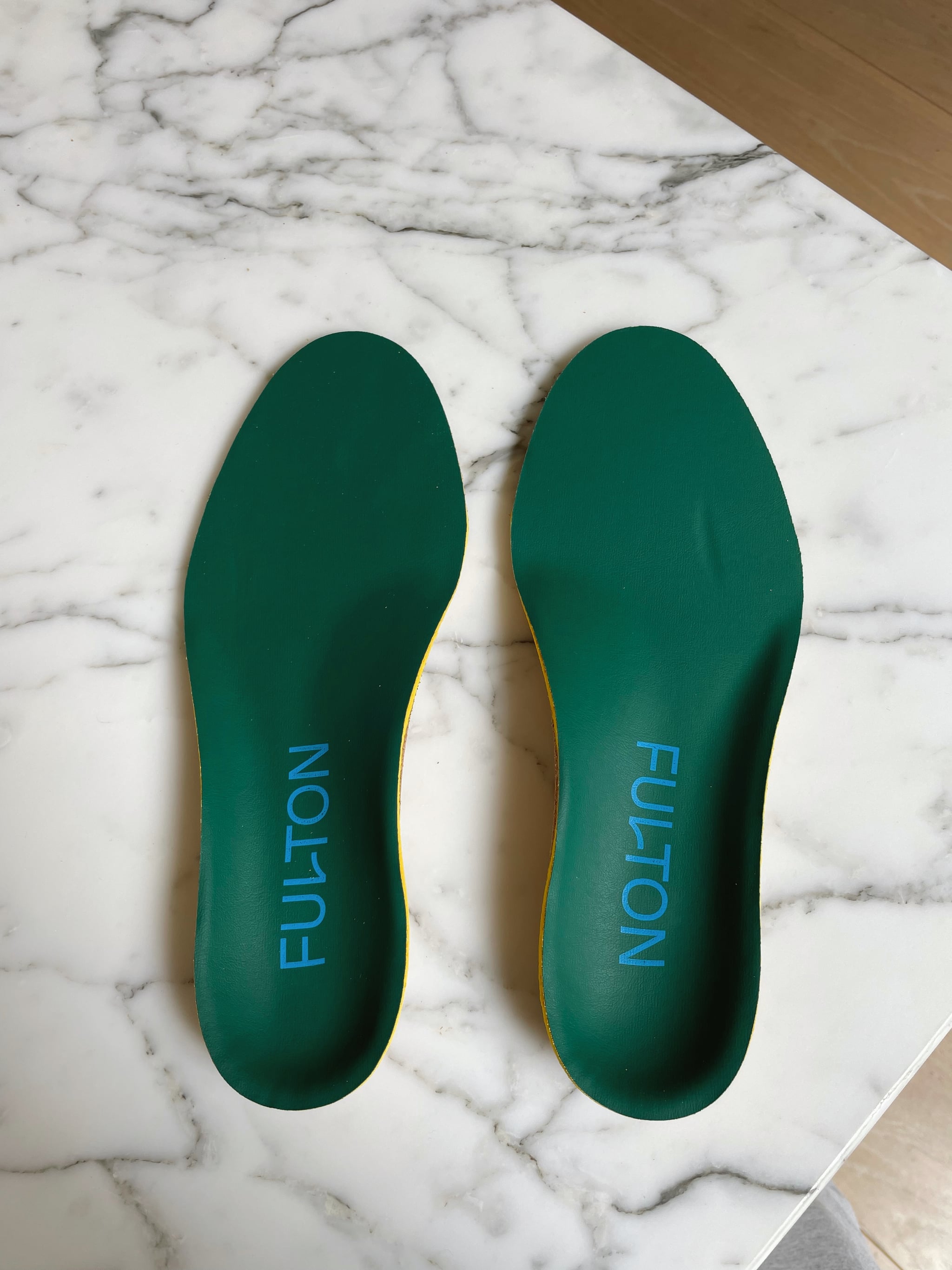 I've pretty much always thought that insoles were strictly made for the older crowd, so I was surprised a few years ago when I learned that one of my girlfriends wore them quite frequently. I wasn't convinced to buy my own pair, but the news was still interesting. I pushed the idea of insoles to the back of my mind, where they sat, collecting dust-- until I recently learned about an insole brand taking the foot world by storm. Enter: Fulton.
I'm only 31, but if you ask my boyfriend- he'd tell you I act like I have the body of a 90-year-old. I have constant aches and pains, in my legs, back, neck, wrists— I mean, you name a body part, and I've probably got an ailment I can complain about for at least twenty minutes straight. When I first heard about Fulton's Classic Insoles ($48), insoles designed to relieve foot, knee, and back pain - I was definitely intrigued.
Fulton was founded by Libie Motchan and Daniel Nelson. They created the brand after spending a fair amount of time wondering why they were experiencing constant pain despite being healthy adults. They believe that pain is a chain reaction, and that imbalances when we are standing or walking can have considerable negative effects on our bodies. Essentially, if our feet don't have support, misalignment can occur which can lead to future pain that only increases if the misalignment goes untreated. Fulton's insoles aren't just about adding extra padding into your shoes-- instead they offer customised arch support which helps keep your body aligned as you walk. Plus, they're made from entirely sustainable materials like natural foam, vegan cactus leather, and cork.
You can also pre-select your size when ordering a pair online, which makes things easy. No need to cut them to size after purchasing, which is the typical route that insole brands want consumers to take. Tedious, much? Currently, Fulton's insoles are available in women's sizes 5-11 and men's 8-14.
When I first received my insoles, I was blown away by the thoughtful packageing. I'm someone who loves an aesthetically pleasing product, and when I first opened my mail to see the über cute wrapping, sticker, and socks inside, I was delighted. Fulton easily scored a 10/10 on that front, but would the actual insole live up to the hype? The first thing I noticed after taking the insoles out of the packageing was that they were stiff. Like, really stiff. Fortunately the packageing, while cute, is also functional: it happens to come with some handy guidelines, which warn users that while the insoles will feel stiff at first, they should begin to form to your foot after about ten hours of wear.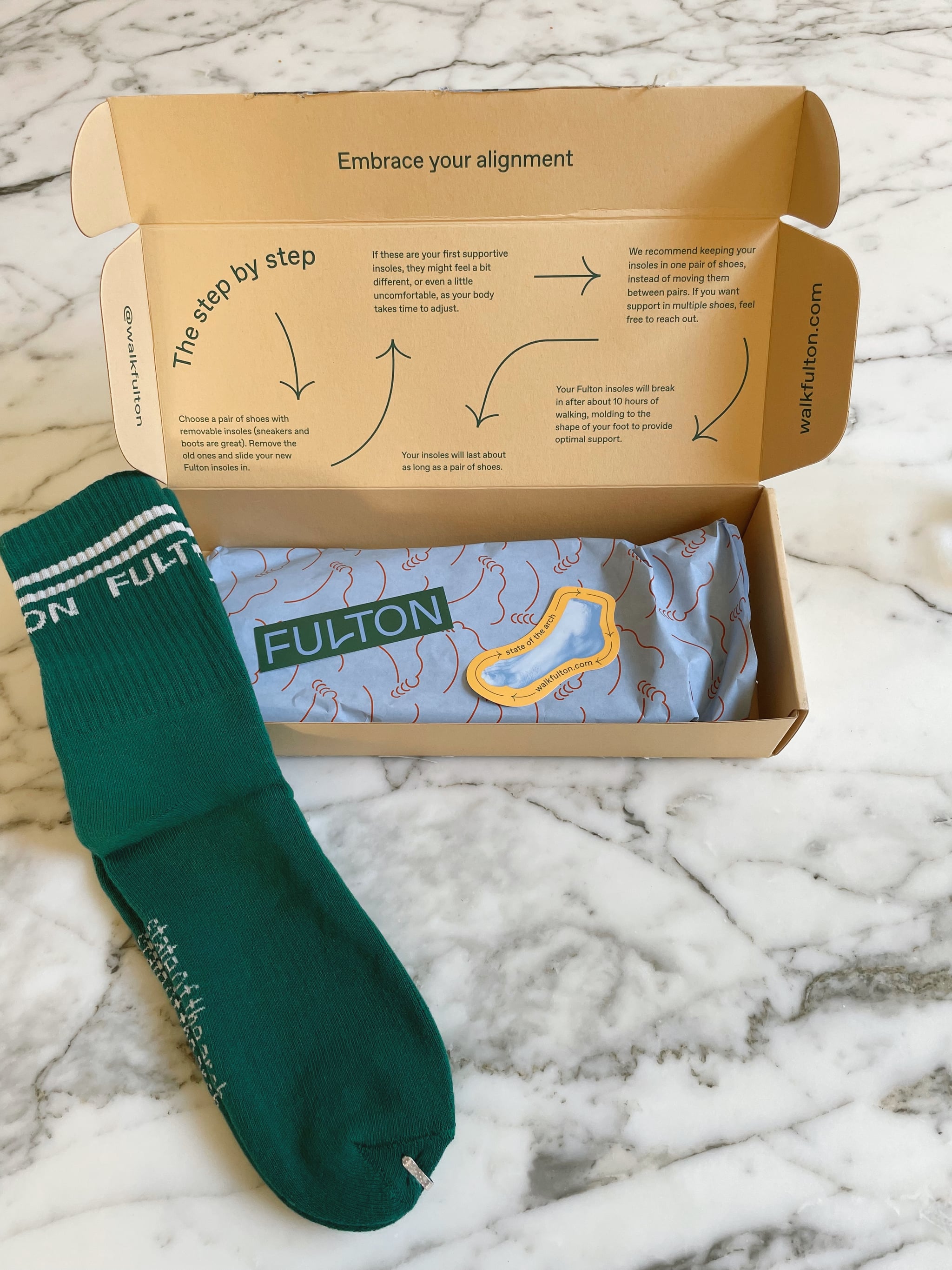 I opted to use my new insoles in a pair of Adidas Ultraboosts, which are definitely my most comfortable shoe. The insoles slid easily into my shoes on the first try, and my foot fit comfortably inside even with a thick sock on. While the fit was definitely awkward at first, they did loosen up bit by bit with wear. I didn't think my Ultraboosts could get any more comfortable, but I have to admit that Fulton really helped me level up my shoe-support game.
After wearing my insoles for a little over a week, I can definitely feel a difference. I've already convinced my mom to buy at least one pair, and I'm hoping they can help ease some of the pain she experiences on a daily basis as well. While wearing shoes while walking around inside in general has probably given my bare feet a much-needed break, I can say that I've noticed some relief in my back pain as well. Based on what I've experienced so far, I think that with consistent use I will only start to notice even more relief.
Image Source: POPSUGAR Photography / Renee Rodriguez