When Will UK Gyms and Leisure Centres Reopen in 2021?
Gyms and Leisure Centres Can Reopen in the UK on 12 April 2021 — But There's a Catch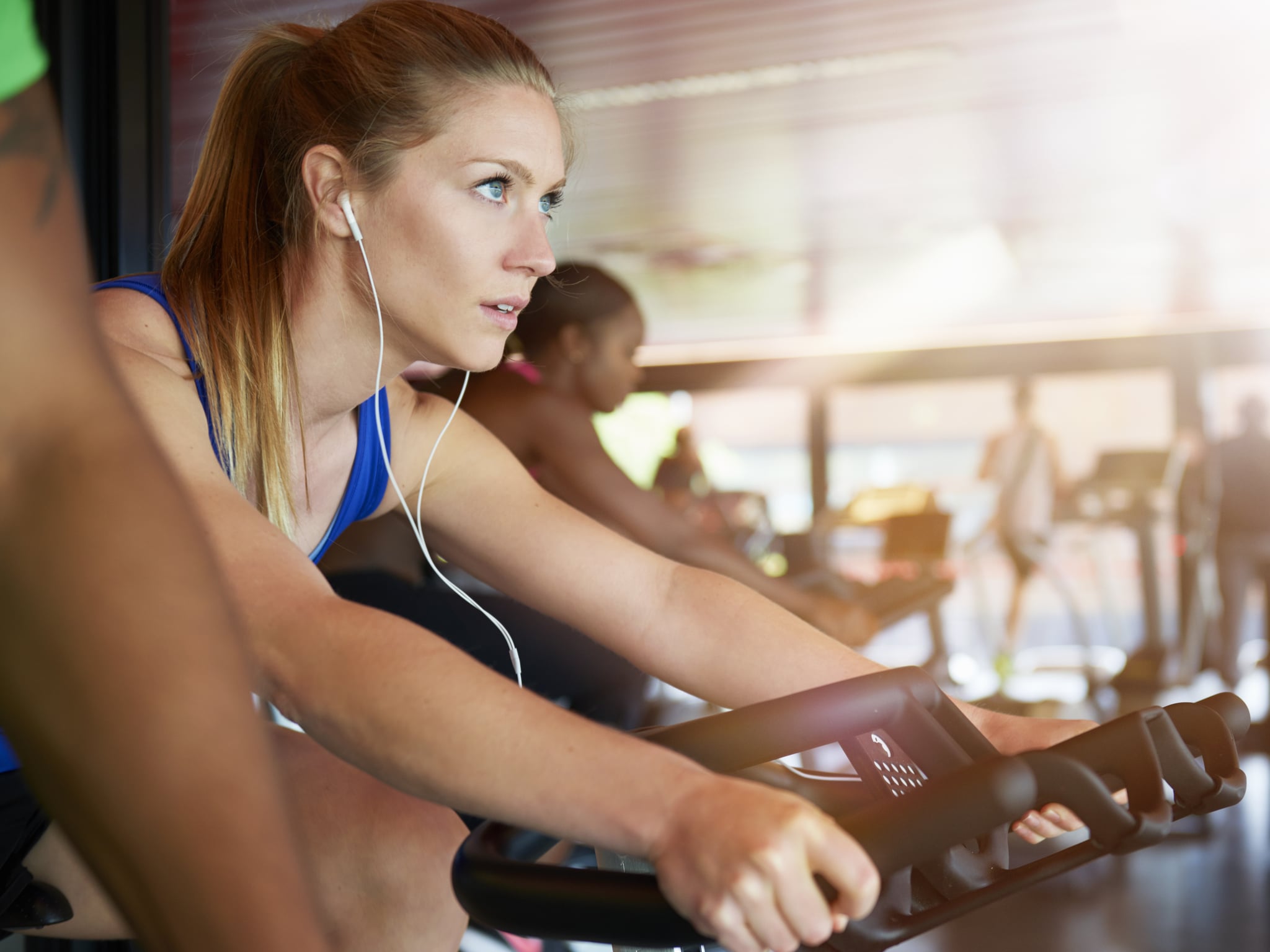 Update (22 Feb., 2021): Gyms and leisure centres have been given the green light to reopen on 12 April 2021 in England, according to the government's roadmap to ease lockdown restrictions, which prime minister Boris Johnson presented to the House of Commons today. The news comes as great relief after gyms were forced to close their doors yet again when the UK went back into a nationwide lockdown on 5 Jan. 2021 due to the increase in coronavirus cases.
It's important to note that while gyms can open on 12 April, you cannot attend with people outside of your household and classes will not be allowed, as indoor socialising is still not allowed at this point in the COVID restrictions roadmap. It won't be until 17 May, when step 3 of the COVID lockdown roadmap begins, that indoor sports and gym classes can resume, meaning it will be a little more time until boutique fitness studios can start classes back up again.
For gyms and leisure centres to open on 12 April, however, Johnson stressed that England's four criteria must be met before the country can move through each phase of the lockdown. These include, the vaccine deployment programme continues successfully, data shows the vaccines are sufficiently effective in reducing hospitalisation and deaths in people who are vaccinated, infection rates do not risk a surge in hospitalisations putting an unsustainable pressure on the NHS, and the risk assessment is not changed by the new variants of concern.
Update (22 July, 2020): On 9 July, Culture Secretary Oliver Downden announced further guidance on the reopening of gyms and leisure centres in the UK. Outlined in a press release from the government, outdoor pools reopened starting 11 July, while indoor gyms, swimming pools, and sports facilities are to reopen from 25 July, as long as they adhere to certain social-distancing measures, which include:
Limiting the number of people using the facility at any one time, for example by using a timed booking system;
Reducing class sizes and allowing sufficient time between each class to avoid groups waiting outside during changeover;
Ensuring an appropriate number of people are in a swimming pool at any one time;
Spacing out equipment or taking some out of service to maintain social distancing;
Enhanced cleaning and providing hand sanitiser throughout venues;
Considering how the way people walk through their venue could be adjusted to reduce contact, with queue management or one-way systems;
Ensuring adequate ventilation;
Encouraging the use of outdoor spaces for individual, team or group activities, making sure to comply with the latest restrictions on public gatherings;
Exercise or dance studios should have temporary floor markings where possible to help people stay distanced during classes;
Customers and staff should be encouraged to shower and change at home wherever possible, although changing rooms will be available.
Original Post (28 May, 2020): On Friday, 20 March, as part of the government's effort to combat the spread of the coronavirus, Prime Minister Boris Johnson ordered the closure of all gyms and fitness studios across the UK. We've heard little to no information regarding when they will reopen since, despite the release of the government's strategy for tackling the next phase of the pandemic and the roadmap for lifting England's lockdown, announced in mid-May.
As the 50-page guidance document titled "Our Plan to Rebuild: The UK Government's COVID-19 Recovery Strategy" states: ". . . while reopening outdoor spaces and activities (subject to continued social distancing) comes earlier in the roadmap because the risk of transmission outdoors is significantly lower, it is likely that reopening indoor public spaces and leisure facilities (such as gyms and cinemas), premises whose core purpose is social interaction (such as nightclubs), venues that attract large crowds (like sports stadia), and personal care establishments where close contact is inherent (like beauty salons) may only be fully possible significantly later depending on the reduction in numbers of infections."
Ultimately, at this stage, we can only speculate on a reopening date, however, many fitness insiders believe we'll see a phased reopening like we have with other industries from July. Robert Rowland, cofounder of Boom Cycle, predicts larger gyms will be permitted to open first, followed by smaller boutiques and studios in the following weeks or months. Hollie Grant, award-winning Pilates instructor and founder of Pilates PT, agreed, telling POPSUGAR we can also expect a "huge adaptation to how gyms and fitness classes were previously run," starting with the implementation of social-distancing measures.
Social Distancing Means Gyms Will Have Less Capacity
According to UK Active — the not-for-profit body of members and partners across the UK's physical activity and fitness sector — that's put together a framework for the reopening of gyms, leisure centres, and the wider fitness industry, gyms are expected to operate with a maximum capacity of three square metres of space per person when they reopen.
The same queue system that is in place at most major supermarkets will be enforced upon entry to gyms, and distance between all equipment will likely be two metres. "Responsible operators will follow all available best practice in terms of effectively separating customers physically — this may include removing every other piece of equipment or marking 'individual activity zones' on the floor with tape," said Marco Coppola, national head of health and fitness at Better. "It will be paramount to gain the trust of returning customers."
"PureGym has been working in close consultation with UK Active and the Government to layout re-opening protocols," a spokesperson for the group told POPSUGAR. "Our equipment will be spread out and user numbers will be monitored and limited to ensure safe distances are maintained. Our new safety protocols are already in place in Switzerland, where we have re-opened gyms, and we've received approval from local authorities and positive feedback from our members."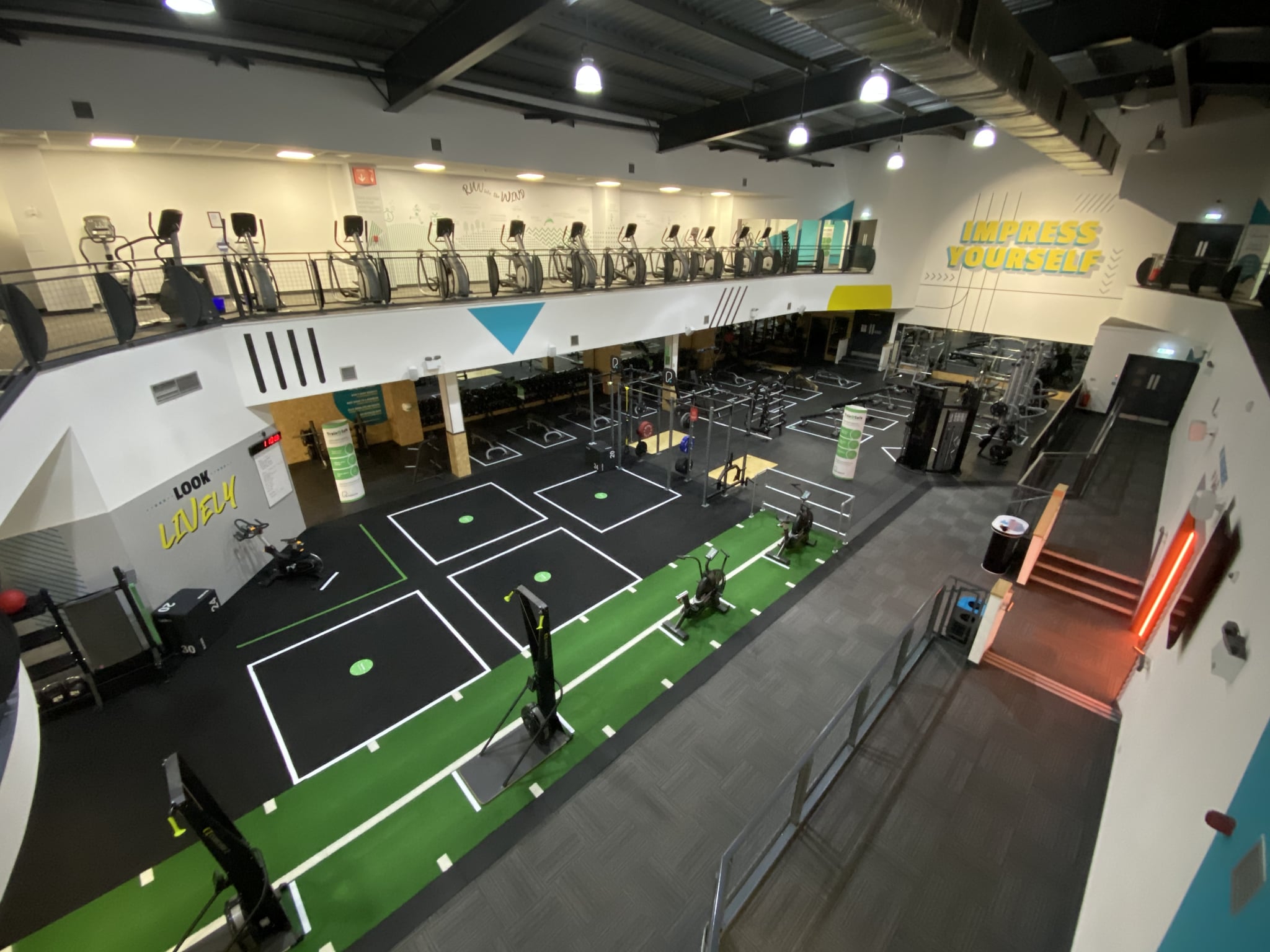 Image Source: PureGym
Strict Cleaning Measures Will Be Enforced
When it comes to gym equipment and facilities, cleaning measures will be vigorous. "All gym equipment will be cleaned between uses, and the time needed for this will be factored into opening schedules and programming," Coppola said. The same goes for shared touch points (for example, surfaces and lockers), and you can forget about using shared towels. Hand sanitiser will be distributed throughout each studio, and members will be expected to spray and wipe every single piece of equipment they come into contact with, from dumbbells to treadmills.
"There is also a possibility that changing rooms may be closed to reduce the amount of time clients spend in the facility," Grant said. "Gyms would require dedicated cleaners, or [need to] assign staff to this role, to clean down shared equipment between clients and ensure a strict cleaning schedule is adhered to and recorded."
Classes May Not Return For a While
"I just think a lot of classes won't happen for a little while," Rowland said. "The equipment can be spaced out, but group exercise classes rely on just that, groups. The collective power of a shared experience. The key will be getting the timing right; it'll all go back to where it was, but we and other studios will just need to time it right."
When the time is right, it's unlikely that classes will be like we remember. "If we look to what other countries are doing when they reopen their gyms and fitness spaces, we can expect much lower client numbers, smaller class sizes, longer gaps between classes on schedules, and strict regulations on cleaning," Grant told POPSUGAR. But the changes aren't necessarily a bad thing. "It may reduce class atmosphere marginally, but on the other hand, each individual will receive more attention from the trainer in class," said Chatty Dobson, owner of FLEX Chelsea.
Membership Offerings Are Likely to Change
According to Grant, "coronavirus has changed how consumers now train, and this will, in turn, affect how fitness businesses operate." Referring to the popularity of Pilates PT's online fitness classes during the pandemic, she elaborated: "Online training is cost effective, requires no travel time, [is] easy to fit in around children, and opens up consumers to instructors across the globe. I think that gyms and fitness studios will need to adapt to include this option into their offerings." Dobson agreed, noting, "Virtual classes are here to stay."