Interview With Gynae Girl Instagram Founder
Gynae Girl Is the Instagram Account Encouraging South Asian Women to Talk About Sexual Health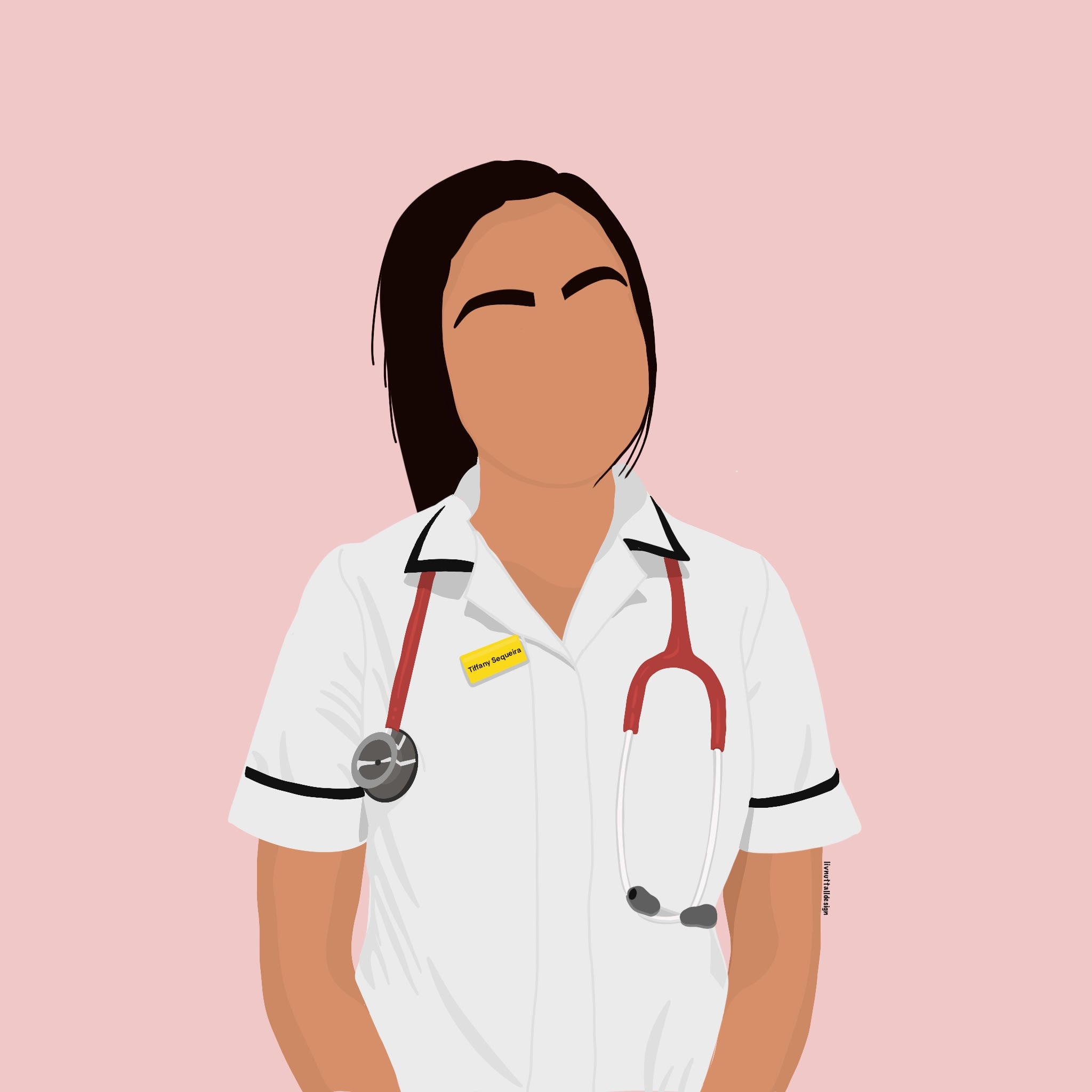 South Asian women do not talk about sexual health. It's a fact. Who we're sleeping with isn't regularly discussed in our catch ups with parents, periods aren't something that are forewarned from a young age, and what thrush feels like (and how common it is) is a conversation so readily avoided that most people don't even know they've had it. Tiffany Sequeira, also known as Gynae Girl, is here to change that. She started her informative Instagram account back in 2018 after she realised just how much of a gap there was in the sexual-health space.
By day, Sequeira is a pelvic-health physiotherapist working for the NHS. But at night, she spends her time sharing her knowledge on female anatomy, sexual wellness, and female pleasure. Topics she covers range from how to use a menstrual cup and bacterial vaginosis to period poverty and how to have better sex. We caught up with her to find out more about her platform and why raising awareness within the South Asian community is so important to her.
POPSUGAR: Gynae Girl is such a great idea for an account and it's so easy to look at, how did the idea come about?
Tiffany Sequeira: Thank you! It actually came about during a girls night out (as all good ideas do!). I was already working in women's health and my friends were constantly asking me questions about sex, vaginas, and periods, etc. One of them suggested I make an Instagram account, and that night we secured the name @gynaegirl on Instagram and the rest is history! We toyed with other names like TifFANNY and Vaginagirl, but I'm definitely glad we went with @gynaegirl.
"I hope that I have encouraged other brown girls to speak openly and seek medical advice about these taboo topics, too."
PS: The page has grown so much since it first started. Do you remember the thing that made it real for you?
TS: It honestly still hasn't hit me! Working with Superdrug for their "masturbation is self celebration campaign" or being on BBC Radio 5 was a massive deal. It will never fail to make me laugh that in the space of one day, I was up early to work on an NHS ward in full PPE and then spent that same evening talking on BBC radio about Gynae Girl.
It's also been so humbling having accounts like @theobgynmum, @lalalaletmeexplain, @clarebournephysio, and @thesexdoctor sharing some of my posts, because not only do I follow a lot of these accounts on Instagram myself, but they're also hugely influential names in the pelvic-health world.
PS: Why do you think it's important for female health to be discussed from an early age?
TS: I went to an all-girls school until I was 18, and it still shocks me how little was covered in regards to sex education and pelvic health. I think there is far too much of a focus on pregnancy and how to avoid getting pregnant. That's important but there are so many other important topics to cover, too. It also makes it seem as though the sole purpose of sex is to have babies!
I wanted to make sure there was more information out there about everything else. Pelvic floors for example; as a pelvic-health physio I know how important it is to take care of and how damage to the pelvic floor can affect you for the rest of your life. In terms of medical diagrams and physical models, there needs to be different colours shapes and sizes. I want to see brown and black skin, boobs that are different sizes, pubes, and stretch marks. We have come so far in terms of inclusivity and representation in advertising and magazines, so many different bodies are shown and it's amazing, but why is it that sex-ed videos and diagrams are usually only of skinny hair-free white women?
We still have a lot to discuss in terms of consent, female pleasure, and clitoral anatomy, too. I can't believe that, at my school, we covered male masturbation but not once did we discuss female masturbation. There's still not enough information out there about discharge and periods — especially in terms of what's normal and when to seek help — plus all the different types of sex and when to be concerned, e.g., post-coital bleeding, STI checks, and the morning-after pill.
"I hope that by creating an inclusive and safe space and talking openly, candidly, and truthfully about these issues that it will empower other women to speak more openly."
PS: What's it been like, as a South-Asian woman, exploring taboo subjects like sexual health?
TS: To be honest, I was prepared for some backlash as it's not something you really see out there. It took me a long while to show my face on my Instagram, and I don't think a lot of my followers thought that with a name like Tiffany that I'd be brown. But the feedback has been amazing. Don't get me wrong, I'm sure theres a lot of "Indian aunties" shaking their heads at a brown girl openly talking about sex. But the amount of brown girls that DM me thanking me for this account makes it all worth it, and I hope that I have encouraged other brown girls to speak openly and seek medical advice about these taboo topics, too.
PS: Sexual pleasure isn't something that's regularly explored within the South Asian diaspora. How do you hope to spark the conversation?
TS: In places such as India and Pakistan it's still uncommon to see sex outside of marriage as a thing, so it's no wonder that talking about sex, sexual pleasure, and orgasms is also unheard of. I wanted to create a safe space for BAME [black and minority ethnic] women to tackle the taboos in our culture, because I think a lot of Asian women feel alone when talking about things like sexual pleasure, but they're really not. Asian women still masturbate, still have sex, and still get periods, but the issue is, because it's such a taboo, they're way less likely to seek advice or support, and it means they end up going through things alone when they don't need to. I once spoke to an old South Asian lady who was using an old Nokia brick phone as a vibrator because of the fear that someone would judge her for using a real one!
I hope that by creating an inclusive and safe space and talking openly, candidly, and truthfully about these issues that it will empower other women to speak more openly.
PS: What's next for Gynae Girl? Do you have a long-term goal in mind?
TS: I'm very much a go-with-the-flow kinda girl. My biggest push at the moment is trying to make NHS and sex-ed diagrams more inclusive and incorporate all different body shapes, colours, and sizes. The dream would be to have a little book for young brown girls exploring and answering questions that they'd most likely Google on the sly, but in an educational, nonjudgemental, and inclusive manner.
PS: Finally, what's one thing you wish you could tell your younger self about your health and sexual wellness?
TS: Ask the questions, because chances are, if you're thinking it, then there's about 100 other girls out there thinking the same. Ask "Why are all these diagrams white?" or "What about female pleasure?" We've come a long way in exploring female taboos, but we still have a long way to go.
Follow the wonderful Gynae Girl on Instagram.
Image Source: Liv Nuttall