Laura Whitmore Stars in Dare 2B Collection: Interview
Laura Whitmore's New Dare 2B Sportswear Collection Is the Ultimate Mood Booster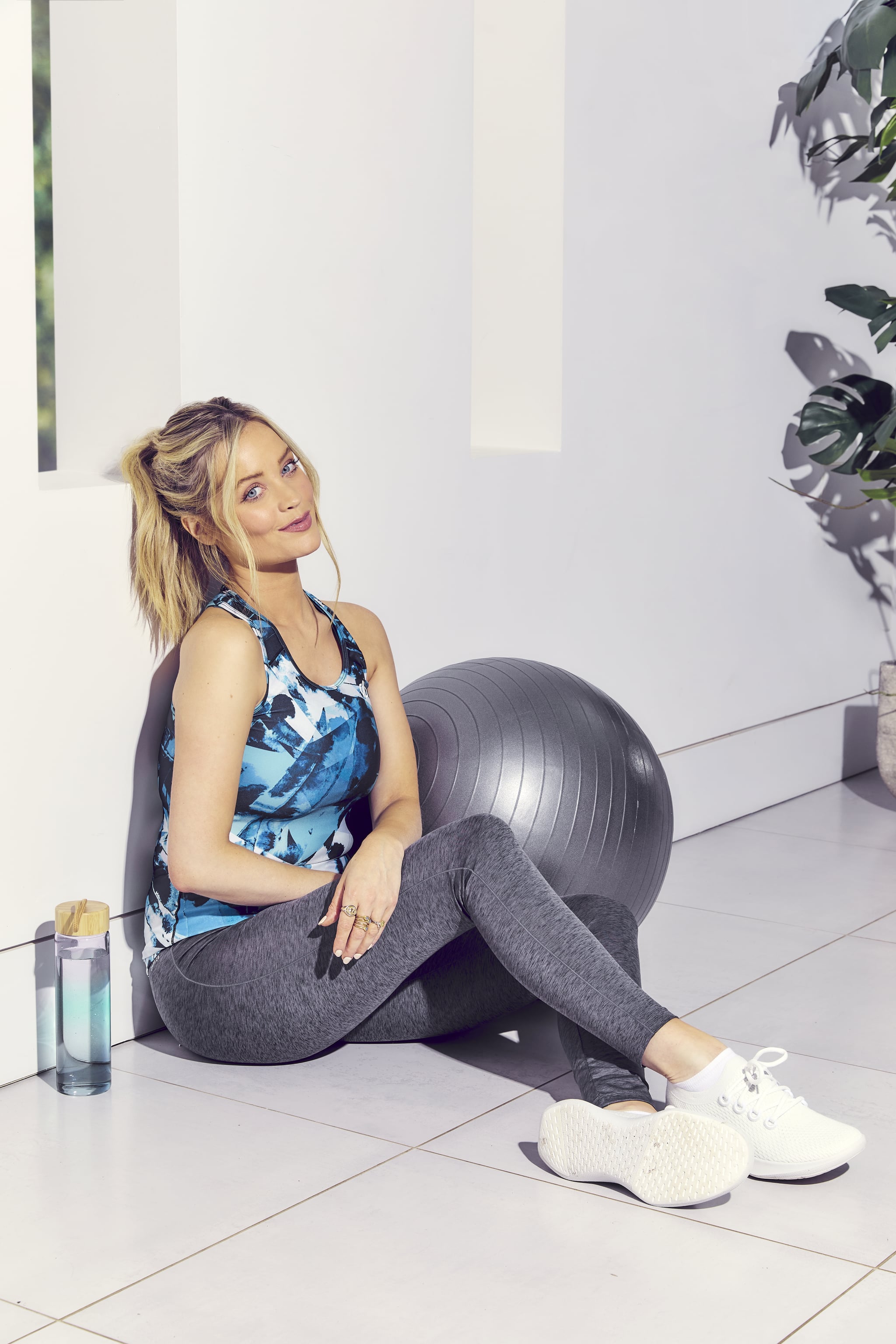 Despite us all still being in lockdown, Laura Whitmore has had a busy couple of months. In addition to announcing she's pregnant with her first child and publishing her first book (no small feat), the TV presenter has also found time to take on a new gig: collaborating with Dare 2B on the activewear brand's spring/summer 2021 collection.
Whitmore is the face of the brand's SS21 range, which is focused on technical and stylish fitness gear. The first edit just launched with a 13-piece collection which includes sports bras, statement leggings, vests, and jackets. To celebrate the colourful (and supremely comfortable) drop, we sat down with Whitmore to chat all things fitness and self-care.
POPSUGAR: Laura, how do you feel about having your own fitness edit with Dare 2B?
Laura Whitmore: It's really lovely. When it comes to activewear it's something that is definitely a big part of my lifestyle. Whether I'm doing fitness or not, wearing clothes that are comfortable, that feel good, and that work with my routine is so important.
It was about a year ago that we first had this conversation about doing an edit. I was very lucky and I got to see some of the ideas and samples of what they were working on and designing. As someone who used to wear a lot of black when they were working out, I wanted to try and add a little pop of colour. Turquoise is my favourite and it's a really positive colour, actually the turquoise stone is often associated with protection. I thought it was really beautiful but also really practical. And let's be honest, especially over the last year, we want practicality with our clothes.
PS: We really do. And do you have a favourite go-to piece from the edit?
LW: There's a few! I really loved the materials and I like things that feel soft on my skin. There's a turquoise jumper that I love, it's got a little hood in it, but it's really lightweight so it's lovely to wear if you go for a run because it keeps the heat in but then it also lets air in too. I loved having fun with the leggings and I love a print. There's a marble effect one and a turquoise marble effect one, which is really lovely.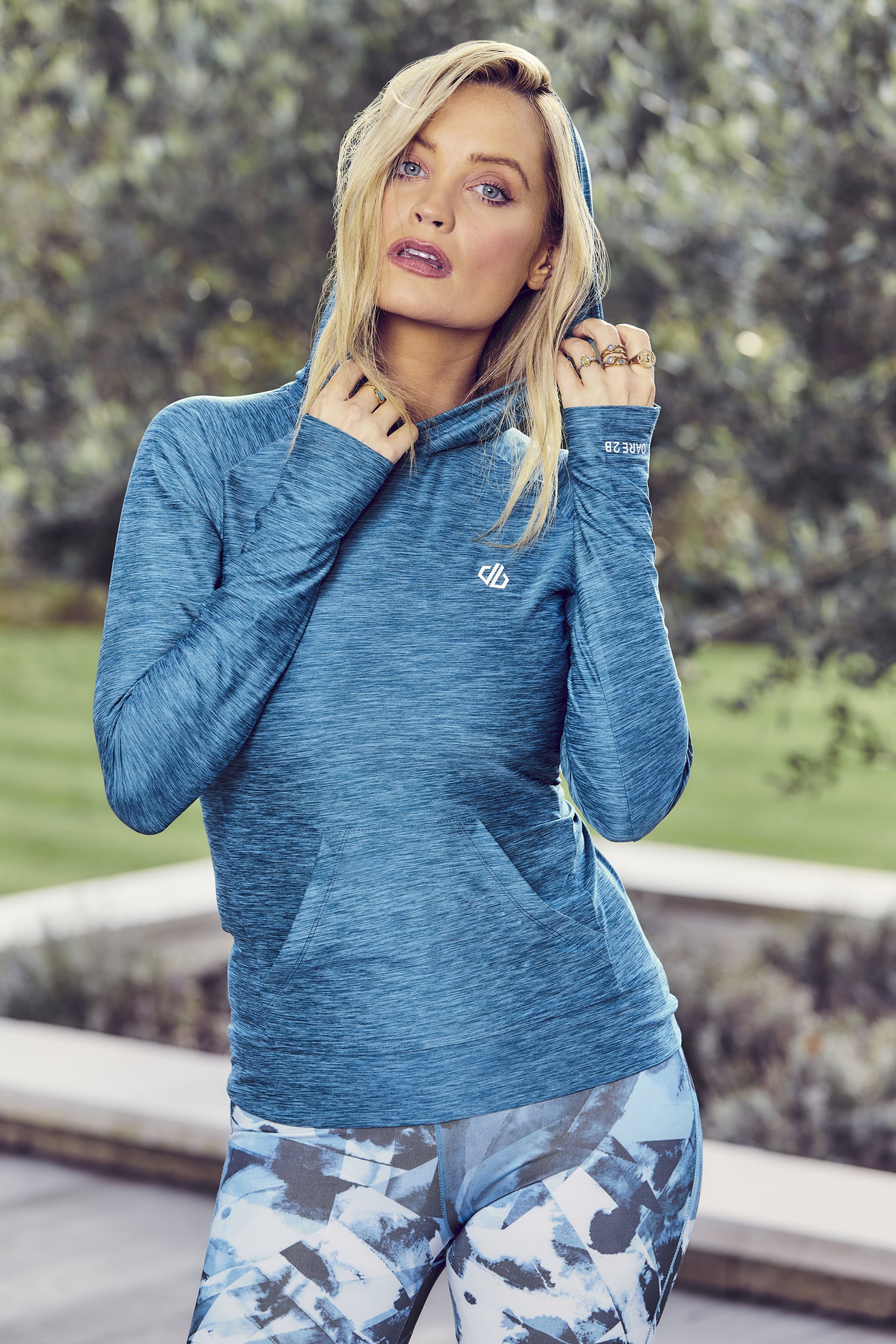 PS: Universally, sports bras are one thing that are quite difficult to get right. What, for you, makes the perfect sports bra?
LW: Try them on, first of all, because everyone is a little bit different and you want it to feel like a second skin. You also want that support, especially with a bra. I've got bigger boobs than people probably realise and I always feel like I'm trying to hide them. For me, having that support when you're running or when you're doing exercise is great because you don't have to really think about your body. You don't have to think about your boobs being in the way, so I think a good sports bra just has to have really, really good support and has to feel nice against the skin.
PS: Agreed. Do you have any favourite ways to work out?
LW: I'm going to be honest, I'm not a gym bunny! I'm not someone who goes to the gym by themselves for three hours, I just don't work that way. I have to have movements in my daily routine, organically. So, that could be going for a walk with the dog or going for a run, listening to a podcast. Or sometimes, I'll get in a workout. If I'm doing a prerecorded interview, my producer will send it back and go, "Can you listen to this?" And it could be like half an hour so I'll go for a run and listen to it.
PS: It's so easy to tell yourself you're going to work out, but following through can be the hardest part. What helps you push through that and stay motivated?
LW: It's so hard, especially when you have an early-morning yoga class booked. You wake up and your alarm goes off and you go, "I could just stay in bed another hour." But you have to remind yourself that even though you feel terrible now, you will feel so much better afterwards. I always think of the feeling afterwards. I'm always like, "OK, I will feel better and I want to feel better. I'll feel better. It'll help me with the rest of my day if I get up now," even though the initial part of getting up is really hard. If you can remind yourself of that, you know it will be worth it.
I also quite like working out with other people, whether it's on Zoom or in classes or going for a walk with someone else. If you say you'll meet someone else out of yoga class, you have to turn up. I've got a trainer sometimes I work with too, but even just going for a walk with somebody helps. If you're doing it with someone else, it pushes you to do it.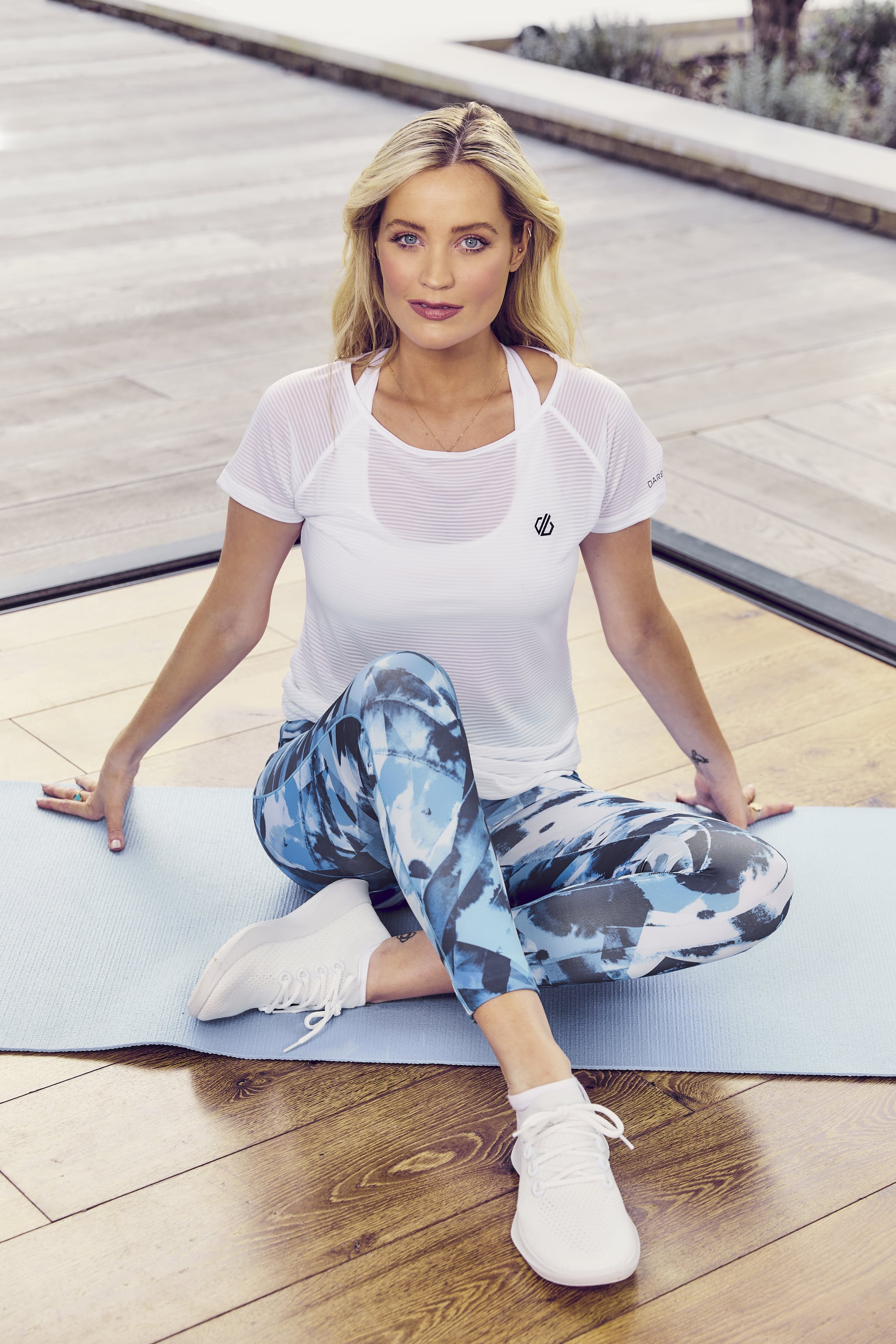 PS: It really is. Have you had to adapt your fitness routine much during lockdown?
LW: It's hard because we've all gone through different emotions. I feel like we've all gone through lockdown together, whether it's by watching Tiger King or Schitt's Creek on telly, and then everyone started doing home workouts. During the summer, it was so much easier to be out and about and going for runs and walks and things like that. It got harder when it was getting a little bit greyer and it was dark at 4pm.
So I think that changed. Some days, I'd feel really motivated and I'd go for like a massive walk in the park and then I'd come home and do an online Yoga With Adriene workout, and then maybe I might do a little online HIIT class. And then some days, I'd be like, 'I don't want to do anything and I'm going to sit here and I'm going to binge three episodes of something.' And I would do that because I think you'd have to listen to your body sometimes and give yourself a day off. It's important to give yourself a break.
PS: Definitely! Have you had to adapt your fitness routine much whilst being pregnant?
LW: I think if you are someone who works out a lot anyway before pregnancy — this is what I was told by experts anyway — don't start yoga midpregnancy, having never done it before. Make sure you're doing things that you were doing a little bit beforehand, so that your body's used to it.
I was lucky because I was working out quite a bit before I got pregnant because I enjoy it. I was going for runs and I'd done this online 5K thing which helps with your running, but then during my first trimester, I was really sick. I didn't feel very well, so I just didn't really do anything but I was like, "That's OK."
I made some friends who were pregnant and it felt amazing and they were able to do stuff. You just have to listen to your body because everyone's different. Now, I feel so much better and I feel like I can do my pregnancy yoga and go for my big walks and things like that, and I feel fine. So, everyone deals with body changes differently, so just listen to yourself.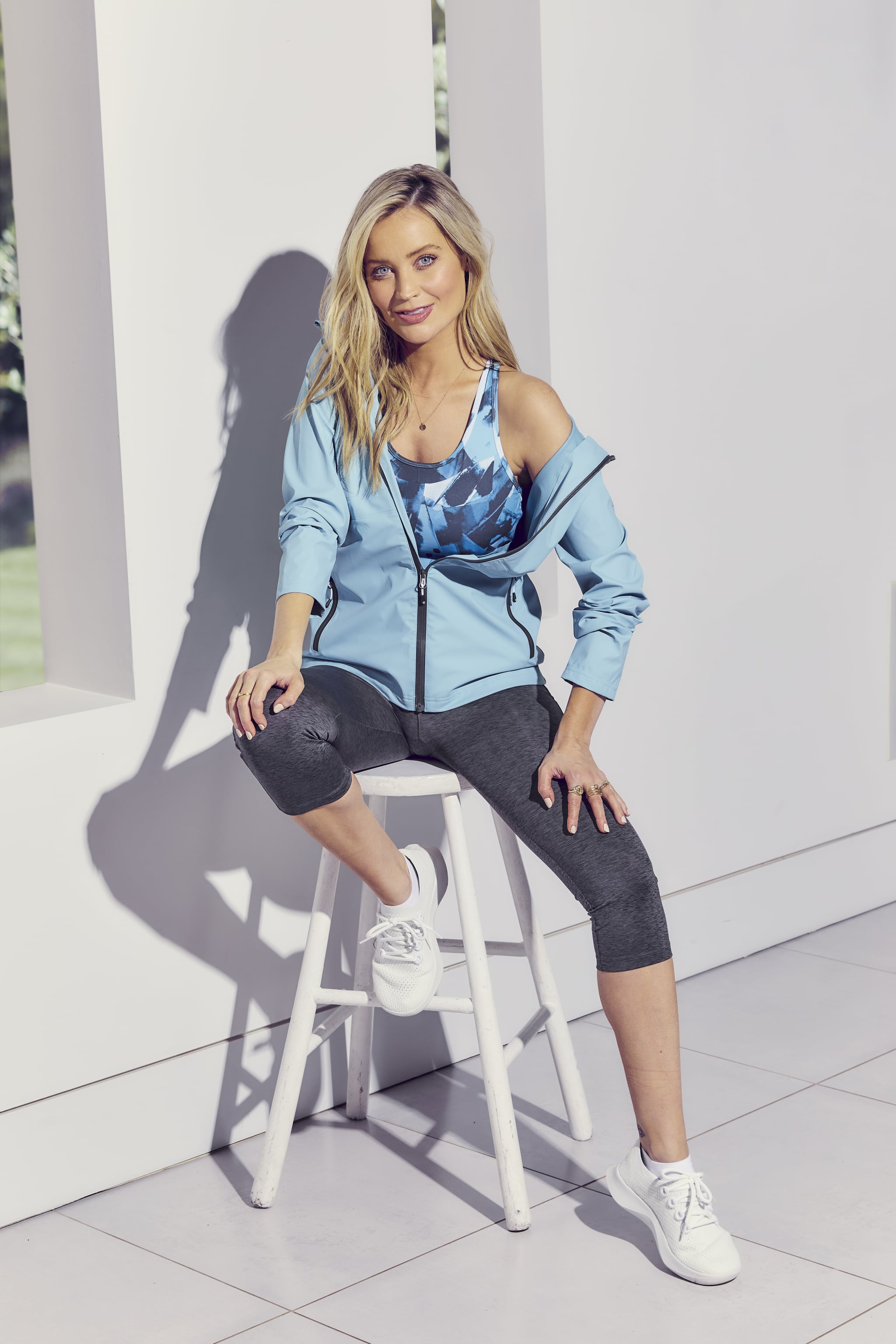 PS: It's so important. Wellness and fitness seem to go hand in hand, so do you have any top tips for treating yourself whilst at home?
LW: Say I'm doing a workout, even if it's been yoga or stretching, I might have a bath later. You have to look after your body in so many ways, whether that's having an epsom salt bath or a bubble bath or something that feels nice on your skin and your muscles. And that's whether you're pregnant or not. If you've gone for a big run, for example, I do love a bath with some candles afterwards. Make your space as safe and atmospheric as possible.
Life is about balance. I'm never someone to say I can't have something. If you feel like you deserve that bar of chocolate, have that bar of chocolate, especially if you've gone for that walk. We just have to be careful that, being at home so much, we're not treating ourselves too much, because it can happen!
Image Source: Dare 2B