Megan Youngren 1st Transgender Athlete USA Marathon Trials
Megan Youngren Became First Openly Transgender Runner at Olympic Marathon Trials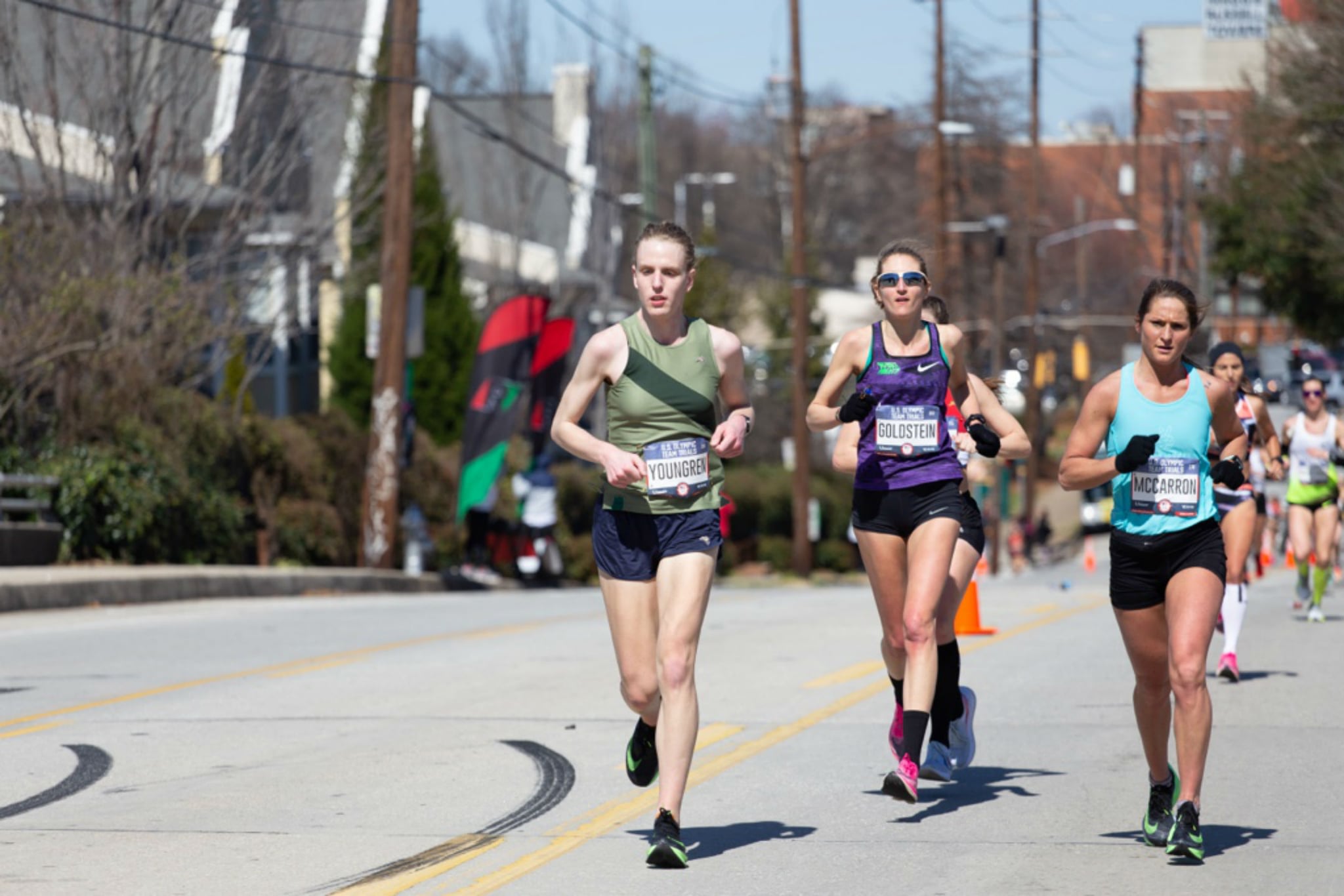 Image Source: Courtesy of Amelia Gapin
On Feb. 29, Megan Youngren was one of the 450 women at the US Olympic marathon trials. She ran 26.2 miles in 2:50:27, granting her 230th place. Megan was well-behind the three women who officially qualified for Tokyo 2020 with their podium finishes; however, she made history as the first openly transgender athlete to ever participate in these trials.
Megan, 28 and born in Alaska, qualified to compete at the trials with her 2:43:52 finish at the California International Marathon last December. According to Sports Illustrated, Megan first started taking hormone medication as a college student in 2011. She then came out publicly as transgender a year later and concluded paperwork for her transition in 2019.
"I'm open to talking about it to people because that's the only way you make progress on stuff like this," Megan told the outlet. The 2017 Equinox Marathon was her first 26.2-mile race, which she finished in 4:48. This, she told Sports Illustrated, got her hooked on marathons. She shaved her time down to 3:06:42 at the 2019 Los Angeles Marathon, then sought after a goal-finish of under three hours.
"People will try to put it down by saying, 'That's too easy because you're trans,'" Megan stated, adding that her story of hard work is shared by other women who qualified for the Olympic marathon trials. "There's probably someone with the exact same story. I trained hard. I got lucky. I dodged injuries. I raced a lot, and it worked out for me. That's the story for a lot of other people, too."
"I credit the people who've come out before me for making this not so bad for me."
For transgender athletes in the Olympic marathon trials, the USATF follows the same rules established by the International Olympic Committee. As reported by Sports Illustrated and as stated in an International Olympic Committee press release, a transgender female athlete must have testosterone levels below 10 nanomoles per liter for at least 12 months prior to competition. It must remain below that level "throughout the period of desired eligibility to compete in the female category," the press release states.
"I have done everything by the book, and I can show that," Megan said. She told Alaskan newspaper Peninsula Clarion, though, that the history she's making is not what drove her to compete. "I didn't set out to be the face of this," she explained. "I think the direct quote I've given is, 'I don't want the next person to take the magnitude of crap I deal with.' I credit the people who've come out before me for making this not so bad for me."
Megan Youngren is making history today as the first openly transgender athlete to compete at U.S. Olympic Marathon Trials.#MarathonTrials20 pic.twitter.com/LkievfQt0t

— #TokyoOlympics (@NBCOlympics) February 29, 2020