Nouhaila Benzina Is the First World Cup Player to Wear Hijab
Morocco's Nouhaila Benzina Makes World Cup History as First Athlete to Play in a Hijab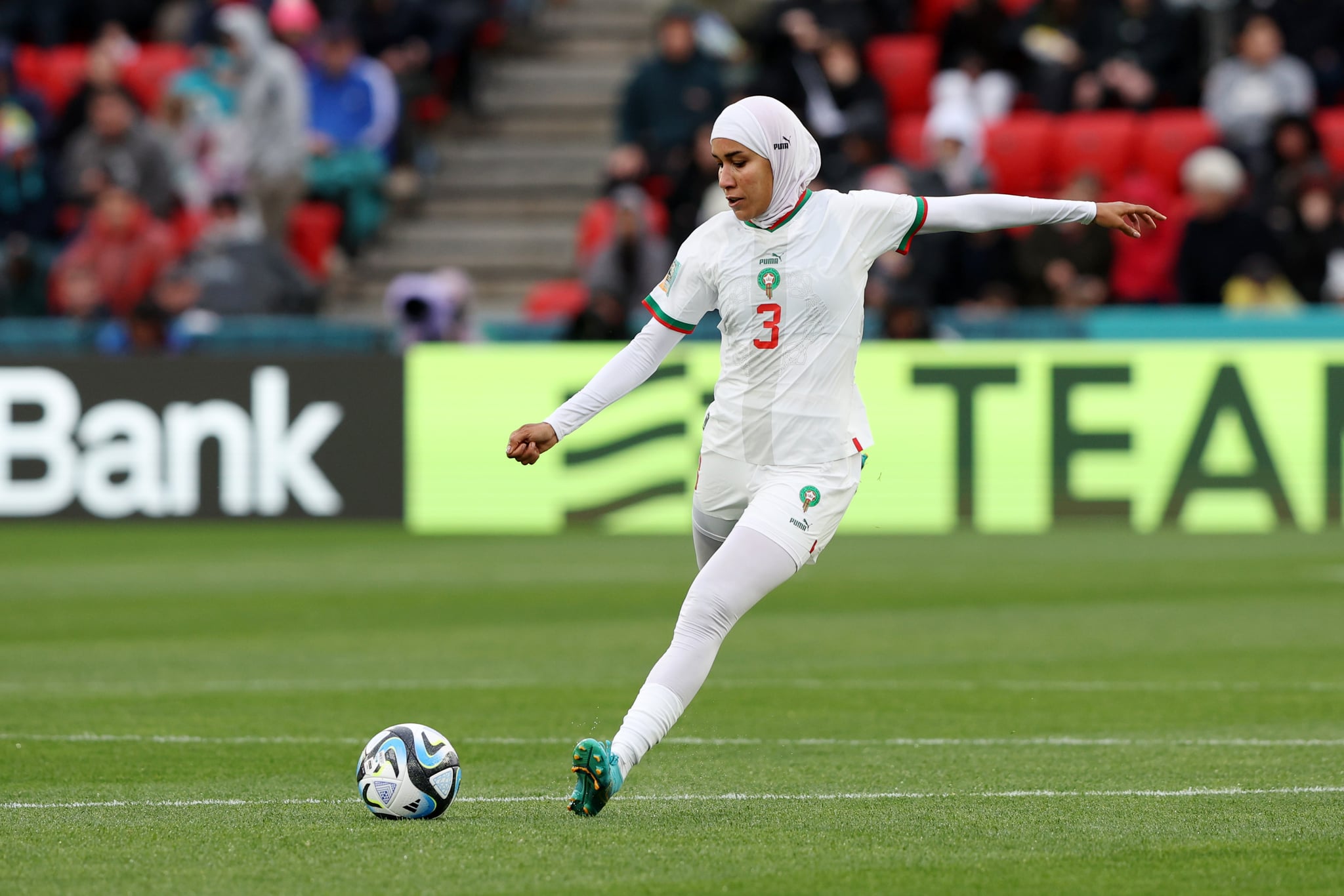 When defender Nouhaila Benzina took the field for Morocco in the team's first-round match against South Korea at the 2023 FIFA Women's World Cup, she made history in not one but two ways. Benzina played a key role in Morocco's 1-0 win over South Korea, the country's first-ever World Cup win (and even their first-ever goal at the World Cup, courtesy of Ibtissam Jraïdi). Aside from her excellent play, she made history for women and girls in football around the world as the first player in the history of the World Cup to wear a hijab while competing.
The ability for athletes to wear religious head coverings during play is relatively new — less than a decade old, in fact. For many years, hijabs and similar items were subject to a FIFA ban. According to The Guardian, the ban was initially targeted at any and all religious symbolism but ultimately was cited as a "health and safety" issue, specifically about garments that cover the neck, as a hijab does. Despite teams working with athletic-uniform designers to try to develop coverings that would adhere both to religious requirements and FIFA rules, players wearing hijabs were not permitted to compete under the ban. Most notably, in 2011, the Iranian women's football team was disqualified from an Olympic qualifier match because they wore hijabs that conformed with their country's strict religious dress requirements.
In 2014, after significant activism and pushback, FIFA relaxed its rules on religious head coverings during gameplay, including hijabs as well as other garments such as Sikh turbans or kippahs for Jewish men. Until now, however, no player has worn a hijab during a World Cup match.
"Girls will look at Benzina (and think) 'That could be me,'" Assmaah Helal, a cofounder of the Muslim Women in Sports Network, told the Associated Press (AP) ahead of the tournament. "Also the policymakers, the decision-makers, the administrators will say, 'We need to do more in our country to create these accepting and open and inclusive spaces for women and girls to participate in the game.'"
Helal also told the AP that, since the lifting of the hijab ban, she has seen more Muslim girls and women joining the football world, whether as players, coaches, or other leaders. While not all Muslim women wear the hijab, those who do are now able to play the sport they love without being forced to choose between their faith and their sport.
"I think it's key to understand that the hijab is an essential part of a Muslim woman, should she choose to wear it," Helal told the AP. "It's actually part of our identities."