History Made: Two Women Coached and One Reffed in NFL Game
History Was Made in the NFL With 2 Women on the Sidelines Coaching and 1 Female Referee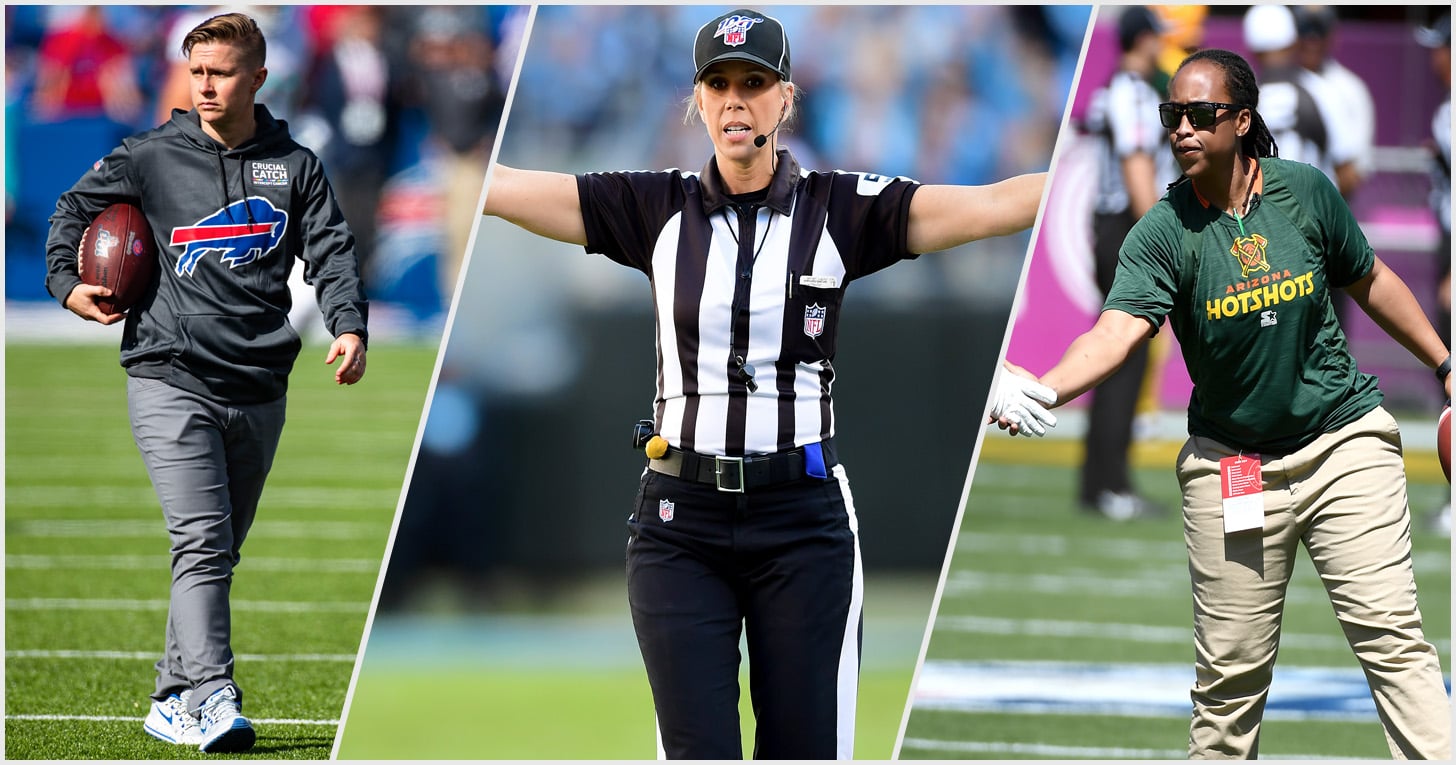 Image Source: Getty / Brett Carlsen, Getty / Jacob Kupferman, Getty / Norm Hall/AAF / Stringer
An NFL match-up on Sunday, Sept. 27 marked the first time in league history that, at a regular season game, a woman was on the coaching staff of both teams playing and there was a woman on the field officiating. On the sidelines were Jennifer King, a full-year intern with the Washington Football Team, and Callie Brownson, the Cleveland Browns's chief of staff. NFL official Sarah Thomas took to the field as one of the referees.
Thomas became the NFL's first full-time female official in 2015, and she was the first woman ever to officiate an NFL playoff game on Jan. 13, 2019, when she acted as the down judge for the American Football Conference playoff match-up between the New England Patriots and Los Angeles Chargers. Before her history-making position in the NFL, Thomas was the first woman to officiate a major college football game as well as a bowl game, and she was also the first to officiate in a Big Ten stadium. Her position changed from "head linesman" in 2017, according to the Washington Post, to accommodate a more gender-neutral term.
King became the first Black female to coach in the NFL when Washington hired her back in February. She previously interned with the Carolina Panthers during the offseason in 2018 and 2019 and was a quality control coach at Darmouth College. She also acts as an assistant receivers coach and special teams assistant for the Alliance of American Football's Arizona Hotshots (this league has since shut down) in between her internships with the Panthers. King was notably a seven-time All American quarterback and receiver for the Women's Football Alliance's Carolina Phoenix (2006-2017), and she played for the New York Sharks (2018) and DC Divas (2019).
Brownson, who also made history on Sept. 27 at the Washington-Browns game, was Dartmouth's first quality control coach to make it to the NFL. She was the first full-time female football coach in Division I and got hired by the Buffalo Bills in 2019 as a coaching intern before stepping into her role as the Cleveland Browns's chief of staff in 2020. She additionally played eight seasons for the Women's Football Alliance's DC Divas.
"What a day for football. What a day for those up next. Humbled," Brownson tweeted, later thanking Washington head coach Ron Rivera and Browns head coach Kevin Stefanski for fighting for diversity and equality in the sport. The Browns defeated Washington 34 to 20, but both teams won on the sidelines, if you asked us!
For the first time in NFL history, there will be a game featuring a female ref and female coach on each sideline 👏

▪️ Jennifer King - Washington Full-year coaching intern
▪️ Sarah Thomas - NFL Referee
▪️ Callie Brownson - Browns Chief of Staff

📸: @Browns pic.twitter.com/eQnuAYqLbp

— espnW (@espnW) September 27, 2020