Papier Wellness Journal Review
This Wellness Journal Helped Me Leave Stressful To-Do Lists Behind
As POPSUGAR editors, we independently select and write about stuff we love and think you'll like too. If you buy a product we have recommended, we may receive affiliate commission, which in turn supports our work.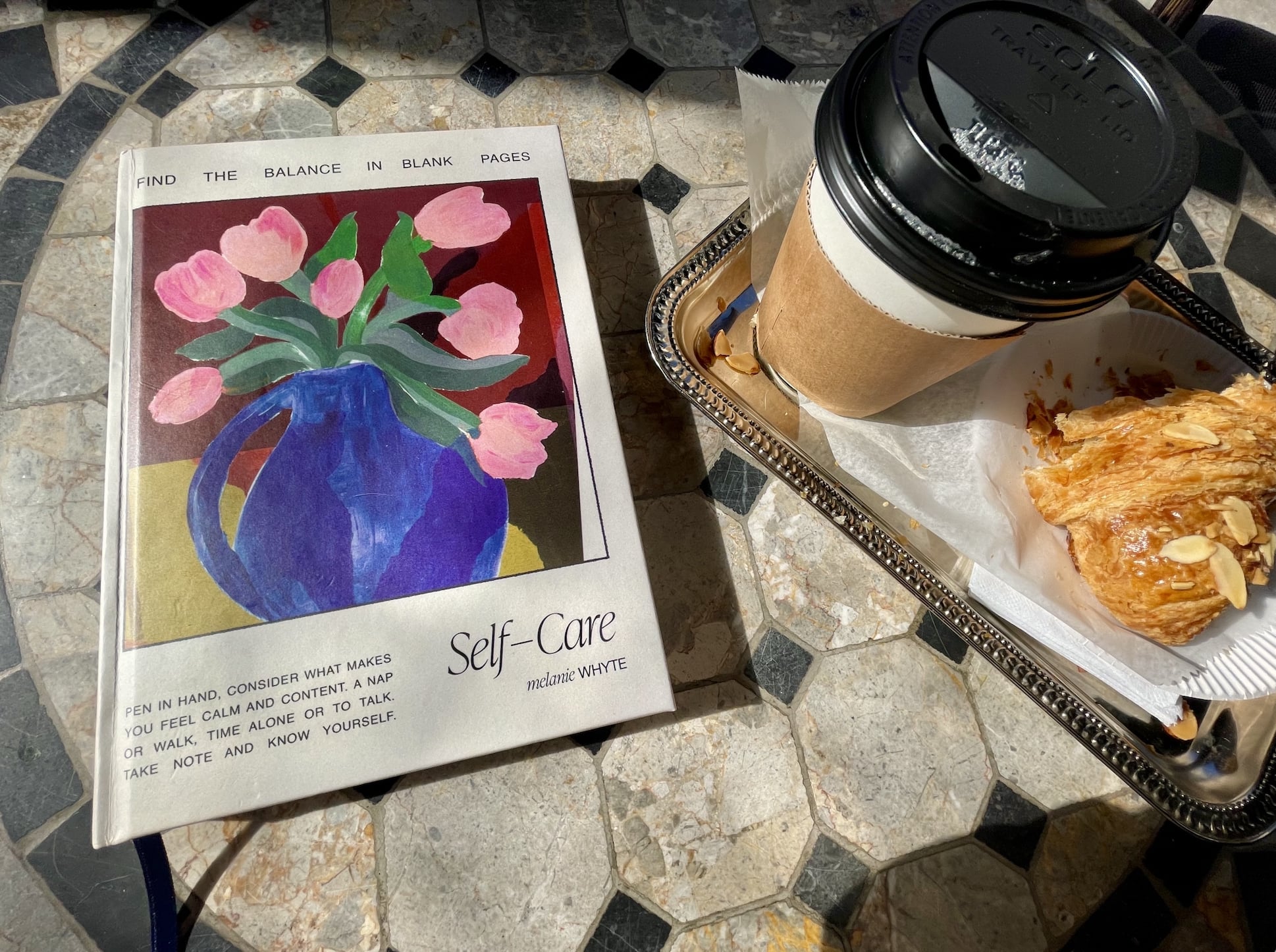 Full disclosure: I'm obsessed with tracking down the perfect journal. I am a stationery fanatic and spend way too much time carefully researching planners that will (hopefully) organise my life, one page at a time.
Every journal I've tried has helped in its own way. I've compiled detailed lists of gratitude in The Five Minute Journal and goal-mapped with my Silk & Sonder Annual Wellness Planner. But during a recent uptick in anxiety, what I was really looking for was the perfect crossover of pleasing aesthetics and function for my current needs. I was burnt out from overcommitting to personal and work projects and needed a space separate from to-do lists and gratitude guilt trips. I wanted a space to free write my feelings while also being given gentle direction on what to prioritise in my day-to-day wellness journey.
I was about to give up on my search and return to my daily practice of scribbling all of my thoughts, to-do lists, and notes onto the same basic spiral notepad when the algorithm stepped in and introduced me to Papier's Wellness Journal ($35). The beautiful, hardcover notebook was exactly what I was looking for to keep my chin up during a more stressful time in my life. Keep reading to learn more about all the reasons I love it and things to help you consider if it's write for you!
What I Like About Papier's Wellness Journal
Each day spreads over two pages and is broken into sections dedicated to logging your daily intentions, sleep, water intake, self-care ideas, meals, mood, random thoughts, and things you're thankful for. Each prompt helps you check in with your body and mind.
The "intention for the day" section is a fun way to determine how I'll approach my day. For example, if I wrote "Today I will romance myself," then I felt like it gave me permission to go on a solo date or buy myself flowers without the usual guilt I'd attach to it. Similarly, the end-of-day sections "What went well today?" and "Today I'm thankful for" allowed me to focus on the good rather than reviewing what I hadn't accomplished that day. Also, both shorter exercises were less daunting than a whole page dedicated to practicing gratitude.
The more detailed sections like tracking sleep, what I ate that day, and how much water I drank helped me track new healthy habits. The activity and self-care section was vague enough that I didn't feel pressure to complete a daily workout or a 30-step skin-care routine. Instead, I could write about playing fetch with my dog or how I chose to read a new book over scrolling on social media. The little wins added up, and simply paying attention was an immediate mood booster.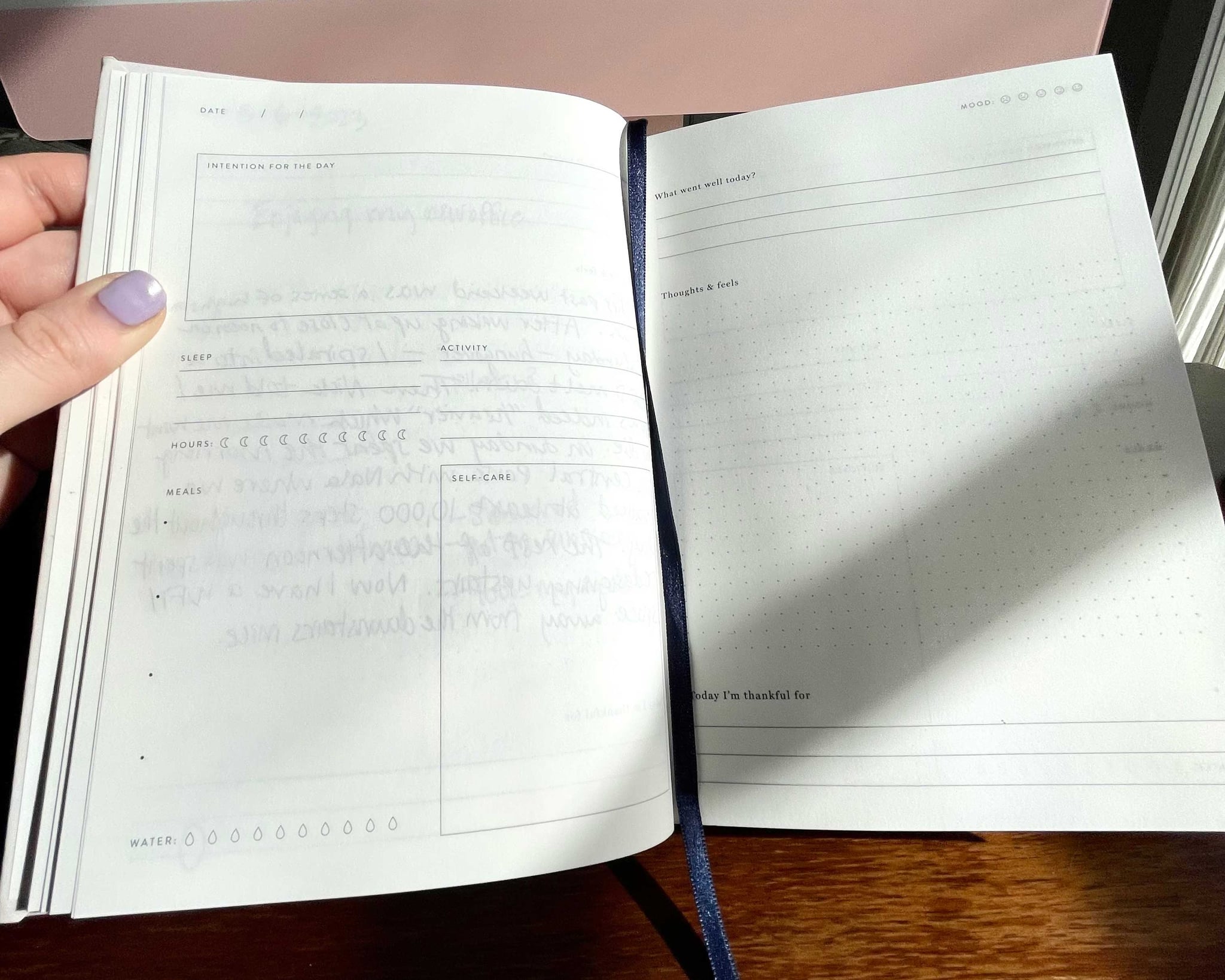 What's Worth Noting About Papier's Wellness Journal
Personally, I love that this wellness journal doesn't have a to-do-list section. I'm a serial planner and therefore addicted to lists — but do you know what I realised recently? Staring down a giant to-do list only makes me more stressed, not less. So if you're looking for a journal that can also act as a planner, this isn't it. Also, the pages are undated, which you can consider either a hit or miss. I liked that I could start using it any time of the year and I don't feel guilty about missing a day — but understandably, some people prefer to have an up-to-date calendar built in.
Who Papier's Wellness Journal Is Best For
I'll admit it, I like pretty things. Papier's Wellness Journal is for those who want to start tracking healthy habits or build a wellness routine but need something shiny to keep their interest. I fell in love with my Tulip Vase cover because it reminded me of copies of The Paris Review. It feels chic to bring to coffee shops while also helping me narrow in on what could bring me a sense of calm throughout the day. And despite its pretty exterior, it's filled with constant reminders that wellness is a practice and not something to perfect. The focus is on "feel-good goals" and daydreaming about wonderful ways to spend your time. It feels like a treat because it is.
Is Papier's Wellness Journal Worth the Splurge?
Admittedly, Papier is a tad pricier than a journal you could pick up at a stationery shop. However, the high quality is noticeable and appreciated. The company is known for its stationery, and the pages do not disappoint. If you're not feeling the tulips, there are 135 different cover designs to choose from — including all 12 zodiac signs for the astro fans. Want something personal? Add your own photos to the cover of the The Minimal Photo Strip design.
Speaking of personalization, I was able to customise mine so it has my name written in the bottom right-hand corner of the cover, which gives the illusion that I wrote this hardbound book on self-care that's specific to me.
Additional Details
Size: 6" x 8.5"
96 pages (192 sides)
What's inside? A wellness map, 12 weeks of daily pages, reflection page, nine pages for extra notes
Where Is Papier's Wellness Journal Available?
You can find the Papier Wellness Journal on the brand's website.
Rating:

Image Source: POPSUGAR Photography / Melanie Whyte