Pointe Black Is the London Studio Championing Ballet For All
Pointe Black Founder Ruth Essel on Creating a Ballet Studio Where Everyone Feels Safe and Included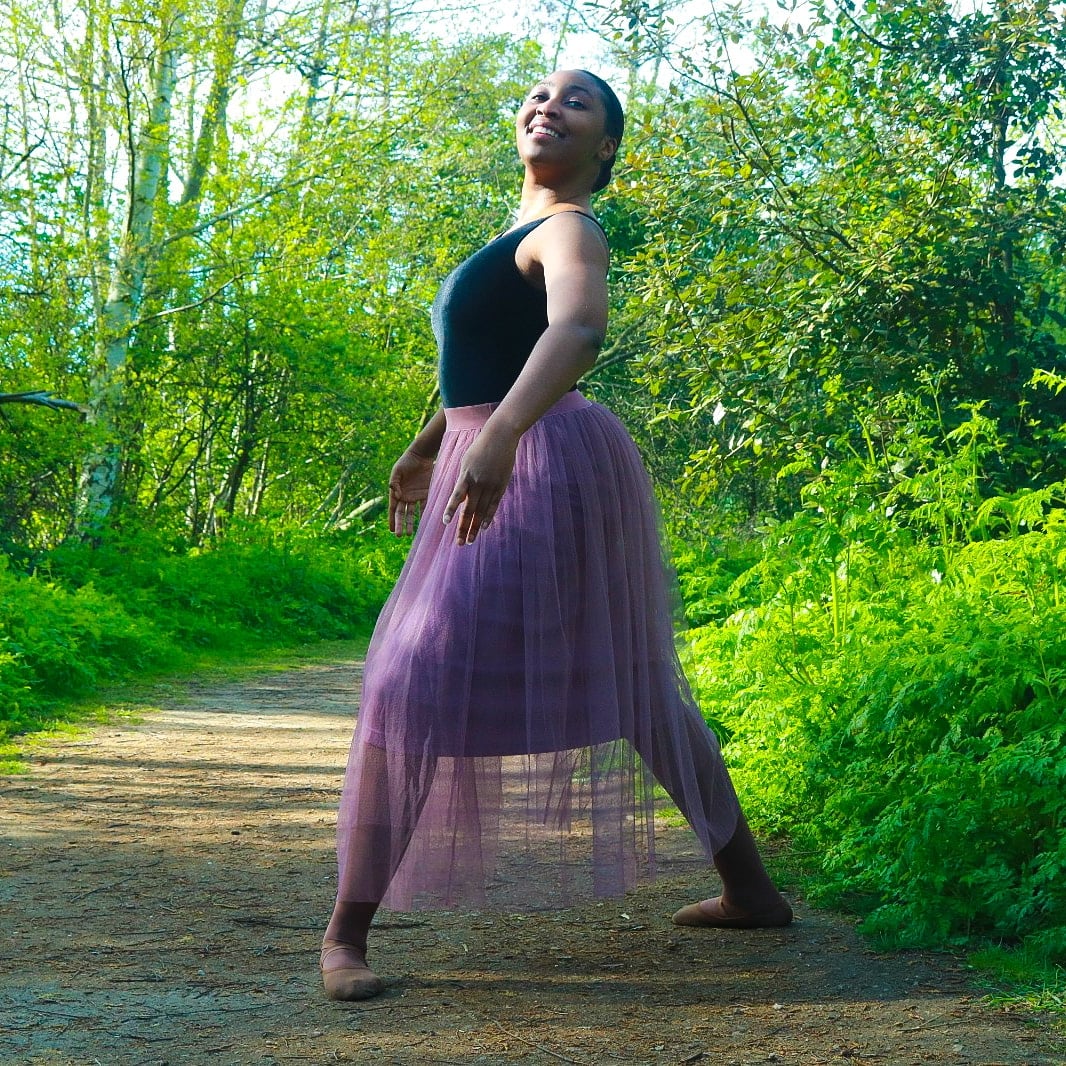 Image Source: Ruth Essel
"What do you want to be when you grow up?" It's a question many of us now smile fondly upon as we reminisce over our childhood dreams of being astronauts, vets, and firefighters (all at once, of course). Although work looks very different these days from our adolescent chimes, for Ruth Essel, founder of Pointe Black, becoming a ballerina was far from a nostalgic dream. "I started ballet when I was around 3 and have been dancing ever since," Essel told POPSUGAR.
After years of studying the art form, Essel — also known as @thecurvieballerina on Instagram — started Pointe Black, a ballet school based in south-west London, as a much-needed response to the overwhelming lack of inclusivity within the dance world in the United Kingdom. The creation of the school, which Essel described as a moment of "divine intervention after years of encouragement from friends and family", was a melding of passions.
"I hope that everybody will feel safe and included at the studio, and we at Pointe Black will continue to scream from the rooftops about being represented and represented fairly."
"I already had some knowledge of psychology [from a BA degree] and had been choreographing since I was a teenager. At 17, I even considered going to The Brit School because I had grown up in a musical family." Although Essel ticked every box of the "triple threat" mandate needed for the performing arts school – singing, dancing, and acting (via years of Stagecoach) – a conversation with an instructor ultimately dissuaded her from even auditioning. "I left that conversation feeling like there was no way I could have made it," said Essel, who up until that point had already been acutely aware of being "different" in the ballet world, thanks to one-shade-fits-all tights and pointe shoes and the far-from-inclusive protocols around hairstyles. "For a person who is short and who is curvy, it was made apparent that the ballet world would never accept me for who I am."
It was Essel's love of dance, but also her experiences of feeling like an outsider in the ballet world, that inspired her to start her own school, and one that had racial equity — "not equality, but equity" — at its core. "We are a Black-owned company. We want everybody to be able to access the art," said Essel, crediting companies like Ballet Black in London and the Dance Theatre of Harlem in New York City for being some of the first institutions to help break down the barriers in ballet world and reshaping the industry. "I basically just give everybody the nurturing that I didn't get when I began dancing," said Essel. "I hope that everybody will feel safe and included at the studio, and we at Pointe Black will continue to scream from the rooftops about being represented and represented fairly."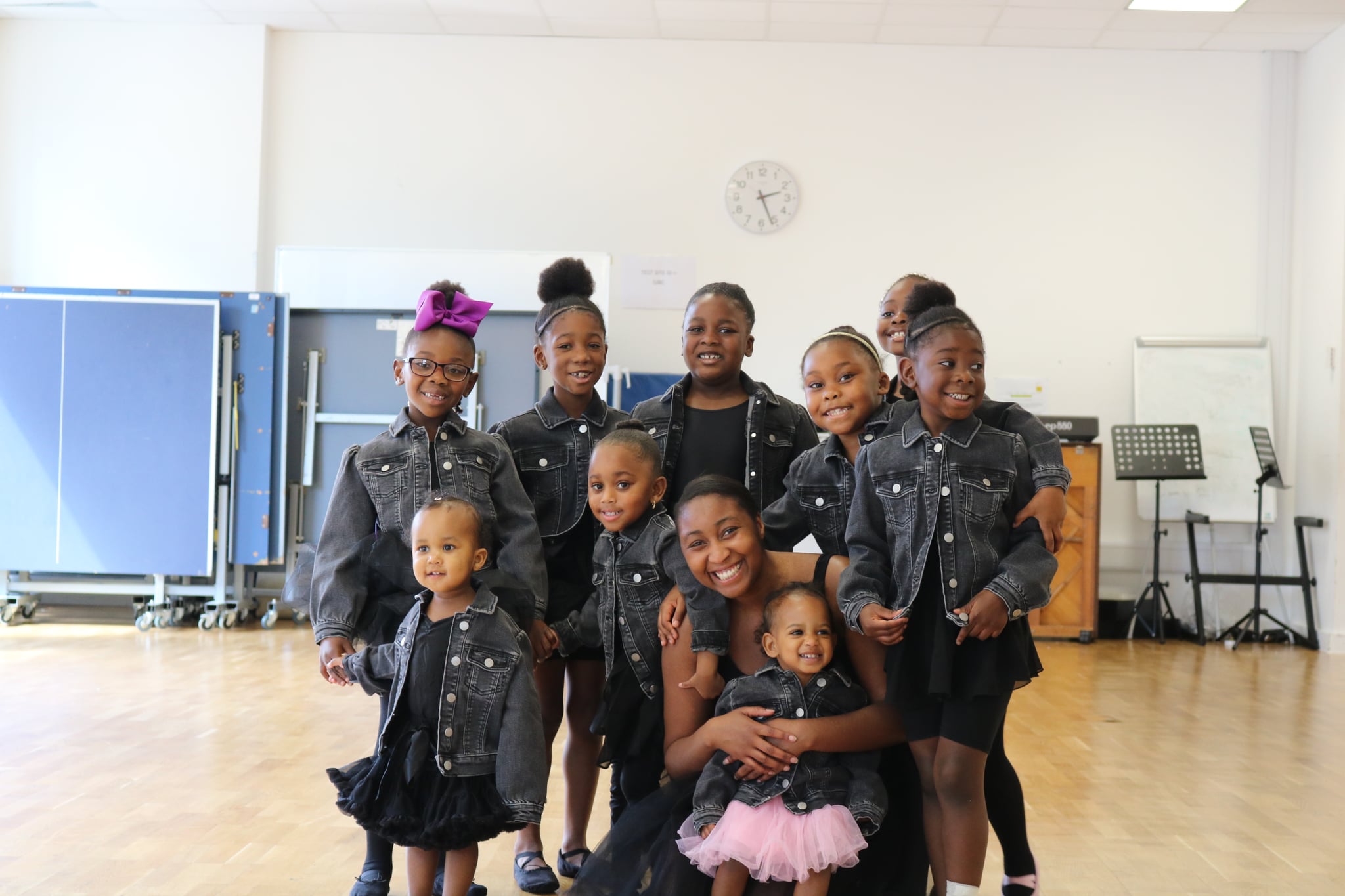 Image Source: Pointe Black
The requisite pale-nude and pale-pink tights and pointe shoes are among the most visible representations of the ballet world's lack of representation (besides, of course, the lack of Black people on the stage), and because of that, it's garnered global attention in the past year. But it's an issue that Essel and every Black or Brown dancer has been acutely aware of their entire life. "[When I was young], I would buy two pairs of ballet tights in hopes that they would look pinker because brown underneath those pink tights actually shines through," she explained. "Even now in the UK, tights still come in the same [shade of] pink, or they're just dyed brown with pink undertones. There's still a lack of understanding that there is no Black person out there that has pink undertones. We have red undertones, greens, blues, but there's definitely no pink." Because of this, Essel's students at Pointe Black don't wear pink ballet tights or pink ballet shoes in her classes. "It's not made for us, and it doesn't have to be that way. We don't have to feel like that," she said.
Pointe Black's dedication to offering inclusive and nondiscriminatory access to ballet goes way beyond allowing dancers to wear tights that complement their skin tones. It extends to what goes on in the classroom and is evident through Essel's equitable approach to ballet education. "When I am teaching adults classes, I'll always make sure that I'm giving corrections or advice according to their body types, instead of according to the traditions of ballet," explained Essel. "Instead of just saying, 'Back up straight, shoulders down,' I look at the person . . . which makes room for the fact the most Black people have very, very curvy spines, or hyperextended spines," Essel said. "This means some things can be quite difficult or hard for people to believe they can do it, but this just means you need the right educator to tell you according to your body."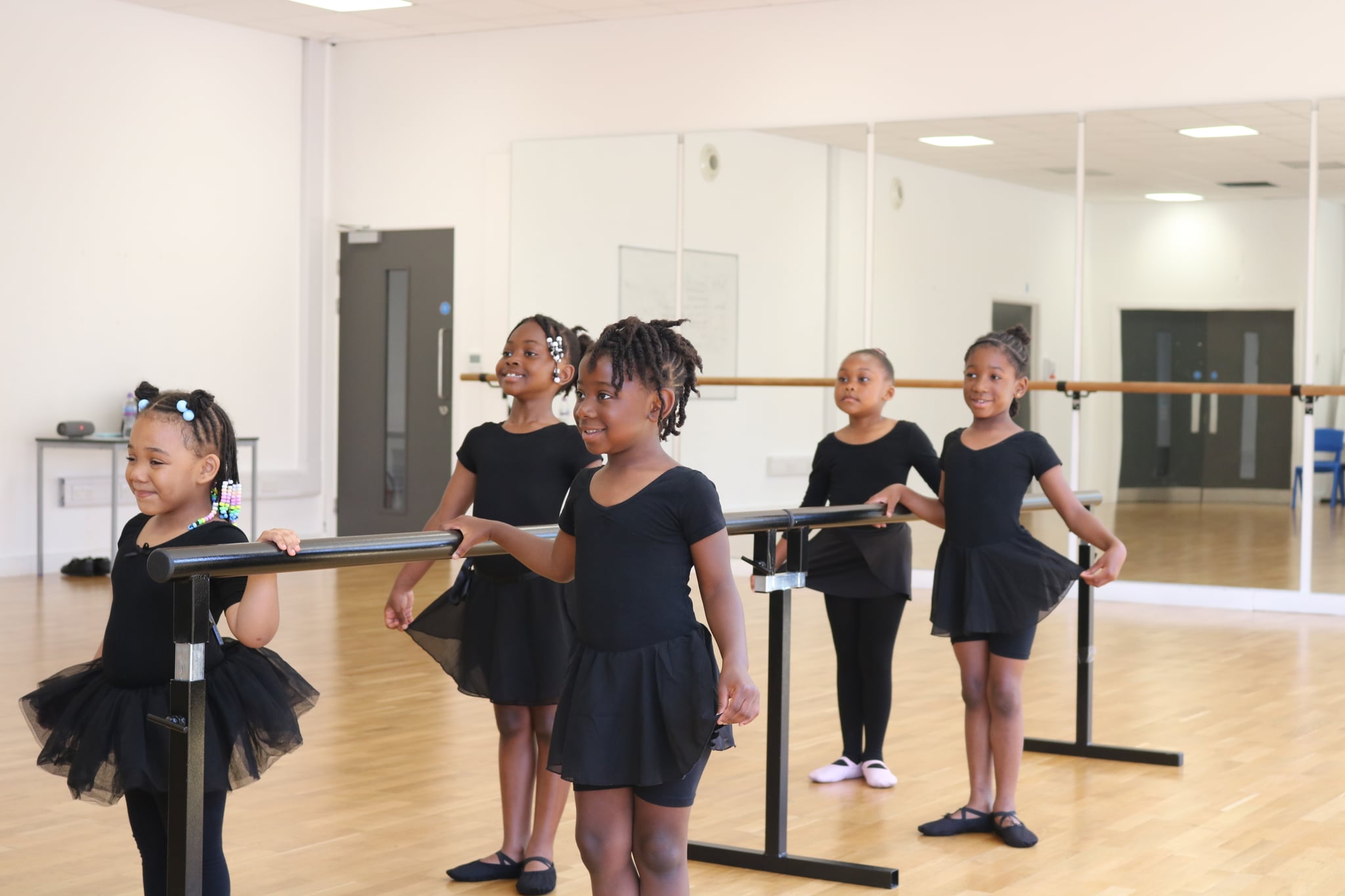 Image Source: Pointe Black
Ballet can sometimes be tough on people's mental health, and because of that, Essel focuses on providing a safe space for her students — one that doesn't leave them feeling down and defeated, but rather allows them to feel freedom through dance both physically and mentally. "Ballet is hard, it's very athletic and is very disciplined. I wanted to make sure that I had other elements within my own ballet practice and in my studio to make sure that everybody came in and left better than how they felt." This added focus on holistic well-being can look like "a little mindfulness at the beginning or at the end of the adult class just to remind them that they showed up and they turned up and that was in itself a massive achievement", explained Essel. "For younger ballet enthusiasts, we do positive affirmations at the end of our class to remind them that they can achieve anything they put their mind to, and they are brave and they are beautiful."
"It is an art form that I hope through true equity and mindful teaching can become more accessible, no matter the background, because ballet is for all."
When it comes to diversity, visibility, and inclusion in the overall dance space, Essel explained that she believes this should be "an imperative that is prioritised as highly as safeguarding". Treating it that way, said Essel, requires those in positions of authority to reexamine not only how they teach and direct companies, but also the implicit biases of the ballet world as a whole. "It means teachers and industry professionals have to ask, with consent, how better to serve their Black students," she explained. "You'll hear things like, 'Well, Black people naturally just don't have the technique for ballet.' To which I say, 'Isn't technique something that is learned and strengthened rather than a natural thing?'"
Looking back over the past two years since founding Pointe Black, Essel said: "It really has been the journey. When I started, I was advised against opening with both children and adult classes. And if I'm honest, from a business perspective, initially with the adult class I did think that maybe [people] were right. However, now seeing it all together, starting from the beginning with the children, but also healing with the adults, I am glad I didn't listen to that advice. For me, ballet means so many things. I just love the feeling of moving my body. I love the freedom of it, of being strong but elegant at the same time. It is an art form that I hope through true equity and mindful teaching can become more accessible, no matter the background, because ballet is for all."
Image Source: Pointe Black Studios/Ruth Essel