Simone Biles May Have 2 New Skills at Tokyo Olympics
In True GOAT Fashion, Simone Biles Says She May Debut 2 New Skills at the Olympics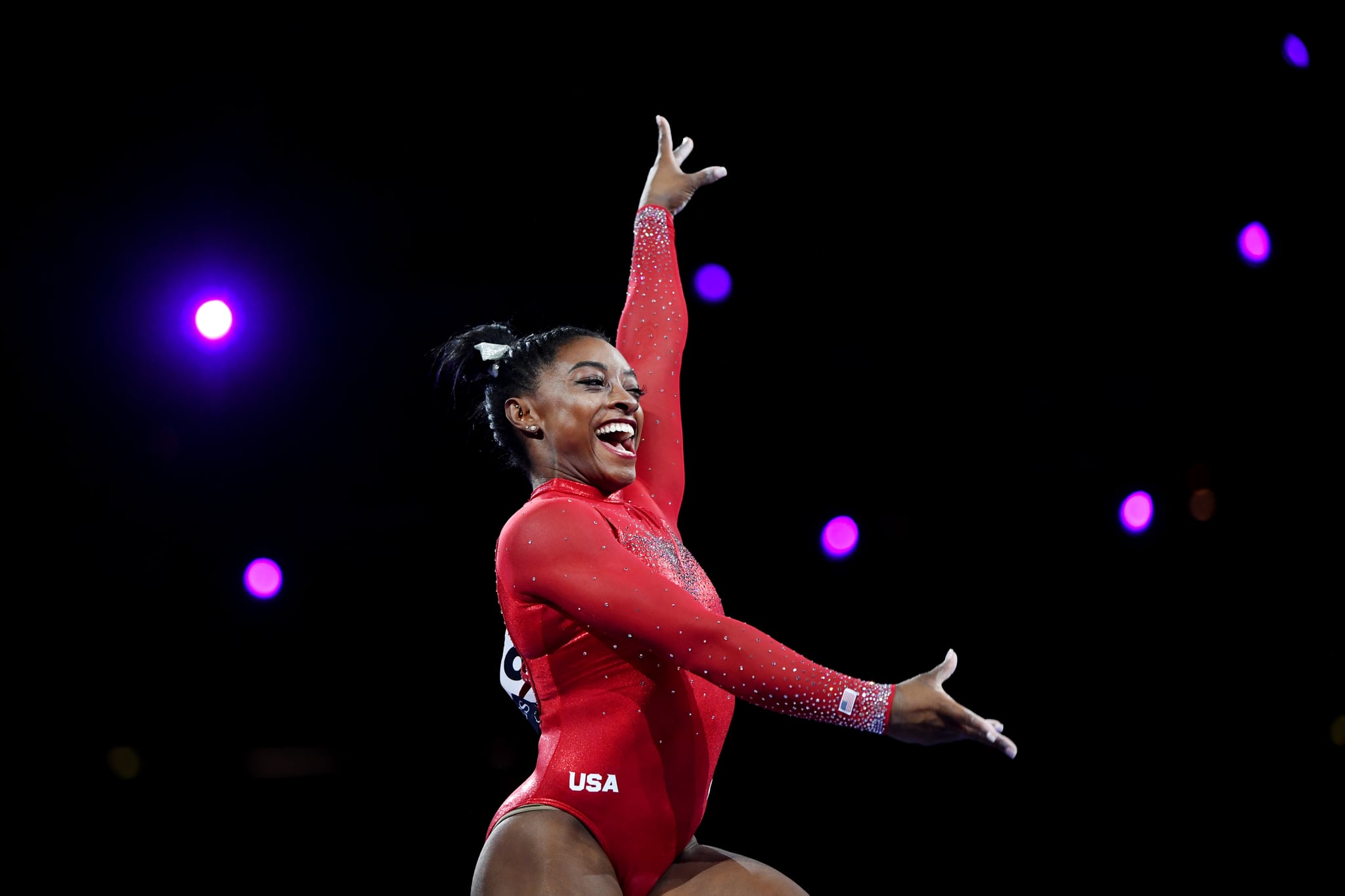 Image Source: Getty / Laurence Griffiths
Simone Biles already has four gymnastics skills named after her: two on floor, the "Biles" and "Biles II," and one on beam and vault respectively, both also called the "Biles." But the limit-shattering icon hinted that she might actually be adding two more to that list. As part of a 60 Minutes segment that aired Sunday, Feb. 14, Biles showcased one of these new skills: a Yurchenko double pike, which is a skill she started working on around this time last year.
Broken down, the Yurchenko is a roundoff onto the spring board and a back handspring onto the vaulting table. Then, Biles does two backflips in a piked position (she has her legs straight as opposed to tucked in). It's a vault that is only really seen executed by male gymnasts, and it's extremely difficult. Laurent Landi, one of Biles's coaches said, "What's scary, it's that people can get hurt. You do a short landing, you can hurt your ankles. It's a very dangerous vault."
During the 60 Minutes segment, Biles showcased the vault and landed on her back, over-rotating it. In other words, she performed the vault all while having extra power. There's also a glimpse of her landing on her feet! She could be the first woman to attempt the Yurchenko double pike in competition. See her in action ahead:
Simone Biles could be the first woman to attempt a Yurchenko double pike in competition, say her coaches. Only men have landed it. "It's very, very challenging… people can get hurt… it's a very dangerous vault," says Biles' coach, Laurent Landi. https://t.co/ovlrulJYIO pic.twitter.com/qQTxKeUuNk

— 60 Minutes (@60Minutes) February 15, 2021
As discussed on the GymCastic podcast, the "Biles" on vault that she competed at the 2018 World Gymnastics Championship is worth a 6.4 in difficulty — one of the highest rated vaults in women's gymnastics — meaning that, if performed perfectly, she could score up to a 16.400. It's a round-off on the springboard connected to a half turn onto the vault with two full twists in the air. If Biles were to compete her new Yurchenko double pike vault, which would most likely be dubbed the "Biles II," at the Olympics, it could be valued even higher.
As a reminder, in order to get a skill named after you in women's gymnastics, it needs to be at least worth a C-value in difficulty, and you're required to perform it without falling at an official FIG competition such as the Olympics. You also have to be the only person to land that skill for the first time. Then, it will be added to the FIG Women's Artistic Gymnastics Code of Points with the designated gymnast's name attached.
It's unclear what that second Olympic skill Biles teased might be. However, gymnastics fans are having fun speculating. A few noted that they hope it's in Biles's bar routine, so she can have at least one skill named after her on every event. If it happens to be the high-flying triple backflip in a piked position she shared last fall, we wouldn't put it past her. In fact, it could be any of the amazing new skills she's filmed herself doing amid the Olympic Games postponement (there are many). And we can't wait to find out!