Surfer Caroline Marks on WSL Quarantine and 2021 Season
A False Positive and 2-Week Quarantine: Surfer Caroline Marks's "Crazy Ride" to Australia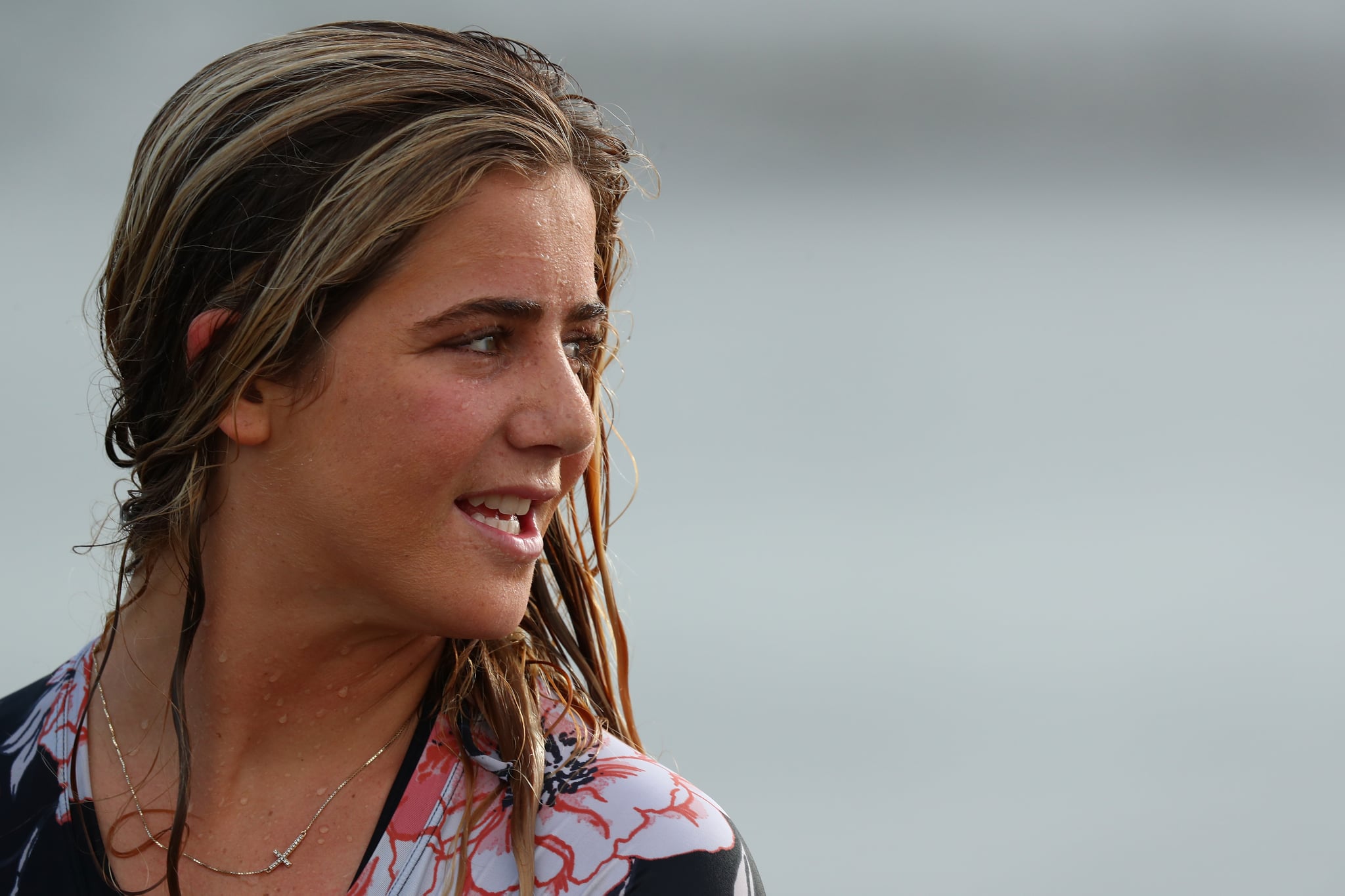 It was day seven of Caroline Marks's Australian quarantine, and the strain was starting to feel real. "The trickiest part," the surfer told POPSUGAR, "is just not being able to go out."
Marks entered a two-week quarantine at her hotel on March 11, in compliance with Australia's COVID-19 protocols. All of the World Surf League (WSL)'s Champions Tour surfers did the same, preparing for the tour's Australian leg and their first competition in four months: the Rip Curl Newcastle Cup, which starts in April.
For 14 days, Marks couldn't leave her room. For fresh air, she went out on her balcony. She was also completely alone; the athletes weren't allowed to stay with anyone but a partner, so she was isolated from the one friend she brought on the trip. That was a change for the 19-year-old, who's one of six siblings. "I have a huge family, so if I FaceTime them all for an hour, it takes up about eight hours of my day," she said, possibly only half-joking.
Filling up the hours was the biggest task. Marks said writing out a daily schedule helped. She did a Zoom workout with a trainer in the morning through Red Bull, one of her sponsors. She mapped out her meals and did a yoga class a few hours later. If she was up for it, she did another workout right before bed; if not, she relaxed or watched a movie. She read books and coloured. She had workout bands, a yoga mat, some Pilates balls, a stationary bike. It wa a far cry from her normal gym set-up, but "if anything, quarantine's taught me I can do so much" with so little, Marks said.
Surfing, obviously, can't be replicated in a hotel room. "I miss it so much," Marks said. Normally she surfs for four hours a day, sometimes more if the waves are good. She's always been grateful for surfing ("it's my favourite thing in the world") but even more so after the entire 2020 season was cancelled.
"My goal was just to come back that much stronger, a year later."
And for a few panicked days, Marks thought she might have to miss the 2021 Australian leg as well. Her bags were packed when, nine hours before the tour's chartered flight to Australia, Marks tested positive for COVID-19. It left her "the most heartbroken and shattered I've ever been," and in limbo. She would definitely miss the flight; would she have to miss the entire Australian leg too? After four months without competing, the news nearly sunk her. "I shut my phone off for a few days," Marks remembered.
She had tested negative several times before the positive test came in, and after three straight days of more negative tests, plus no symptoms and tests on everyone around her, it was finally deemed a false positive. Marks got another flight to Australia and entered quarantine "a few days behind" her competitors, "I've had a crazy ride getting here," she said. "I was like, 'I don't care if I have to quarantine in a tent. I just want to compete. I just want to be there.'"
Marks is looking at Australia as a restart to her season. December's Maui Pro at Honolua Bay was the one women's competition the WSL held in 2020, and Marks came in ninth place — a poor showing for a surfer ranked third in the world in 2019. After she bowed out, the competition itself was derailed by a fatal shark attack on a recreational surfer and had to be restarted nearly three weeks later at the Banzai Pipeline on Oahu. In January, another Hawaii event was cancelled. "A lot of things happened," Marks remembered. "[The Maui Pro] was a really tricky event, and then we had a couple of months off. It feels like we're totally starting again in Australia." Marks is also preparing for the Tokyo Olympics, where she and Carissa Moore will represent Team USA as surfing makes its Olympic debut.
"As a surfer, you have to be so good at adapting," Marks said. On the ocean, conditions change day-to-day, hour to hour; sometimes surfers have mere hours to prepare for a competition when the swell comes in unexpectedly. Marks prides herself on her ability to stay in the zone throughout. "If you stay ready, you never have to get ready," she said. "I think that's kind of helped me get through this whole process." Competitions postponed? Olympics postponed? "My goal was just to come back that much stronger, a year later."
To learn more about all the Olympic hopefuls, visit TeamUSA.org. Watch the Tokyo Olympics this summer on NBC.